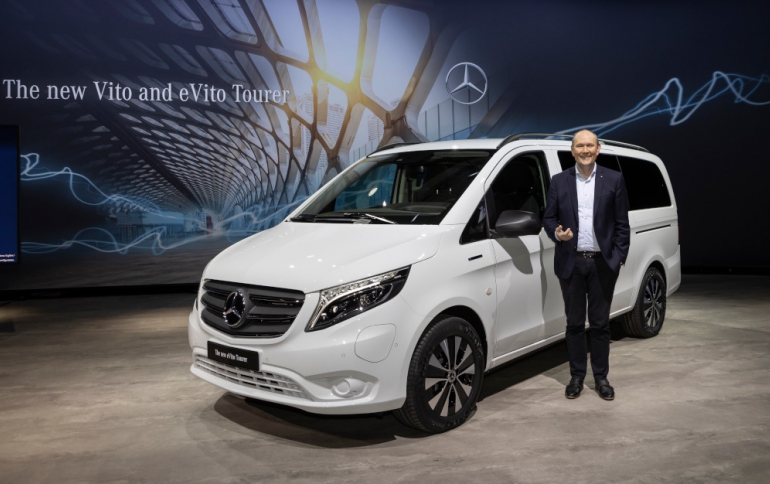 Mercedes-Benz Unveils The New eVito Tourer Van
Today saw the public unveiling of the revised and all-electric Mercedes-Benz eVito Tourer model.
Extensively updated, highlight the new version include the locally emission-free eVito Tourer (combined power consumption: 26.2 kWh/100 km; combined CO2 emissions: 0 g/km) with a high-torque electric machine and up to 421-kilometres range, as well as the new, efficient and powerful four-cylinder diesel generation of the OM 654 engine family. New products and features in infotainment and the assistance systems as well as enhancements in the design round off the facelift.
The eVito Tourer will be available in the summer of 2020.
The new Mercedes-Benz eVito Tourer takes on the look of its brothers with a combustion engine. But beneath the dynamic front with a charging connection in the bumper at the front left is the electric drivetrain (eATS), which powers the front wheels with a peak output of 150 kW. The electric motor, the transmission with fixed transmission ratios, the cooling system and the power electronics form a compact unit. The energy is stored in a lithium-ion battery in the vehicle's underbody. It is configured low down and centrally, which has a positive effect on the eVito Tourer handling. The top speeds of 140 km/h with standard and 160 km/h with special equipment ensure rapid progress both in and out of urban traffic.
The Mercedes-Benz eVito Tourer comes as standard with a water-cooled on-board charger with alternating current with an output of 11 kW. This means that it is also prepared for AC charging at home or public charging stations.
The new eVito Tourer can be charged via the CCS-charging connection in the bumper on the front left side. It enables DC charging. Therefore, the eVito Tourer, with a maximum output of up to 110 kW, can be charged from 10-80 % in under 45 minutes at a rapid charging station. The battery with a usable capacity of 90 kWh facilitates a range of 421 kilometers.