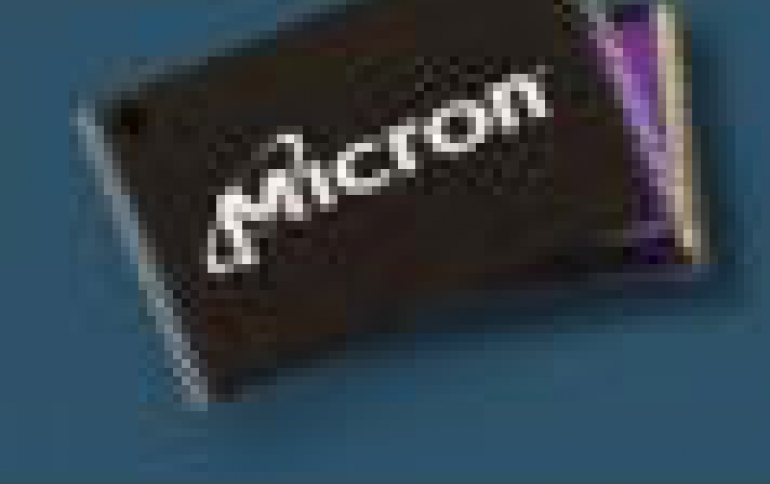 Micron Introduces Faster 25nm NAND Solid-State Drives
Micron Technology today unveiled a new portfolio of its RealSSD solid-state drives (SSDs) for the flash-based notebook market. A new breed of notebooks are entering the market that have lightweight construction, snappier system responsiveness and a longer lasting battery.

The new portfolio is the first SSD product line to incorporate Micron?s 25-nanometer (nm) NAND flash technology, creating a broad portfolio of capacities ranging from 64-gigabyte (GB) to 512GB. The drives will be available in 1.8-inch and 2.5-inch form factors. As with its predecessor, the product line also supports the SATA 6Gb/s interface, which opens up the data path between the host processor and the SSD delivering improved overall system responsiveness including faster boot times and speedier application loads. The new drives reach read speeds up to 415 megabytes (MB)/second, which is 17 percent faster than Micron's previous generation drives. With write performance varying by capacity, the new 512GB drive achieves up to 260MB/second write speeds, which is more than 20 percent faster than the fastest C300 drive.

Micron is currently working with notebook manufacturers to qualify its new RealSSD drives under the C400 product name. With samples of the RealSSD C400 drives available now, Micron expects mass production to begin in February.

Bringing the drives to business customers and consumers, Crucial, a division of Micron, will begin selling the portfolio under the name, Crucial m4 SSD. The Crucial m4 SSD product line is expected to be available online at crucial.com and through select global channel partners in the first quarter of 2011.

128GB Professional Secure Digital Extended Capacity Memory Card by Lexar Media

In related news, Lexar Media today announced new Lexar Professional Secure Digital Extended Capacity (SDXC) memory cards. The new high-capacity Lexar Professional 133x SDXC cards enable the capture, storage, and transfer of extended lengths of 1080p high-definition (HD) video and continuous, rapid-fire image capture in a single, high-performance solution. The Lexar Professional 133x SDXC card is the first available in a 128GB capacity, and is also offered in a 64GB capacity. Both cards are speed rated at 133x, providing a minimum guaranteed transfer speed of 20MB per second, and feature a Class 10 speed designation.

The Lexar Professional 133x SDXC memory cards are compatible with all SDXC-enabled devices. The cards include the latest version of Image Rescue software to help recover lost or deleted photo and video files.

The Lexar Professional SDXC cards include a limited lifetime warranty. The new 64GB and 128GB Lexar Professional SDXC memory cards will be available in the first quarter of 2011 at leading retailers and on Lexar.com, with MSRPs of $399.99 and $699.99, respectively.