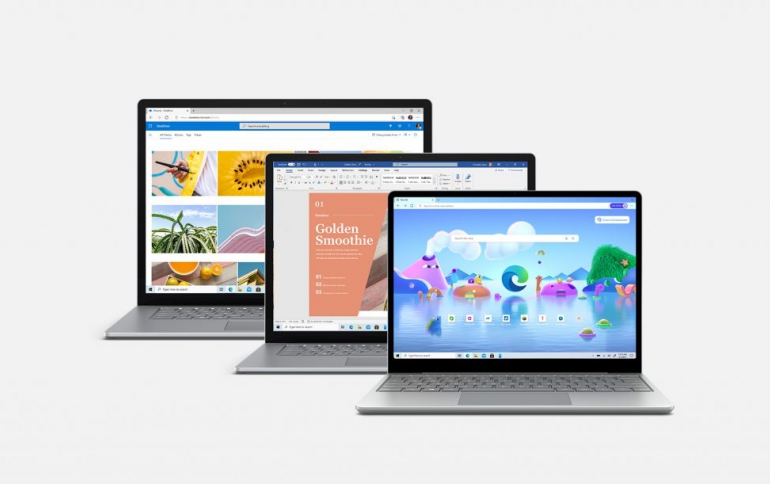 Microsoft announces Surface Laptop 4
Surface Laptop 4 is, first and foremost, optimized for Microsoft experiences. It retains the iconic design, details and materials that our customers love. With our signature 3:2 PixelSense touchscreen displays in 13.5" or 15" models, customers can choose from Alcantara or metal finishes in a variety of bold colors you can't get anywhere else, including a new Ice Blue finish. Surface Laptop 4 offers a built-in HD front-facing camera with incredible low-light capability and a studio microphone array, ensuring you'll come through loud and clear as you connect with loved ones or participate in a crucial virtual work meeting.
With the 201 PPI, high-contrast touchscreen display, and Dolby® Atmos™ Omnisonic speakers, you'll get a cinematic experience that immerses you in your favorite movies and shows from the comfort of anywhere. Whether through the vibrant touchscreen display, large trackpad with gesture support, or its industry-leading typing experience, Surface Laptop can adjust to your preferred workflow. Surface Laptop 4 offers a choice between either the 11th Gen Intel® Core™ processors, or AMD Ryzen™ Mobile Processors with Radeon™ Graphics Microsoft Surface® Edition (8 cores); in either case, you'll find a smooth experience that powers modern, multitasking demands. Across both options, we've partnered to customize silicon in ways that boost performance while offering improved battery life. On the outside, you see style and sophistication. Effortlessly lift the screen, and this product will draw you into your flow. From the office, living room, coffee shop or classroom, nothing comes close to this product's look and feel.
Surface Laptop 4 joins Surface Laptop Go to provide a variety of Laptop options. Choose your perfect color, size and price. Starting at $999.99 USD, Surface Laptop 4 is available to order today in the US, Canada, and Japan, with additional market availability in the coming weeks. Orders will begin shipping April 15. Surface fans in the US who purchase Surface Laptop 4 through microsoft.com or bestbuy.com before April 15 will receive Surface Earbuds as a special gift.
Accessories to optimize your virtual meeting experience
With deep roots in PC accessories, we're proud to offer a breadth of keyboards, mice and other accessories that feel tailored to individual needs – especially as we work, learn and play from home. In recent years, we've added audio accessories like Surface Headphones 2 and Surface Earbuds that begin with incredible acoustic quality, comfort and functionality wrapped in Surface's iconic design ethos. Today, as people adapt to a spectrum of unique work environments, we're responding with a new assortment of audio and video accessories certified for Microsoft Teams and great across all your favorite video conferencing apps. Each of these products offers plug-and-play functionality for seamless setup, great audio or video to make you look and sound your best, LED indicators to know your Teams status, and on-device call controls to keep you in the flow. Additionally, most accessories feature a dedicated Teams button to bring Teams to the front of a crowded screen or quickly join your next meeting.
Surface Headphones 2+ for Business:
As people continue to work from home and prepare for the hybrid workplace, customers require audio products that reduce unwanted ambient noise, enable clear remote meeting participation, and provide high-fidelity sound for their entertainment. This is why we're introducing Surface Headphones 2+. This product carries over all of the features loved by existing Surface Headphones customers; 13 levels of active noise cancellation, innovative earcup dials, an advanced 8-microphone system for incredible voice clarity, 18.5 hours of music listening time or up to 15 hours of voice calling time, and the all-day comfort to help you through the day's virtual meetings. Now certified for Microsoft Teams with the included dongle, Surface Headphones 2+ provides an even more robust meeting experience with on-ear Teams controls and improved remote calling. Surface Headphones 2+ is priced at $299.99 USD.  Business and education customers in select markets can place orders today through microsoft.com or their local authorized reseller.
Microsoft Modern USB and Wireless Headsets:
Certified for Microsoft Teams, these Microsoft Modern headsets enable greater focus and call privacy, especially in shared workspaces. Effortlessly join a meeting or answer a call with the dedicated Teams button, and always be in control with a physical mute button and LED mute indicator light that confirms your mute status. With these new features, you're ready when you want to jump into the conversation or when a distraction occurs. Microsoft Modern USB and Wireless Headsets will start shipping in select markets this June. Microsoft Modern USB Headset will be available for $49.99 USD.  Stay tuned for additional pricing and availability information for Microsoft Modern Wireless Headset. Visit microsoft.com to receive updates on retail availability. Business and education customers can contact their local authorized reseller.
Microsoft Modern USB-C Speaker:
Your workday audio companion, the Microsoft Modern USB-C Speaker will give you high-quality audio for meetings, calls and casual music listening. Designed with the same intuitive controls as our Modern USB Headset and certified for Microsoft Teams, the Modern USB-C Speaker helps you improve and manage your Microsoft Teams meeting experience with a powerful speaker driver, dual microphones and intuitive controls and indicators. Plus, the compact design with integrated cord storage takes up minimal desk space, making it portable enough for wherever you work.  The Microsoft Modern USB-C Speaker will start shipping this June, selling for $99.99 USD. Visit microsoft.com to receive updates on retail availability. Business and education customers can contact their local authorized reseller today.
Microsoft Modern Webcam:
Studies have shown that meeting participants engage more actively when given the ability to connect visually on camera in the remote workplace. The Microsoft Modern Webcam delivers high-quality, reliable video conferencing to enhance or add to your existing PC setup with an experience certified for Microsoft Teams.  The Modern Webcam easily attaches to your monitor, laptop or tripod to provide exceptional 1080p video, HDR and a 78° field of view optimized for meeting experiences. True Look ensures you look your best with auto white balance, auto light adjustment and facial retouch. And since you may not always want to be on camera, easily open and close the integrated privacy shutter with LED usage indicator and know you're only sharing video when you want. Microsoft Modern Webcam will start shipping this June, selling for $69.99 USD. Visit microsoft.com to receive updates on retail availability. Business and education customers can contact their local authorized reseller today.