Microsoft Showcases Windows 7, Previews New Web Applications Based on Office Software
Microsoft has given the world a preview Windows 7 and its new Web applications for Office, which are lightweight versions of Microsoft Office Word, Excel, PowerPoint and OneNote that are used from within standard Web browsers. A beta version of Windows 7 was demonstrated in California at a Professional Developers Conference that features sessions at which software specialists can dig into Microsoft's next operating system.
"We are bringing the best of the Web to Windows, and the best of Windows to the Web," said Ray Ozzie, chief software architect at Microsoft. "From PC to the Web to the phone, and from the server to cloud, we are focused on enabling the creation of the next generation of user experiences that change the way we live, work and play."
Windows 7 is designed to make everyday tasks faster and easier, and make new things possible for end users, according to Microsoft. It will deliver new features while focusing on application and device compatibility.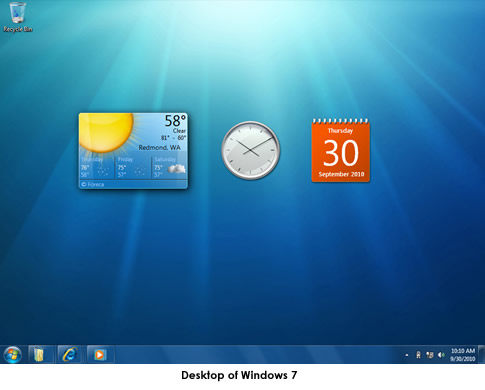 The company also adopted a 'simple is better' philosophy, looking to remove complexity from an operating system that incorporated 50 million lines of programing code in Vista.
Windows 7 highlights include letting people better personalize machines and set up networks that mesh capabilities of mobile telephones, printers, digital picture frames, computers and other "smart" devices.
New features will help protect privacy and data, make it easier to keep a PC running smoothly, and enable quicker recovery from problems.
Improved navigation, a new taskbar and a streamlined user interface put commonly used resources within easy reach. The new taskbar previews all the open windows from a single application by hovering over the program's icon. The designers have removed redundant buttons that launch applications. When users roll over a program's icon in the task bar, it will be easier to see how many documents are open, and switch between them.
Another new feature is called "Jump Lists," which provides updated lists of recently worked-on documents or often visited Web sites without first having to open Microsoft Word or an Internet browser.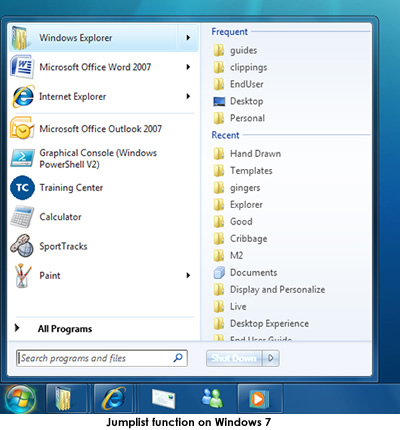 Addressing another complaint about Vista, Microsoft said Windows 7 will be faster and need less memory to run. Vista generally needs costlier hardware configurations than the older Windows XP.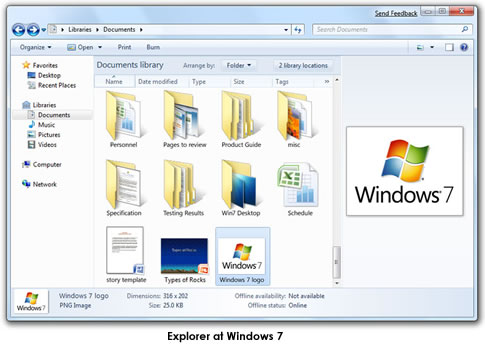 Sharing data across all PCs and devices will be easier at home, in the office or on the go, Microsoft said.
Windows 7 also aims to keep hardware requirements in line with that of Vista so that companies do not need to buy special machines to run the new operating system.
Microsoft is on track to deliver a finished version of Windows 7 by 2010 at the latest.
Microsoft also
announced
that it will release on online version of its popular Office suite, essentially taking the software into "the cloud" as a service available on the Internet.
Web-based versions of Word, Excel, PowerPoint and OneNote programs will be available online at Office Live by subscription or licensing deals, according to Microsoft.
This new offering will be compatible with familiar Web browsers from Internet Explorer, Firefox and Safari. Microsoft will release a private Technical Preview of Office Web applications later this year. In the meantime, Microsoft encouraged anyone interested in learning more about the upcoming beta availability to sign up for Microsoft Office Live Workspace at http://www.workspace.officelive.com.
"Microsoft supports diversity in work styles and understands that customers want choice and flexibility in how and where they work," said Stephen Elop, president of the Microsoft Business Division. "Microsoft is in a unique position to meet that customer need. Office enables people to view, edit, share information and collaborate on documents on the desktop, phone and in the browser, and do so in a consistent and familiar way."