Microsoft's BUILD 2016 Conference Kicks Off
During the first day of Microsoft's Build 2016 developer conference in San Francisco, Microsoft officials confirmed that the next feature-packed update for Windows 10 is coming this summer, touted new Universal Windows Platform apps, HoloLens, Cortana and more. Satya Nadella and Terry Myerson celebrated the progress Microsoft has made with Windows 10, gave a preview of the Windows 10 Anniversary Update coming this summer, and talked about how Microsoft is continuing to invest in the Windows Platform to make it home for all developers. Nadella showcased improvements to Cortana and announced previews of new cloud services and toolkits designed to understand the world around us and create intelligent bots.
Microsoft said that the Windows 10 operating system has 270 million active users eight months after launch. The number represents a solid start for Windows 10 after the tepid reaction to its predecessor, Windows 8.
Terry Myerson said before launch he was aiming for 1 billion devices running Windows 10 within a few years.
Technology research firm IDC is forecasting that smartphones running Windows will account for only 1.6 percent of the global market this year, compared to 83 percent running Google's Android system and 15 percent running Apple's iOS.
Cloud services that understand, interactive bots and the Cortana Intelligence Suite
The Cortana Intelligence Suite, formerly known as the Cortana Analytics Suite, is powered by research into big data, machine learning, perception, analytics and intelligent bots. Built on Microsoft Azure, these capabilities can be used by developers and businesses to create intelligent end-to-end solutions, including new apps that learn about our world and bots and agents that interact with people in personalized, intelligent ways.
Wednesday, Microsoft announced new additions to the Cortana Intelligence Suite, both in preview. The first, Microsoft Cognitive Services, is a collection of intelligence APIs that allows systems to see, hear, speak, understand and interpret our needs using natural methods of communication. The second, the Microsoft Bot Framework, can be used by developers — programming in any language — to build intelligent bots that enable customers to chat using natural language on a wide variety of platforms including text/SMS, Office 365, Skype, Slack, the Web and more.
Microsoft demonstrated how developers can use services, like those found in the Cortana Intelligence Suite, to transform not only businesses but people's lives. Seeing AI, a research project under development, shows how these new capabilities can help people who are visually impaired or blind better understand who and what is around them.
Microsoft also released the Skype Bot Platform, which includes the SDK, API and Workflows all in the new Skype Bot Portal. With this platform, developers can build bots that leverage Skype's multiple forms of communication, including text, voice, video and 3-D interactive characters. Customers can get started with Skype Bots by downloading the latest Skype apps for Windows, Android and iOS. Developers can start building Skype Bots today using the Skype Bot Platform and reach Skype users.
Microsoft also announced that the next release of Windows 10, called "Anniversary Update", is coming this summer, for free, to all Windows 10 users. Key features include:
Windows Hello Brings Biometric Security to Apps and Microsoft Edge
Windows Hello Brings Biometric Security to Apps and Web Sites It enables you to sign into your device with enterprise-grade security. With the Windows 10 Anniversary Update Microsoft has made it possible for you to use the same easy, yet strong, security of Windows Hello with Windows apps and Microsoft Edge browser.
Windows Ink Brings the Power of Windows to the Tip of Your Pen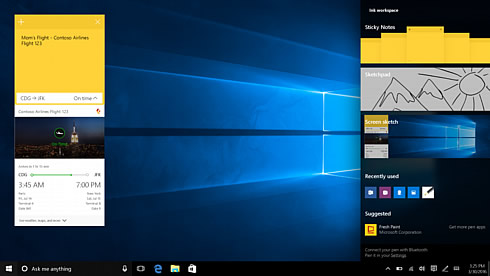 Windows Ink is putting the power of Windows in the tip of your pen, enabling you to write on your device as you do on paper, creating sticky notes, drawing on a whiteboard, and sharing your analog thoughts in the digital world. Windows Ink is integrated into apps like Maps, Microsoft Edge, and Office. Microsoft demonstrated how developers can incorporate Windows Ink into their apps with as little as 2 lines of code.
Cortana with over 1,000 apps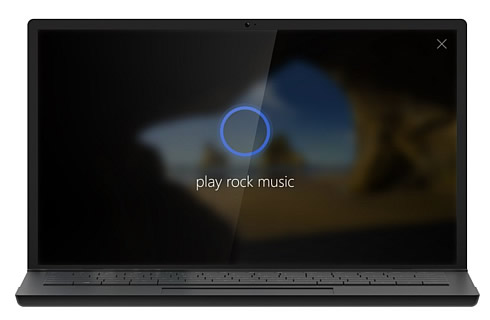 There are nearly 1,000 Cortana-enabled apps already available. Today, Microsoft launched a new Cortana Collection in the Windows Store to make it easy for you to find apps with Cortana. And in the Windows 10 Anniversary Update, Cortana has learned how to proactively make suggestions for you through-out your day, like offering to buy you lunch or arrange transportation. Cortana will be available above the lock screen, giving you quicker access to your personal assistant for common tasks across all types of devices without unlocking your PC. Cortana works across your devices – you can complete certain notification-based tasks on your Windows or Android phone, such as receiving and sending text messages, on your PC. Developers now have full access to Cortana's intelligence through proactive actions, allowing apps to perform tasks based on user context by linking existing actions in your deep-link enabled apps and websites.
UWP apps come to Xbox through a Unified Windows Store and every Xbox One can become a dev kit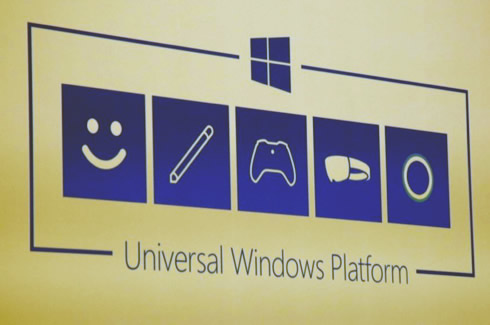 Gaming gets better with the Windows 10 Anniversary update, including background music and Cortana coming to Xbox One. Cortana can help you find new games, new challenges or tips and tricks. On Xbox One, Microsoft is continuing to deliver on top fan-requested features like support for multiple GPUs and the ability to turn off v-sync. Game developers have access to an open ecosystem with the Universal Windows Platform, making it easy to bring the games people love to both Xbox One and other Windows 10 devices. With the Anniversary Update, any Xbox One can be a developer kit with Xbox Dev Mode, enabling anyone to develop for the living room. And, the Windows Store will offer a unified store experience for all developers.
Microsoft is also shipping HoloLens. HoloLens mixes holograms into our world, enabling all new ways for us to communicate, create, work and play. It's the only device that enables holographic computing natively with no markers, no external cameras, no wires, no phone required, and no connection to a PC needed.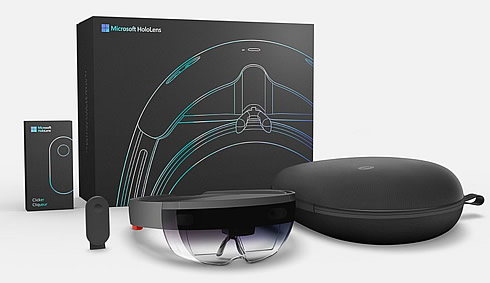 Microsoft's goal for Windows is to be the best platform for all developers. New Universal Windows Platform apps from Twitter, Uber, King, Disney, Wargaming Group, Square Enix, Yahoo, and WWE are already available, with new apps on the way from Bank of America, Starbucks, Facebook, Messenger and Instagram. Facebook will also be bringing the Facebook Audience Network SDK and App Install Ads to the Universal Windows Platform - enabling 3 million Facebook advertisers to reach Windows 10 customers later this year.
Microsoft also made several announcements designed for different types of developers:
Web developers have released Windows 10 Hosted Web Apps, driving engagement and high store reviews, including American Express, BBC Sport, Yahoo Mail, zulily, and many, many more. Microsoft today announced that developers will be able to run native bash on Windows 10.
Microsoft shared its new desktop app converter for Project Centennial, which will enable Win32 and .NET developers to easily bring more than 16 million apps to the Universal Windows Platform. Developers can extend their applications with Universal Windows Platform capabilities and distribute their apps in the Windows Store.
.Net developers have been seeking a way to share more of their code across platforms. Xamarin will help make it possible them to more easily share common app code across Windows, iOS and Android apps while still delivering fully native experiences for each platform.