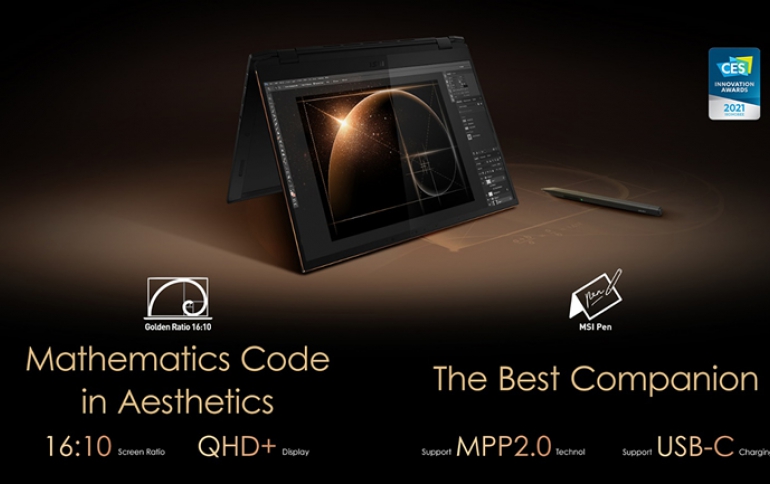 MSI announces Summit E16 Flip laptop
You'd be surprised by how much performance is packed inside this impeccable design under Golden Ratio. It is often a dilemma for business users to choose between performance and portability when buying a laptop, but MSI is now offering the best of both worlds. If you're looking for a commercial laptop that is convertible, with pen support, and has excellent graphics, MSI Summit E16 Flip may be the solution for someone like you who demand performance on the go.
After its announcement in CES 2021, MSI Summit E16 Flip, this powerful yet beautifully-designed laptop, is finally on the market. Not only has it exemplified the law of "Golden Ratio" with the 16:10 QHD+ Display, the performance will not disappoint mobile commercial users. Moreover, the Dynamic Cooler Boost design will help users to distribute its CPU and GPU performance to the tasks accordingly. If you are engineer, architect, designer, or even startup ownerwho needs to pitch and show proposals, you will no longer have to struggle with loading and editing the files on the spot with the 11th Gen Intel® Core™ i7processors and NVIDIA GeForce RTX 30 Series graphics.Along with the support of the MSI Pen, the first award-winning stylus on 2021 CES, it will be a booster for your productivity and allows you to work more modernly with its low latency, stable connection, long battery life, and customizable functions.
Other than its satisfying performance, its features also provide excellent remote working/conferencing experiences for business elites. MSI Summit E16 Flip is equipped with quadruple webcam microphone to capture clear voices from a broader range of angles, along with the AI noise cancellation with refined algorithm engine to make online meeting more enjoyable. It has a battery life of over 16 hours and supports fast-charging to extend 2.5 hours of battery life with only a 15-minute charge. It's a very thin unit at only 16.85 mm, but very quiet (under 35dB) thanks to its thermal design while its competitors generate in the average range of 45 to 60dB.
MSI shows their determination to expand their business product line, yet they keep their performance and aesthetic standard. MSI Summit E16 Flip is the perfect example of how MSI has merged both aesthetics and performance into one product. If you're looking for a powerful, convertible laptop for work that is easy to carry around and adds a bit of style and professionalism on you, check the retailers for the availability for MSI Summit E16 Flip.
More information at https://www.msi.com/Business-Productivity/Summit-E16-Flip-A11X-RTX/Speci...