MSI Showcases X299 mobos, Gaming Laptops at Computex
In addition to the Intel X299 platform releases and action-packed gaming rigs, MSI has full booth at Computex entirely dedicated to the theme "Next Gaming Dimension".
MSI has on display a bunch of high-end gaming lineups at the show, including its refreshed gaming laptop rosters: the GT75VR, GS63/73VR, GE63/73VR series; the very latest X299 GAMING M7 ACK, X299 GAMING PRO CARBON AC, X299 TOMAHAWK motherboard; Infinite A and Trident Arctic gaming desktops; and, last but not least, gaming accessories: Clutch GM70 gaming mouse, Vigor GK80 gaming keyboard along with Core Frozr XL CPU cooler.
Gaming Laptops
GT75VR
The top-tier GT75VR comes with 3 GPU options: GeForce GTX 1080/GTX 1070 SLI/GTX 1070, plus an Intel Core i7 7820HK CPU with over 4GHz overclocking capability. The power-packed muscle machine features its SteelSeries rapid RGB mechanical with customizable Per-Key RGB illumination and a diamond-shaped palm rest. Moreover, GT75VR laptops sports features like MSI True Color Technology 2.0, Nahimic VR, MSI 120Hz Display of HDR color and HDR video editing, and Cooler Boost Titan.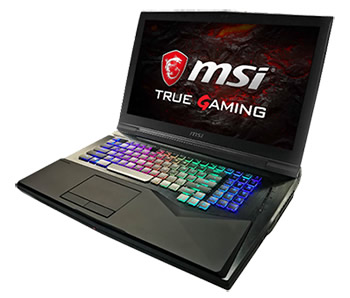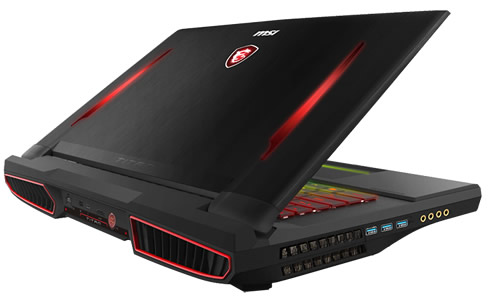 GS63/73VR
Measuring just 17.7mm at its thickest point and a 1.9kg weight, the GS63VR's boasts for its ultra slim chasis. The 15" gaming laptop gets a GeForce GTX 1070 graphics and a 120Hz/3ms display with vivid HDR color range. The Cooler Boost Trinity on GS63VR consists of 5 heatpipes and Whirlwind Blade fans for effective and silent heat dissipation. SteelSeries Engine 3 allows gamers to customize their settings on the embedded SteelSeries keyboards. Additionally, ESS SABRE HiFi tech with 24bit/192kHz Hi-Res Audio provides a theater-quality audio experience.
MSI GS73VR's brushed-finished frame utilizes high-density aluminum alloy. With new GeForce GTX 1070 graphics, HDR-enabled 120Hz/5ms display and Cooler Boost Trinity cooling solution, the GS73 reliably brings performance in the intense moments in gaming. Moreover, the firepower equipped with superior gaming features, including SteelSeries gaming keyboard, SteelSeries Engine 3 software, True Color Technology, ESS SABRE HiFi Audio, Nahimic 2 Audio Enhancer and more.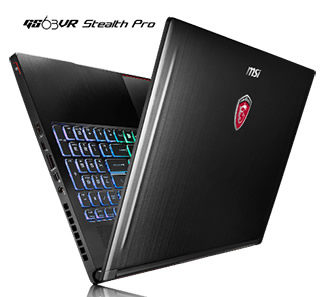 GE63/73VR Raider
Inspired by exotic sports cars, the new GE63VR/73VR Raider has been given a new identity and weaponry. Available in 15- and 17-inch, GE63/73 VR Raider takes advantage of the GeForce GTX 1070 and boosts OC ability. The device boasts its HDR-campatible, 120Hz panel with 3ms response time. The series also includes a RGB keyboard backlighting on a per-key basis, Cooler Boost 5, Dynaudio's Giant Speakers and Hi-Res Audio.
Gaming Destops
MSI is expanding its Gaming Desktop line up with the MSI Infinite series. First displayed on COMPUTEX 2017 in Taipei, the design of Infinite's case boasts elements of electric circuitry traces on the front side, which can be customized with RGB colors via MSI's Mystic Light software.
Infinite A tackles any challenging game by equipping MSI's own MSI GAMING graphics card and the latest Intel Core i7 or i5 processors. To support its endurance during transportation and cooling efficiency while gaming, the GAMING graphics card is installed vertically.
The Trident Arctic gives a cool look with its icy white color. It offers high performance housing a customized GeForce GTX 1070 GAMING graphics card and the latest Intel Kaby Lake processor.
With its 256GB M.2 PCI-E SSD, Trident 3 Arctic provides fast boot times and game-level loading times.
X299 Gaming Motherboards
X299 GAMING M7 ACK
Designed for gamers and PC enthusiasts who crave for extreme performance, the X299 GAMING M7 ACK is featuring the 10+1+1 phase DigitALL premium power design with Loadline Calibration and MSI's Turbo Socket.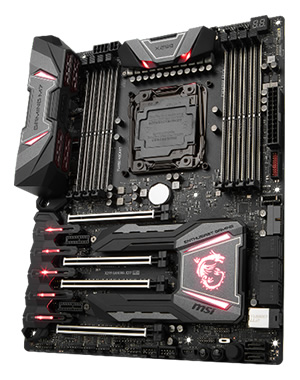 With MSI's new built-in M.2 thermal solution, patent-pending M.2 Shield FROZR tech, you never have to worry about your fast PCI-Express based M.2 SSD to start throttling, lowering down performance. Killer Double Shot PRO allows the 2x Killer E2500 Ethernet connectors and the Killer 1535 Wi-Fi adapter to work together for optimal online gameplay.
X299 GAMING PRO
The X299 GAMING PRO is features a fully exchangeable heatsink covers and X-Mounting accessories to support 3D printing and modding, combined with the latest generation MYSTIC LIGHT RGB LEDs.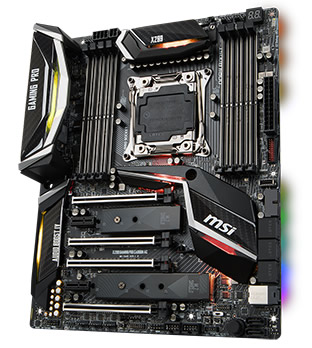 The one-second Game boost function offers instant overclocking. Furthermore, the motherboard features 2x M.2 Shield, Turbo M.2 and Turbo U.2 to connect any of the latest generation NVMe based SSDs with ease.
X299 TOMAHAWK
The new X299 TOMAHAWK illustrates the evolution of the next generation of MSI motherboards, featuring stainless steel heatsinks and MSI Steel Armor design. X299 TOMAHAWK also includes the exclusive M.2 Shield FROZR, a design to protect against thermal throttling on M.2 SSDs. Not to mention Turbo U.2 with Steel Armor, front USB type C to maximize your systems data transfer performance through any type of connection. On top of all that, MSI exclusive VR Boost and VR ready bring smooth performance when enjoying any game in VR, AR and MR.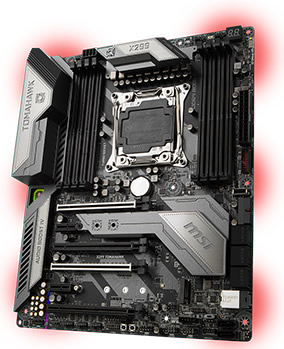 Gaming Gear
Clutch GM70 GAMING Mouse
The mouse is featuring a 18,000dpi optical sensor and full RGB Mystic Light functionality.
Vigor GK80 GAMING Keyboard
Built on an aluminum frame, the Vigor GK80 provides everything you would expect from a classy mechanical gaming keyboard. The keyboard is equipped with Cherry MX Switches, RGB Mystic Light as well as multitude of hotkeys.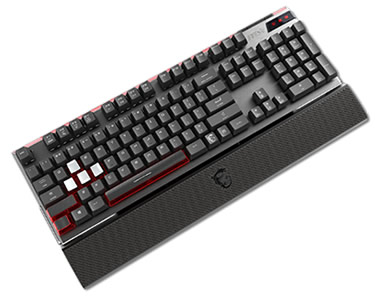 Core Frozr XL
The Core Frozr XL is MSI's second CPU cooler using features and technology found on other MSI GAMING products. The CPU cooler uses two TORX 2.0 fans and supports MSI RGB Mystic Light to offer a cool and customizable setup.