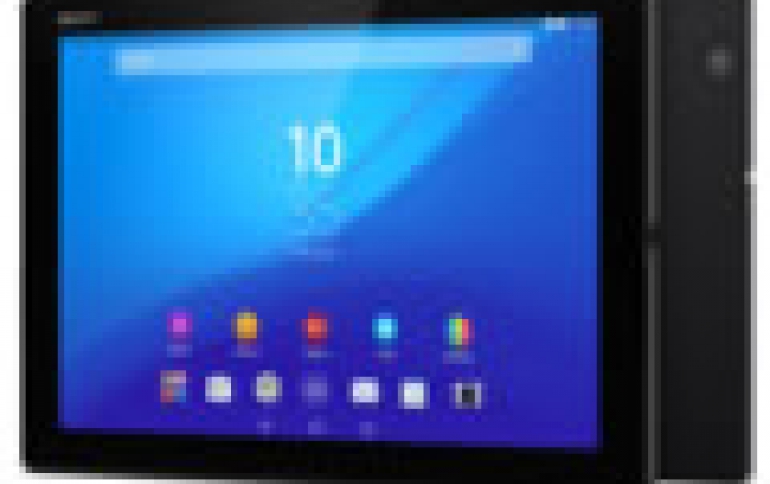 MWC: Sony Introduces The New Xperia Z4 and Xperia M4 Aqua Tablets
Sony Mobile opened up its booth at Mobile World Congress in Barcelona, introducing the new Xperia Z4 Tablet and Xperia M4 Aqua. Sony Mobile Communications's new President & CEO, Hiroki Totoki, also took to the stage to share his vision for Sony Mobile's future.
"We're at a point where delivering a better user experience means going beyond what is currently available in the market," said Totoki. "We must redefine how products can enrich our lives with the communications possibilities that they create. And Sony Mobile has the innovators that will take these next steps."
"Our success will come not just from optimizing our core smartphone business – but from new ideas, new business opportunities and new ways of working. So that, no matter what challenges we encounter, we will deliver products and services that excite and entertain. We will minimize our business volatility, in this highly volatile industry."
"Mobile remains an important part of the Sony Group. And the reason for that is quite simple. Smartphones, tablets, SmartWear and mobile services are firmly rooted in our daily lives. They're often the last thing we see before bed and the first when we see when we wake up," added Kazuo Hirai, President & CEO, Sony Corporation. "Sony has always been about doing what has never been done before. And the next phase of Sony Mobile is all about carrying that spirit forward, and making sure to entertain and 'wow' our customers around the world."
The new Xperia Z4 tablet features a bright 10.1 inch 2K display and long battery life (up to 17 hours of video playback). The Android tablet 's IP68 waterproof and dust-tight rating makes it ideal for everyday use – now with a capless micro-USB charging for added convenience. For a laptop style experience, the BKB50 Bluetooth Keyboard features a dedicated slot for Xperia Z4 Tablet with 0-130 degree tilt for adjustable comfort.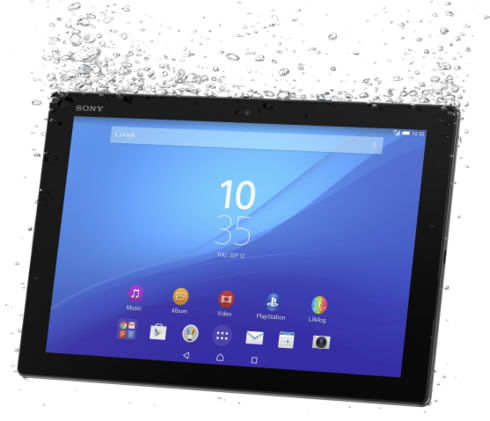 The Xperia Z4 Tablet also includes powerful front stereo speakers along with Sony's audio technologies. High-Res Audio reproduces high frequency sound in detail. DSEE HX processing upscales the audio fidelity of tracks to near High-Res Audio quality. Xperia Z4 Tablet supports digital noise cancelling for those times when you need to block out background noise. And for high quality wireless music listening, Sony's new LDAC codec transmits data three times more efficiently than Bluetooth.
Xperia Z4 Tablet comes loaded with a 8MP main camera and a 5.1MP wide-angle front camera. It also comes packed with the Qualcomm Snapdragon 810 octa-core 64 bit processor, Wi-Fi and 4G LTE,connectivity and 32GB internal memory.
Its stamina is sure to impress with up to 17 hours of video playback, as a result of a 6,000mAH battery with Sony's Battery STAMINA Mode, which turns off background functions when you're not using them to help extend your battery life.
Xperia Z4 Tablet will launch globally, in 4G LTE and Wi-Fi variants, from June 2015.
The Xperia M4 Aqua is a mid-range smartphone, featuring a 13MP camera powered by Sony's Exmor RS mobile sensor with a large F2.0 aperture, and ISO 3200 sensitivity. The Superior Auto Mode simplifies your interactions, automatically sensing up to 52 different scenarios. Just as with the rear, the 5MP selfie camera has a super wide-angle lens with an 88° field of view, and Portrait Retouch allows you to add fun finishing refinements.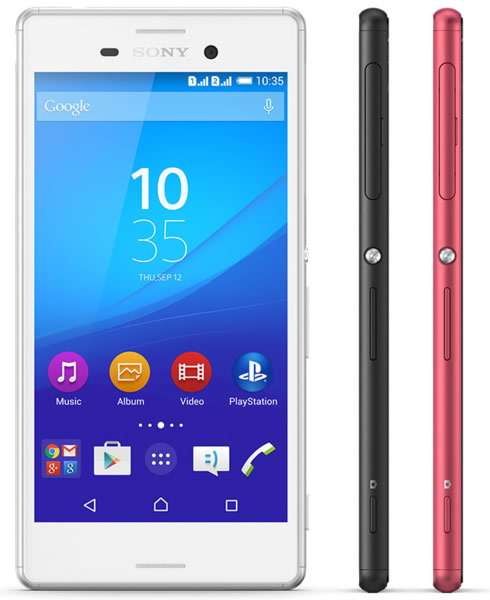 Sony's first octa-core 64-bit smartphone is featuring the Qualcomm Snapdragon 615 processor with integrated 4G LTE connectivity and up to two-day battery life.
The Android 5.0 Lollipop tablet has a tempered glass display, with a 136g waterproof (IP65/8 rated) body reengineered for cap-less microUSB charging.
Xperia M4 Aqua will be available in classic White and Black, but also fresh Coral and Silver. It will launch in 80 countries worldwide, across more than 100 carrier partners for around 299 EUR, from Spring 2015.
Sony also introduced the stylish Stereo Bluetooth Headset SBH70, a water resistant wireless headset with fine-tuned sound quality.
 

Xperia M4 Tablet

Xperia M4 Aqua

Weight
389 grams Wi-Fi only, 393 grams Wi-Fi + LTE
140 g
Dimensions
167 x 254 x 6.1 mm
145.5 x 72.6 x 7.3 mm
Display
10.1" (2560x1600 pixels)
5" HD (1280x720 pixels)
On the inside

Google Android 5.0 (Lollipop)

2 GHz Qualcomm Snapdragon 810, 64-bit Octa Core

Google Android 5.0 (Lollipop)
64-bit Qualcomm Snapdragon 615 Octa Core processor (Quad-core 1.5 GHz + Quad core 1.0 GHz)

Camera

8.1-megapixel camera
Front-facing 5.1-megapixel camera

13 MP camera with auto focus
5 MP front camera with HD 720p for video

Battery

6000 mAh
Video playback time: up to 17 hours

2400 mAh
Talk time: up to 13 hours 17 min.
Standby time: up to 779 hours
Music listening time: Up to 64 hours 46 min.
Video playback time: Up to 6 hours 57 min.

Durability
Waterproof and dust tight (IP65 and IP68)
Waterproof and dust tight (IP65 and IP68)
Camera and video

8.1-megapixel camera
8x digital zoom
Front-facing 5.1-megapixel camera
Superior Auto
Full HD video recording 1080 p
HDR (High Dynamic Range) for pictures and movies
Image stabiliser
Geotagging – add location info to your photos
Image capture, supported file format: JPEG
Image playback, supported file formats: BMP, GIF, JPEG, PNG, WebP
Video capture, supported file formats: 3GPP, MP4
Video playback, supported file formats: 3GPP, MP4, WebM, .MKV

13 megapixel camera with auto focus
4x digital zoom
Full HD video recording (1080p)
HDR for photos
5-megapixel front-facing camera, HD 720p for camera capture
Sony Exmor RS for mobile image sensor
SteadyShot – video stabilisation
Superior Auto – automatic scene selection
Image stabiliser
Geotagging – add location info to your photos
Red-eye reduction
Image capture, supported file format: JPEG
Image playback, supported file formats: BMP, GIF, JPEG, PNG, WebP
Video capture, supported file formats: 3GPP, MP4
Video playback, supported file formats: 3GPP, MP4, Matroska, AVI, Xvid, WebM

Connectivity

aGPS
Bluetooth® 4.1 wireless technology
3.5 mm audio jack
Native USB tethering
Smart Connect
Synchronisation via Exchange ActiveSync, Facebook, Google and SyncML
USB High speed 2.0 and Micro USB support
Wi-Fi and WiFi Hotspot functionality

aGPS
Bluetooth 4.1 wireless technology
3.5 mm audio jack (CTIA)
DLNA Certified
NFC
GLONASS
Miracast
Native USB tethering
Synchronisation via Exchange ActiveSync, Facebook, Google and SyncML
USB High speed 2.0 and Micro USB support
Wi-Fi and WiFi Hotspot functionality
ANT+ sport, fitness, health support

Display

10.1" (2560 x 1600 pixels) display
Scratch-resistant glass + Anti fingerprint coating

5" display (1280x720 pixels)
Processor (CPU)

2 GHz Qualcomm Snapdragon 810, 64-bit Octa Core
Adreno 430

1.5 GHz Qualcomm MSM8939
Adreno 405 GPU
64-bit Octa-core

Memory and storage

3 GB RAM
Up to 32 GB flash memory
Up to 128 GB microSD (card slot)

2 GB RAM
Up to 8 GB / 16 GB flash memory
Up to 32 GB microSD card

Sound

Sony 3D Surround Sound technology (VPT)
Clear Audio+ - Sound improvement software
xLoud Experience
Audio recording, supported file formats: 3GPP, MP4, AMR
Audio playback, supported file formats: MP3, 3GPP, MP4, SMF, WAV, OTA, Ogg vorbis, WMA
FM Radio with RDS

Sony 3D Surround Sound technology (VPT)
Clear Audio+ – Sound improvement software
Clear Bass
Manual equaliser
xLoud Experience
Audio recording, supported file formats: 3GPP, MP4, AMR
Audio playback, supported file formats: MP3 (.mp3), 3GPP (.3gp), MP4 (.mp4, .m4a), SMF (.mid), WAV (.wav), OTA (.ota), Ogg vorbis (.ogg)

Networks

GSM GPRS/EDGE (2G)
UMTS HSPA (3G)
LTE (4G)

GSM GPRS/EDGE (2G)
UMTS HSPA (3G)
LTE (4G) (not available in all markets)