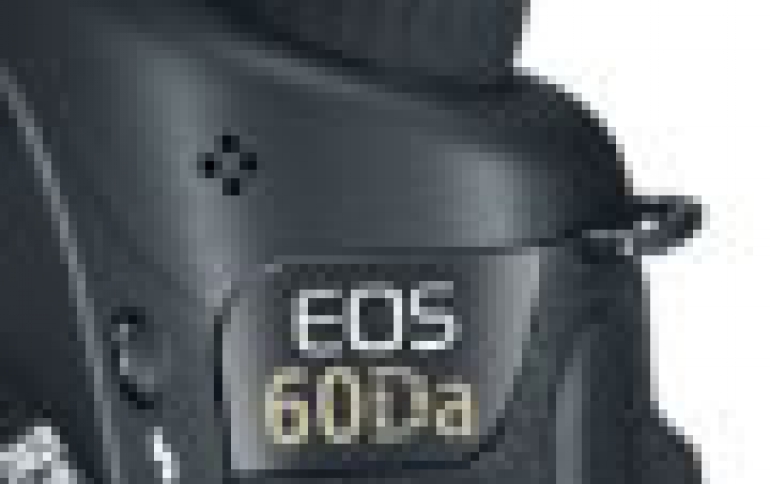 New Canon EOS 60Da DSLR Camera Brings Stars Closer
Canon today introduced the EOS 60Da Digital SLR Camera, a successor to the EOS 20Da that is optimized for astrophotography. This DSLR caters to astronomers and hobbyists who enjoy capturing the beauty of the night sky by offering a modified infrared filter and a low-noise sensor with heightened hydrogen-alpha sensitivity. These modifications allow the camera to capture photographs of "red hydrogen emission" nebulae and other cosmic phenomena.
The Canon EOS 60Da camera packs an 18-megapixel CMOS sensor (APS-C), an enhancement over the EOS 20Da model's 8.2-megapixel sensor. The improved infrared-blocking filter is a modification suited specifically toward astronomy enthusiasts to achieve a hydrogen-alpha light sensitivity that is approximately three times higher than that of a normal Canon DSLR camera. This produces a 20-percent higher transmittance of Hydrogen Alpha line, allowing astronomers to capture clear images of reddish, diffuse nebulae.
Images can be viewed on the EOS 60Da's improved 3.0-inch Clear View LCD screen with 1,040,000 dots. The flip-out Vari-angle screen allows photographers to adjust the screen for easy viewing without straining even while the camera is mounted to a telescope via a third-party T-ring adapter. Astronomy enthusiasts can connect the camera to a TV with the provided AVC-DC400ST Stereo AV Video Cable and display the night sky on a TV monitor using the camera's Live View mode. Moreover, the EOS 60Da's Live View mode is equipped with a Silent Shooting feature that eliminates shutter-induced vibration for maximum camera stability when the camera is mounted to a telescope or super-telephoto EF lens.
Noise reduction on the EOS 60Da sensor offers photographers the ability to experiment with the wide array of ISO settings and increased ISO speeds up to 6400 expandable to 12800. Other features include an intelligent nine-point autofocus system, full manual controls, and RAW, JPEG, and RAW+JPEG image recording capabilities. Accessories
The EOS 60Da helps capture the wonders of the night sky with its use of Canon's EF and EF-S lenses along with other EOS accessories. Additionally, the EOS 60Da is packaged with Canon's RA-E3 Remote Controller Adapter, providing the ability to connect a Canon Timer Remote Control such as the TC-80N3 (optional accessory).
Canon has also included an AC adapter kit with the EOS 60Da, allowing the camera to be powered through an AC wall outlet or a battery-powered inverter.
The EOS 60Da is only available to order from select authorized Canon dealers. The estimated retail price is $1,499.00 and it is expected to be available this month.