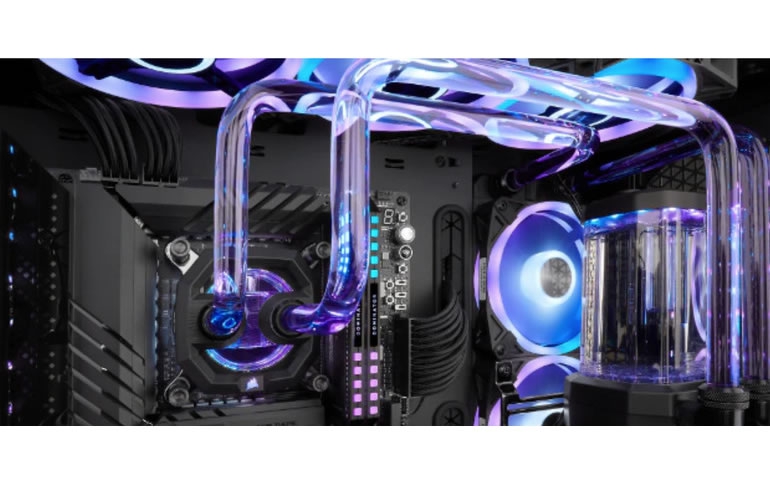 New CPU Custom Cooling Kits from CORSAIR Make Building a Masterpiece Easier than Ever
CORSAIR® (NASDAQ: CRSR), a world leader in enthusiast components for gamers, creators, and PC builders, today announced new complete hardline CPU custom cooling kits in the award-winning Hydro X Series: the CORSAIR iCUE XH303i RGB PRO and XH305i RGB PRO. With all the key parts you need to build a custom cooling loop, from CPU water blocks, to pump/radiator combos, to all the necessary tubing and fittings, these kits remove the guesswork and streamline the process of building a stunning hardline loop.
An XC7 RGB PRO CPU Water Block and hardline tubing cool a processor inside a custom-cooled PC build.
The XH303i RGB PRO and XH305i RGB PRO deliver all the necessary components for powerful CPU cooling in one box, in either black or white. An XC7 RGB PRO CPU Water Block, compatible with Intel® LGA 1700/1200 and AMD® AM4 processors, keeps your CPU temperatures down with more than 110 micro-cooling fins under a nickel-plated copper cold plate. Both kits disperse heat through a 30mm-thick XR5 360mm performance radiator, and contain all the hardline tubing and fittings you need, along with an included cutting/bending kit for making beautiful bends.
A complete PC build is shown with the XH305i RGB PRO custom cooling kit installed inside.
For systems short on space, the XH303i RGB PRO is powered by a compact XD3 RGB Pump/Reservoir Combo featuring a high-performance DDC PWM pump, with airflow driven by three SP120 RGB ELITE fans with AirGuide technology to concentrate airflow through a high-density radiator.
The XH305i RGB PRO ups the ante with a larger XD5 RGB Pump/Reservoir Combo and three gorgeous QL120 RGB fans equipped with 34 RGB LEDs each. Both kits come with a liter of clear, pre-mixed XL8 Performance Coolant and an included iCUE controller for easy, automated control of your fan and pump speeds and RGB lighting.
A white CORSAIR Hydro X Series XM2 Water Block is displayed.
Lastly, the Hydro X Series XM2 Water Block in white also launches today. Easily fitting to a compatible M.2 SSD (2280), the XM2 connects to your loop with two standard G1/4" thread connector fittings. Now you can keep your SSD in the loop for lower temperatures and reduced thermal throttling, even in an all-white build. The XM2 is also available pre-installed on a CORSAIR SSD in the MP600 PRO XT Hydro X Edition.
Whether you're a seasoned custom cooling veteran or a newcomer looking to dip your toes in the water, the new Hydro X Series kits from CORSAIR make custom cooling more accessible to everyone.
Availability, Warranty, and Pricing
- The CORSAIR iCUE XH303i RGB PRO, XH305i RGB PRO, and XM2 Water Block – White are available immediately from the CORSAIR webstore and the CORSAIR worldwide network of authorized retailers and distributors.
- The CORSAIR iCUE XH303i RGB PRO, XH305i RGB PRO, and XM2 Water Block – White are backed by a two-year warranty, alongside the CORSAIR worldwide customer service and technical support network.
For up-to-date pricing of the CORSAIR iCUE XH303i RGB PRO, XH305i RGB PRO, and XM2 Water Block – White, please refer to the CORSAIR website or contact your local CORSAIR sales or PR representative.
Web Pages
To learn more about the CORSAIR iCUE XH303i RGB PRO Custom Cooling Kit, please visit: https://corsair.com/xh303i-rgb-pro
To learn more about the CORSAIR iCUE XH305i RGB PRO Custom Cooling Kit, please visit: https://corsair.com/xh305i-rgb-pro
To learn more about the CORSAIR XM2 Water Block – White, please visit: https://corsair.com/xm2-water-block-white
For a complete list of all CORSAIR Hydro X Series parts, please visit: https://www.corsair.com/hydro-x-series