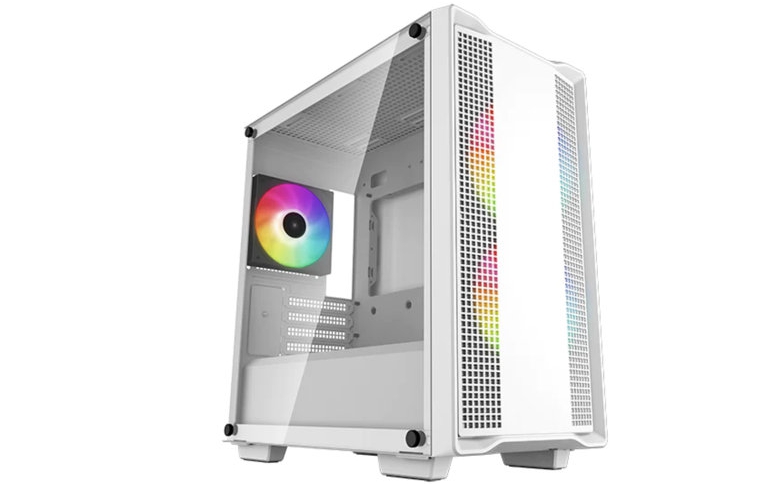 The New DeepCool CC360 ARGB Series Micro-ATX Cases
DeepCool announces the CC series Micro-ATX cases, which consists of the CC360 ARGB and CC360 WH ARGB. Available in black and white, the CC series cases offers both new and experienced builders a perfect start with exceptional component compatibility and high-quality features. The CC series cases feature remarkable airflow and cooling performance for the budget orientated and value-seeking pc builder.
The DeepCool CC360 ARGB and CC360 WH ARGB Micro-ATX cases outperform the competition with an incredible cost to performance ratio. Both feature three pre-installed 120mm ARGB fans for high airflow through a ventilated front panel for improved cooling performance. Although compact, CC360 ARGB cases provides room for high-end liquid cooling, with support for up to 360mm radiators in the front or up to 240mm radiators at the top to deal with demanding next-generation hardware. A full-sized crystal-clear tempered glass side panel offers a spectacular view inside to showcase your build. Complete with four storage drive options and included dust filters, the CC360 ARGB cases are the perfect start for new and experienced builders.
High-Airflow Compact Case, Spacious Interior with Exceptional Hardware Compatibility
The CC360 ARGB cases are compact but spacious featuring enlarged airflow channels at the front of the case for enhanced airflow. Both offer support for up to 6x 120mm or 4x 140mm cooling fans. The CPU cooler height limit is 165mm with a max supported GPU length of 320mm, the CC360 ARGB cases offer ample room for powerful, next-generation builds. Builders can install up to 2x 2.5" SSDs storage drives directly onto the rear of the motherboard tray and up to 2x 3.5" HDDs in a removable drive cage.
Pricing, Availability and Warranty
CC360 ARGB & CC360 WH ARGB – MSRP: 54,99€, available in June 2023 The CC360 ARGB cases are backed by a two-year warranty.
For more information, please visit
- CC360 ARGB https://global.deepcool.com/products/Cases/fulltowercases/CC360-ARGB-M-A...
- CC360 WH ARGB https://global.deepcool.com/products/Cases/fulltowercases/CC360-WH-ARGB-...