New Family of Hitachi 750GB Mobile Hard Drives Feature 4K Sectors
Hitachi Global Storage Technologies today announced its new 375GB/platter, 5,400 RPM and 7,200 RPM, 2.5-inch hard drives ? the Travelstar 5K750 and the Travelstar 7K750 hard drive families. Featuring the industry's highest capacities in a standard 9.5mm two-disk design, the new drives come in capacities of 750GB, 640GB and 500GB.
The Travelstar 5K750 and 7K750 drive families are the first Hitachi GST hard drives that feature Advanced Format. Advanced Format increases the physical sector size on hard drives from 512 bytes to 4096 (4K) bytes. This helps utilize the storage surface area more efficiently, allowing for increased drive capacities and improved data integrity at higher storage densities. By integrating Hitachi drives with the new Advanced Format, IT managers, system integrators and OEMs can take advantage of the latest operating systems to deliver new high-capacity, power-efficient systems.
5,400 RPM Travelstar 5K750 Family
The Travelstar 5K750 family is the next generation of Hitachi's mainstream mobile hard drive line. It is a 5,400 RPM hard drive offered with an 8 MB buffer and a Serial ATA 3Gb/s interface, designed with superior low power consumption for energy efficiency, offering 0.5 watts low power idle and 1.4 watts power during read/write operations. The new Travelstar 5K750 also offers a non operating shock at 1000G/1ms to protect against bumps and rough handling in mobile environments.
7,200 RPM Travelstar 7K750 Family
The Travelstar 7K750 is the latest hard drive in Hitachi's most popular 7,200 RPM family, that meets the growing demand for performance computing. It comes with a 16MB buffer, 3Gb/s SATA interface, and a low read/write power specification at 1.8W.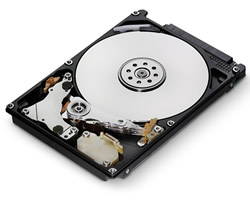 Both Hitachi Travelstar 5K750 and 7K750 families feature operating shock, Thermal Fly-height Control (TFC) for better soft error rate and improved reliability, and Hitachi's TrueTrack Technology for tracking accuracy in high shock or vibration environments. Fluid dynamic bearing motors also deliver a near silent operation.
Self-encryption Options
Travelstar 7K750 is a self-encrypting drive (SED) designed to meet the industry-standard Trusted Computer Group (TCG) Opal Storage Security specification. This drive is the fifth generation to feature Hitachi's Bulk Data Encryption (BDE). These self-encrypting drives encrypt data using protected keys in real time, providing users with the highest level of data protection available. It also speeds and simplifies the drive re-deployment process. By deleting the encryption key, the data on the drive is rendered unreadable, thereby eliminating the need for time-consuming data-overwrite.
Designed specifically for use in blade servers, network routers and video surveillance systems, the new Travelstar 5K750 and 7K750 EA models bring together a host of features such as high capacity, durability and low power for applications needing 24x7 access to data.
The Travelstar 5K750 is currently shipping in volume. Hitachi Travelstar 5K750 Retail Hard Drive Kits will be available in November with a suggested retail price of $129.99. The Travelstar 5K750 EA version will be shipping to Hitachi's OEMs for qualification by the end of the year. The 7,200 RPM Travelstar 7K750 family, including EA versions and retail kits, will be available in Q1 2011.