Western Digital's 2020 Storage Field Day
Last week Western Digital held the 2020 Western Digital Storage Field Day, with the company's executives to talk about the company's developments in digital storage and their applications.
Phil Bullinger, Sr. VP and GM of Western Digital's Data Center Business Unit spoke about providing data infrastructure at the Zettabyte Scale. He said that this market is estimated to be $3.6 T (trillion) by 2030. For HDDs this involves Helium filled HDDs, energy assisted recording, advanced suspension mechanics, shingled magnetic recording (SMR) and advance queue management and dual actuator HDDs. He also said that WDC is shipping its 5th generation of He-filled HDDS, having shipped more than 50 M units and over 540 exabytes. WDC projects that SMR HDDs will be about 50% of total data center HDDs by 2024.
He said that the next generation 18 and 20 TB products move from 8 to 9-platters and include an initial energy assisted magnetic recording. With higher capacities, fewer HDDs are needed to achieve a given system storage capacity, requiring less rack space and saving energy at data centers.
Swapna Yasarapu, Sr. Director, SSD Product Marketing, Data Center Devices Business Unit spoke about Western Digital's Zoned Storage. WDC's Zoned Storage initiative includes its shingled magnetic recording (SMR) HDDs as well as its Zoned SSDs. She said that Zoned Storage enabled various sensor data analysis, AI/ML applications as well as serverless infrastructures.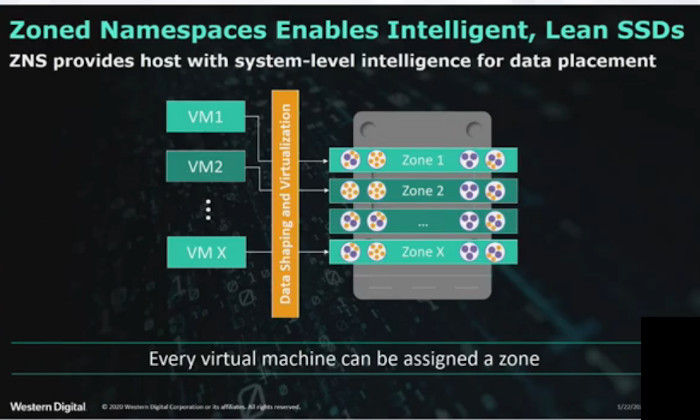 She said that it provides a unified approach to manage naturally serialized data at scale and enables predictable performance for cloud-based applications. With Zoned Storage incoming data and workloads are serialized using data intelligence and a collaboration layer working with software defined storage to provide intelligent data placement via Linux, SMR and NVMe into SMR HDDs or Zoned SSDs.
With zoned storage every virtual machine can be assigned a zone. Zoned storage, working with RISC-V architectures allow reducing overprovisioning for endurance and garbage collection by 10 X and reducing the required DRAM in an SSD by 8 X. This should result in better performance with lower cost per bit. Note that Zoned SSDs could also use a mix of different NAND flash types (e.g. MLC and QLC) in different zones and used for different workload tasks.
Last year Western Digital said that it would introduce HDDs using MAMR (microwave assisted magnetic recording) for higher areal density but in it most recent announcement it said that its new 18 and 20 TB 9-platter products are using ePMR, which the company said was a lower risk option to start using energy assisted magnetic recording. He also said that the company is working on MAMR and HAMR (heat assisted magnetic recording) products.
The company has not yet announced what sort of energy ePMR is using to enhance HDD areal density. The company is combining the ePMR in the 18 TB product with shingled magnetic recording to get a 20% capacity improvement (20 TB) for colder storage applications, which WD projects will have the greatest growth in data centers in the coming decade. Western Digital projects that energy assisted magnetic recording will enable 50 TB non-shingled HDDs and 60 TB shingled HDDs by 2026. MAMR or HAMR-based HDD products are projected for 2022 to 2023 introduction.
Part of the HDD improvement is in a new suspension technology. The WD suspension roadmap shows moving from today's Dual Stage Actuator (Micro) suspension to triple stage actuator technology in 1H 2020. This combines the VCM actuator with actuation at the slider/gimbal and also in the suspension/loadbeam. WD said that current products have 500,000+ tracks per inch (TPI) with 1 nm positioning accuracy.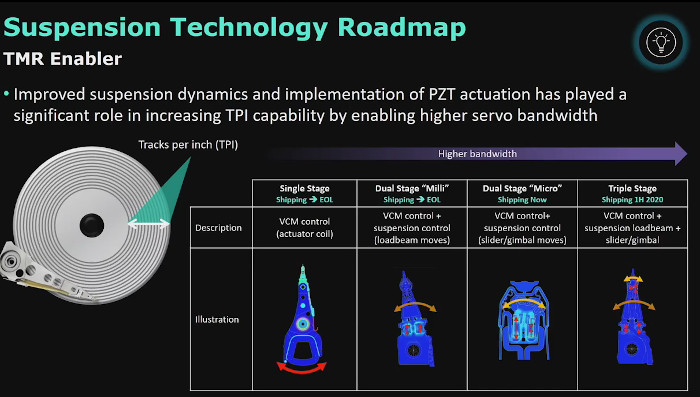 Western Digital, like Seagate Technology, has announced that they will be making dual actuator HDDs in 2020. In addition to making back end testing of high capacity HDDs faster and making system level activities, such as drive rebuilds in an array faster, WDC says that dual actuator drives work better in typical cloud workloads (better IOPS/TB) as the storage capacity increases.
Luca Fasoli, VP of Memory Product Solutions, said that NAND bit shipments CAGR is expected to be 36% between 2018 and 2023 (Gartner data). Western Digital is meeting this demand through higher density flash memory by vertical scaling (number of NAND flash cell layers), lateral scaling (higher planar density) and local scaling (more bits per cell).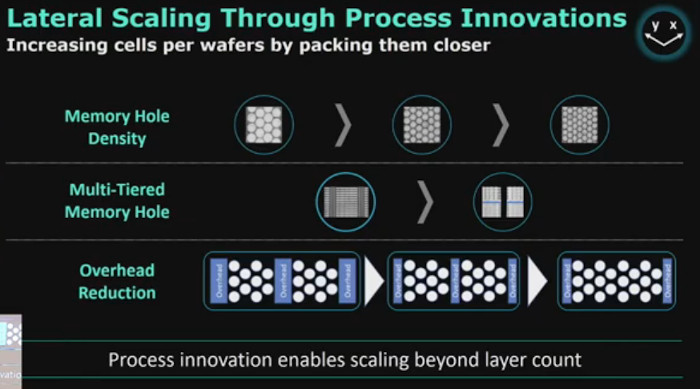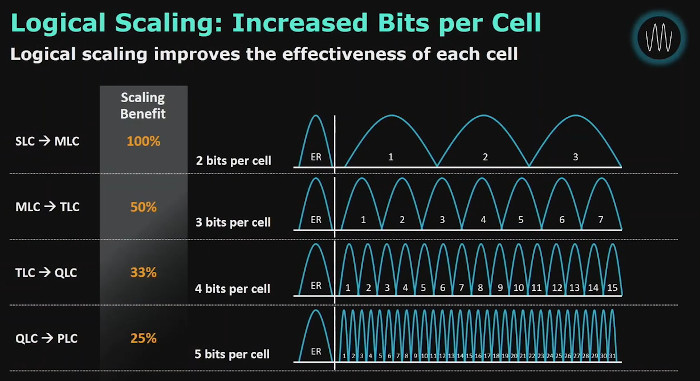 He said that in CY2020 the company will release 1XX layer vertical scaled NAND flash (probably 128 layer) and that in the near future this would be higher (probably about 192 layer). Lateral scaling is accomplished by three methods. The first is to increase the 3D NAND hole density (smaller diameter holes), the second approach is to go with multi-tiered holes and the third method is to reduce logic and other overhead real estate on the NAND wafers.
The scaling benefit is 100% going from single level cell (SLC) to two level cells (MLC), it is 50% going from MLC to three bits per cell (TLC) and 33% going from TLC to four bits per cell (QLC).
Going to five bits per cell only provides a 25% scaling benefit. In addition, the error correction and other processing overhead takes longer and the endurance is less with increasing number of bits per cell (roughly 10 X less endurance for every doubling of the bits per cell).
Richard New, VP of Research talked about the company's efforts with RISC-V, building an open instruction set computer architecture for use in HDDs and SSDs as well as networks. He discussed how RISC-V is being used to implement zoned storage that includes shingled magnetic HDDs as well as NAND flash SSDs that gets rid of the flash translation layer in SSDs used to emulate HDDs. Zoned storage provides direct access to zoned devices. To make this possible the company and its partners have made significant investments to develop a zoned storage Linux software stack.
One of the more interesting of Western Digital's RISC-V projects is called opentitan, an open-source silicon project to create a transparent, high-quality reference design for silicon root of trust (RoT) chips. They are working on this with LowRISC, Google and a coalition of partners. This can be used to help create secure data infrastructure.
He also talked about a cache coherent open-source memory fabric called OmniXtend, to provide pools of storage in large memory systems with heterogeneous computing resources.