New Intel Core i9-9980HK Reaches 5GHz And Has 8 Cores
Intel has announced six new mobile 9th generation processors with the flagship Core i9-9980HK offering 8 cores, 16 threads and boost frequencies up to 5GHz.
The new CPU adds an additional two cores and four threads to the equation, with last year's model sitting at 6 cores and 12 threads plus being limited to 4.8GHz rather than 5GHz with the Core i9-9980HK. In fact, it has the same maximum boost frequency, core and thread count as Intel's mainstream desktop flagship, the Core i9-9900K plus it has an unlocked multiplier for overclocking too.
The 9th Gen Intel Core mobile processors are designed for demanding workloads to deliver:
A full range of processors including Intel Core i5, i7 and the unlocked Intel Core i9-9980HK for even more performance.
Up to 33% overall performance leap compared with a 3-year old PC.
Up to 28% increased responsiveness.
Continuous performance optimization with Intel Dynamic Tuning for all types of laptops.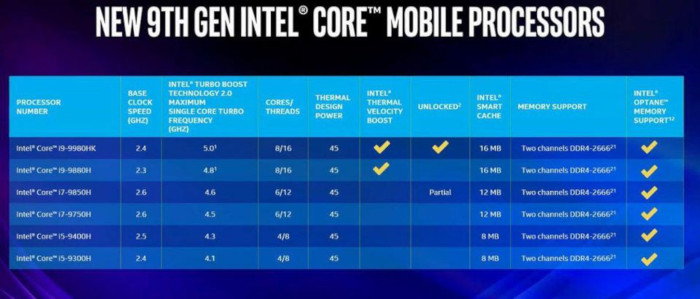 Starting April 23, 2019, laptops powered by the 9th Gen Intel Core mobile processors will launch from OEMs including Acer, ASUS, Dell, HP, Lenovo and MSI.
The new 9th Gen CPUs will offer Wi-Fi 6 and support Intel's Optane Memory H10 - a combined Optane Memory and QLC NAND M.2 SSD. It's essentially an Intel 660p SSD with Optane Memory and the former is currently extremely popular due to the fact you can buy it with a 1TB capacity for a little over $100 while the likes of Samsung's 970 Evo will set you back closer to $300 in the same capacity.
Intel is also expanding its 9th Gen desktop CPU lineup, bringing a low power 8-core model in the form of the Core i9-9900 into the mix. With a 65W rather than 95W TDP and locked multiplier, it's likely to be popular with content creators and gamers that won't be overclocking, especially as it can still hit 5GHz in Turbo Boost and has the same 8 cores and 16 threads as the flagship Core i9-9900K but is noticeably cheaper.
The 9th Gen Intel Core desktop processor lineup now includes more than 25 total products with options ranging from Intel Core i3 up to Intel Core i9. The family also brings Pentium Gold and Celeron products to market for entry-level computing. New capabilities include:
Up to 47% more FPS while gaming.
Up to 2.1 times faster video editing compared with a 5-year old PC for 4K and 360 video editing experiences.
Intel Wi-Fi 6 (Gig+) with gigabit Wi-Fi speeds