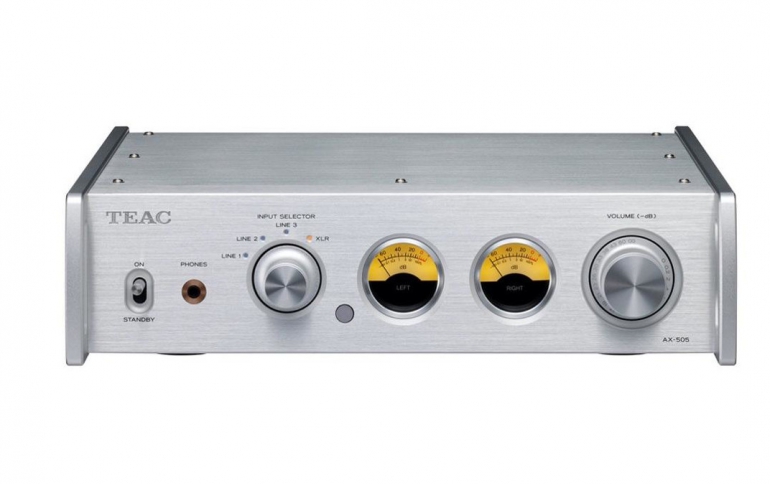 New TEAC AX-505 Amplifier Looks Retro But Packs Power
The new TEAC AX-505 amplifier has a footprint no larger than a sheet of A4 paper, but it offers 115W per channel into 4Ω.
For those who believe that it makes sense to invest in a good amplifier with analog inputs and keep the digital source separate in the form of an external DAC, the TEAC AX-505 has a retro feel although there's nothing old-fashioned about its​ technology.
The new digital amplifier has a tiny footprint and a 115W-per-channel output into 4Ω AND 70W into 8Ω. It sports two old-school meters, illuminated by LEDs, and a Class D nCore amplifier at its heart, designed by Hypex. The sound has then been tuned by audio experts at TEAC using some of the team from TEAC's esoteric division.
Weighing in at just 4.2kg, the TEAC AX-505 has just three RCA phono inputs for things like a CD player, radio tuner, DAC, or even a vinyl turntable. There's no phono stage included, which makes sense as this is a high-quality amplifier, and serious audiophiles using a turntable would probably want to use an external phono preamp that can be upgraded from time to time. Alongside the three RCA Phono inputs, there's a pair of balanced XLR connectors.
At the front of the AX-505 are those two round power meters with a four-stage dimmable option, although the meters can be turned off completely if required. Starting from the left side of the fascia, there's an old-style toggle power switch. The amp can be switched on remotely using the remote control supplied with the unit.
Next to the power switch is a headphone socket. This is a 4-pole headphone output jack that supports 'ground-separate' connections for excellent channel separation when listening through headphones. The CCLC (Coupling Capacitor-less Circuit) headphone amplifier circuit design eliminates the use of coupling capacitors in the circuit's output stage. This, according to TEAC, reduces any sonic coloration during processing and delivers a more authentic audio signal to the listener's headphones.
Alongside the headphone socket is a source selector knob with a knurled surface. There are four selection points: three for the RCA phono inputs and the last notch for the XLR inputs.
Inside the AX-505 is a high capacity toroidal-core power transformer with Schottky barrier diodes in the rectifying circuit. The advantage of using Schottky barrier diodes over conventional types is that they supply cleaner and more stable current, reducing rectifier noise in throughout the amplifier's circuitry.
The amplifier's chassis is made from steel and faced with a choice of black or silver anodized aluminum panels. The case is passively cooled wity no fans inside and that means the amplifier runs in total silence.
Around the back of the AX-505 are two pairs of wide-pitch speaker binding posts offset from each other. There isn't a second set of speaker connectors or analog outputs for a power amp or subwoofer.
Finally, the AX-505 comes with a remote control that also has buttons on it for operating TEAC's latest standalone DAC unit, the UD-505, or the NT-505 USB DAC/Network player.
The AX-505 costs £1,399.99 / €1,499 / $TBA.
Specifications:
Rated output power: 115W + 115W (4Ω, 1kHz, THD 0.8%), 70W + 70W (8Ω, 1kHz, THD 0.8%)
Total harmonic distortion: 0.002% (8Ω, 1kHz, 12.5W, JEITA)
Signal-to-Noise ratio: 110dB (8Ω, 1kHz, IHF-A)
Frequency response: 10Hz to 50kHz (-5dB, 8Ω, 1kHz, 1W, JEITA)
LINE IN (Balanced):

Connector: XLR (2: HOT) × 1 pair
Max input level: 3Vrms

LINE IN (Unbalanced):

Connector: RCA (gold-plated) × 3 pairs
Max input level: 2.5Vrms

Speaker output:

Connector: Screw-type × 1 set (gold-plated, Compatible with AWG8 and Banana-plugs)
Supported speaker impedance: 4Ω to 8Ω

Headphone output:

Connector: 1/8" (3.5mm) 4-pole stereo jack
Type of connection: Ground separate

Max output power: 360mW + 360mW (32Ω loaded, THD 10%, JEITA)
Frequency response: 5Hz to 150kHz (–3dB)
Total harmonic distortion: 0.003% (Output power 30mW 32Ω loaded)
Signal-to-Noise ratio: 115dB
Power: AC220 to 240V, 50Hz (UK/Europe)
Power consumption: 110W
Standby power: 0.1W or less (at Auto-power saving mode)
Overall dimensions: 11.4×3.2×10.4" / 290×81.2×264mm (W×H×D)
Weight: 9.27 lbs/4.2kg
Included accessories: Power cord, Remote control (RC-1332), AAA batteries × 2, Owner's manual (incl warranty card)