Cambridge Audio Releases Budget AX Range Line-Up Audio Systems
British audio brand Cambridge Audio has announced the new AX series, which combines performance and affordability.
The new AX range consists of the AXC5 and ACC35 CD players, the AXA25 and AXA35 integrated amplifiers, and AXR85 and AXR100 stereo receivers. The two CD players and the two integrated amplifiers will be available from Cambridge Audio and Amazon from mid-June 2019, while the two AX receivers will be available from July 2019 onwards.
The AXC25 CD player features one stereo analog RCA output, a remote control and is available in Lunar Grey as well as a plain Black finish. The device is aimed to those who don't want the option of upgrading to an external DAC. It will retail at £229.
The AXC35 CD player which retails at £299/$349.99. As well as having the analog RCA output of the AXC25, this model adds the option of a coaxial digital output for connecting up to a high-end streamer or external DAC, and using the unit as a straightforward CD transport mechanism.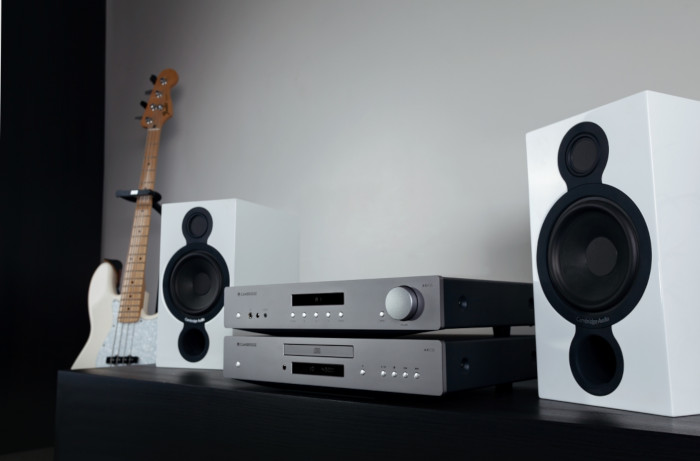 Both CD player models offer gapless playback and the added ability to play recorded CD-R, CD-RW and CD-ROM discs with MP3 and WMA files.
The AXA25 integrated stereo amplifier sells for £229 and has four analog RCA inputs, a single RCA output for recording purposes and a USB port with 5V 500mA of power for powering an optional Bluetooth receiver. There's also a 3.5mm auxiliary stereo input on the front panel.
The AXA35 features and 35W of output. It's supplied with remote control and white display screen, a phono stage input for playing vinyl, and a full-size 6.3mm headphone output. It retails at £299/$349.99.
The AXR85 is available for £349/$399.99, while the AXR100 at £449/$499.99.
The AXR85 stereo receiver delivers 85W and is capable of driving two stereo speaker zones, and offers three analog RCA inputs, a phono stage input, recording, and subwoofer outputs, a 3.5mm auxiliary input, and a 6.3mm headphone output on the front panel. It includes an FM/AM tuner plus built-in Bluetooth receiver for wireless streaming from a smartphone, tablet or computer.
The AXR100 stereo receiver is similar to the AXR85 but with the addition of two optical digital inputs as well as a coaxial option, plus a power output of 100W.
This new entry-level AX range from Cambridge Audio brings quality hi-fi to the wider public at a sensible price. However, we should note that the base model amplifier has no headphone socket, while the entry-level CD player has no coaxial or digital output.