Onkyo Announces New 11.2-Ch Flagship AVR and Hi-Fi Stereo Receiver
Onkyo & Pioneer Corp. today unveiled their 11.2-channel flagship A/V receiver, a model destined to set the standard for full-scale 3D cinema sound.
The companies also announced the TX-8390, an alternative to a multichannel home cinema for anyone seeking authentic hi-fi sound and A/V versatility.
TX-RZ3400
The THX Certified Ultra 11.2-Channel TX-RZ3400 Network A/V Receiver is rated at 11 x 260W (6 ohms, 1 kHz, 10% THD, 1-ch driven) and creates a Dolby Atmos or DTS:X soundfield from various speaker layouts up to 7.2.4 channels. It can also serve app-controlled powered digital or analogue audio to Zone 2 and Zone 3 with a 5.2.2-ch surround system in the main room. Dolby Surround and DTS Neural:X upmixers remap legacy soundtracks for 3D surround playback, while Dolby Atmos Height Virtualizer enhances immersion with traditional layouts.
There are seven HDMI inputs (one front mounted) and three HDMI outputs that support simultaneous output and independent video playback. Main Out carries eARC and all terminals are HDCP 2.3-compliant with 4K/60p, HDR (HDR10, HLG, Dolby Vision), and BT.2020 video pass-through.
The TX-RZ3400 is the only Onkyo AVR with THX Certified Ultra certification from THX Ltd., an A/V reproduction standards and quality-assurance organization started by Lucasfilm Ltd. in 1983. Every aspect of the TX-RZ3400 was independently tested at THX Labs in a barrage of 2,000 bench-tests examining 14,000 data-points across 75 different categories. THX Certified Ultra guarantees the reference sound-pressure, loudness, and minimal distortion levels of a commercial cinema in homes where the screen-to-seat viewing distance is more than 3.5 m.
The TX-RZ3400 also complies with the IMAX Enhanced program, which features DTS:X audio decoding optimised to reproduce the full dynamic range of IMAX theatrical sound mixes available in digitally re-mastered IMAX Enhanced content.
Onkyo's range-topping Dynamic Audio Amplification is a high-current digital system with custom-built main power transformer, high-current smoothing capacitors, and output-stage filtering. Customised parts are used throughout and are tuned by ear, measured, and tuned again to achieve subjectively and objectively good sound. An ultra-wide 5 Hz – 100 kHz frequency response captures the entire recording, as well as the atmosphere of the space around it. Dynamics and exhilarating power control large, low-impedance loudspeakers down to 4 ohms.
Hardware-based functions include a DSP-based Vocal Enhancer; on-screen media information overlay allowing source input and output parameters to be compared and adjusted; Stereo Assign Mode, which switches audio from front to height or surround/surround back speakers; and a Zone B line-out that shares any source to wireless headphones via a compatible dock or wireless transmitter.
Discrete Audio Path Mode works with BD players that can transmit the source's audio and video streams separately to the TV and A/V receiver via dual HDMI outputs. Since the A/V receiver is handling audio exclusively, HDMI output circuitry isn't required and can be shut down to limit interference on the audio signal. This improves the clarity of movie soundtracks, and can be switched on and off, via the Quick Menu overlaid OSD.
Subtle interference can become noticeable on high-quality audio reproduction equipment. One frequent culprit is the network module. To counter interference, the network board is isolated from audio circuitry and can be governed by two new modes. 'Cinema Dedicated' mode switches off the module clock, reducing interference. 'Cinema Dedicated - Net Off' mode' shuts down its power supply, eliminating noise for occasions when sound quality takes priority over an active network connection.
A new HDMI circuit board features shorter signal paths and larger grounds. Errors are minimised and clean ground-potential is assured. On the audio-processing side, VLSC (Vector Linear Shaping Circuitry) on the DAC output stages compares input and output waveforms to filter high-frequency pulse-modulation noise, improving clarity in the upper treble region.
AccuEQ ADVANCE PLUS room acoustic calibration is an expanded version of AccuEQ Advance featuring standing-wave-removal technology. It gives a greater flexibility in the application of EQ and includes high-frequency sound correction. Following 9-point measurement (detecting and compensating for subtle background noise, improving accuracy), the resultant EQ levels can be applied to all channels; applied to all except Front L/R; or the levels acquired for the front channels applied to all speakers. It delivers the sound-field cohesion of an acoustically-treated room while giving the freedom to choose what EQ sounds best. AccuReflex, meanwhile, calibrates the phase of directional and non-directional sound for seamless object-based audio reproduction.
The TX-RZ3400 has a comprehensive network audio platform to partner apps and voice assistants on supported smartphones, laptops, desktop computers, and smart speakers. High-speed 802.11ac (2x2 MIMO) 5 GHz/2.4 GHz Wi-Fi is enabled by the high-speed quad-core SoC. Integrated services comprise TIDAL, Spotify, Amazon Music, TuneIn, and Deezer.
Works with Alexa lets families use their voices to control the TX-RZ3400 by directing requests through an Alexa Built-in device. In addition, users will be able to synchronized playback with multiple devices by using 'Multi Room Music' (MRM) mode, planned for a future firmware update.
Chromecast built-in can stream any music from smartphone, laptop, or PC to the receiver with ease.
Apple AirPlay is an Apple technology designed to control home audio systems and speakers in any room - with a tap or by just asking Siri - right from iPhone, iPad, HomePod, or Apple TV.
The TX-RZ3400 works with Sonos Home Sound Systems. The receiver wakes, changes inputs, and plays at the desired volume on command from the Sonos Controller app. DTS Play-Fi and FlareConnect round out the multi-room platform.
With an AKM AK4490 768 kHz/32-bit stereo DAC dedicated exclusively to the front channels (two more 384 kHz/32-bit DAC modules handle zone and surround channels) and a carefully designed pre-amp section, the receiver handles Hi-Res Audio including DSD Direct 256, DSD 64/128/256 (PCM conversion), and a wide range of PCM formats up to 192 kHz/24-bit.
This Onkyo flagship is the first to launch with a new remote featuring automatic backlighting.
A high-definition GUI carries a transparent overlaid OSD for both Main Menu settings and a Quick Menu for in-program adjustments. There are standby modes enabling wake-on-play via network or Bluetooth wireless technology. The receiver features bi-directional RS-232 serial port and Ethernet for IP control; while assignable 12 V trigger output, IR input, and optional rack-mounting kit enable concealed installation remote from the TV.
It's also equipped with 11.2 multi-channel pre-outs and has a Pre-Amp Mode for stereo power amp integration, for those wishing to customise their system. With connectivity extending to five digital audio inputs (three optical, two coaxial), six analogue RCA inputs, MM phono stage, rear powered USB input, and Zone 2 and Zone 3 pre-/line-level outputs, there's no shortage of connections.
Onkyo TX-8390 Hi-Fi stereo receiver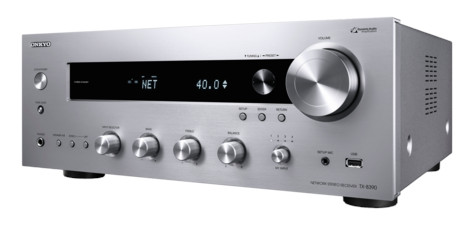 Developing 2 x 200W (6 ohms, 1 kHz, 10% THD, 2 channels driven) from Dynamic Audio Amplification, the new TX-8390 Stereo Network Receiver exploits its high current capability to control large woofers, enabling extended diaphragm travel to better convey an audio signal's full dynamic range.
A high-current, low-noise power transformer and high-current smoothing capacitors have been engineered to exacting specifications, and parts have been selected on a 'listen-measure-listen' basis to ensure the amp sounds good to human ears, not just on paper. Dual transistors on the power-amp circuitry's voltage-amp stage boost current for deeper bass, while a non-phase-shift topology improves instrument separation, soundstaging, and brings layers of detail into sharp focus.
The TX-8390 has six HDMI inputs, Main Out, and Sub/Zone 2 Out, all HDCP 2.3-specified and supporting 4K/60p, HDR (HDR10, HLG, Dolby Vision), BT.2020, and 4:4:4/24-bit color.
HDMI supports an overlaid GUI with a unique onscreen media input/output information overlay that allows users to confirm that the source and playback parameters are the same, with useful data such as the HDR format and video frame-rate displayed. HDMI Sub/Zone 2 output can mirror the same content as Main via any HDMI input, or play different content simultaneously in Zone 2 mode (inputs 1 - 3 only).
To preserve maximum audio fidelity while integrating video and network capability, the HDMI board features short signal-path topology and extra-large ground paths to limit interference. The quad-core SoC, which enables 802.11ac (2x2 MIMO) 5 GHz/2.4 GHz Wi-Fi, is isolated from audio circuitry. Furthermore, the AK4458 stereo DAC has VLSC output-filter circuitry to erase ultra-high-frequency pulse-modulation noise. These technologies particularly come into their own with Hi-Res Audio sources. PCM files up to 384 kHz/32-bit are fully supported, as is DSD256/128/64 content. The receiver also includes MQA technology, which enables playback of MQA audio files and streams, delivering the sound of the original master recording. Albums in MQA can be streamed from supported online services or downloaded to USB memory, or PC/NAS, and played back via the TX-8390
The TX-8390 contains a multi-technology network platform with streaming services comprising Amazon Music, TIDAL, Spotify, Deezer, and TuneIn, all accessible via Onkyo Controller5. The app manages multi-room audio, and music on the device (or PC/NAS) can also be cast to the TX-8390.
Support for leading voice-control technologies is baked in. Chromecast built-in can stream any music from smartphone, laptop, or PC to the receiver with ease. Control playback with Chromecast-enabled apps from Android phone or tablet, Chromebook, Windows® PC, or iPhone, iPad, or Mac. If the user has a device with Google Assistant, it's easy to find, play, and control music through this and other supported components by voice.
Effort has been invested in making the TX-8390 an intuitive receiver to use. 'My Input', a front-panel selector, allows users to assign a start-up volume level, listening mode, and tone level to any four inputs via memory preset. The knob just needs to be pushed once to activate all the settings stored for the selected input.
This is Onkyo's first stereo receiver to feature AccuEQ room-acoustic calibration, originally developed for multi-channel A/V receivers and now adapted for stereo. AccuEQ creates a harmonious sound-field in spaces of any size or shape. After detecting speaker size and distance from a measurement position and setting sound-pressure levels, the system selects a subwoofer crossover and applies EQ. The resultant sound compares favourably with an acoustically treated listening environment.
The receiver has two pairs of gold-plated transparent speaker-posts for A/B and A+B Speaker Drive, a switching function enabling two pairs of speakers to be connected and driven independently or simultaneously. Switch between speakers for hi-fi music or general entertainment, or add a pair to another room with app-based control. The terminals are also bi-wire-compatible to extract extra mid- and high-range performance from compatible loudspeakers. The receiver has a Pre-Amp Mode and Front Pre-Out terminals for external power amp. These double as Zone 2 Line-Outs for distributed digital/analogue audio, including HDMI and SPDIF, thanks to a dedicated Zone 2 DAC. Pure Audio Mode shuts down non-vital circuitry for a source-authentic, interference-free listening experience.
The TX-8390 has two optical digital audio inputs and a rear powered USB port, with gold-plating gracing the coaxial digital input, four analogue RCA inputs, and MM phono input. Other terminals include an antenna for FM/DAB+ tuner and a front USB port for audio. Dual subwoofer pre-outs are also provided. Custom installers gain IR (Infra-Red) In/Out, RI (Remote Interactive) input, detachable power-cord, and bi-directional Ethernet supporting home automation, PC setup, and IP control.