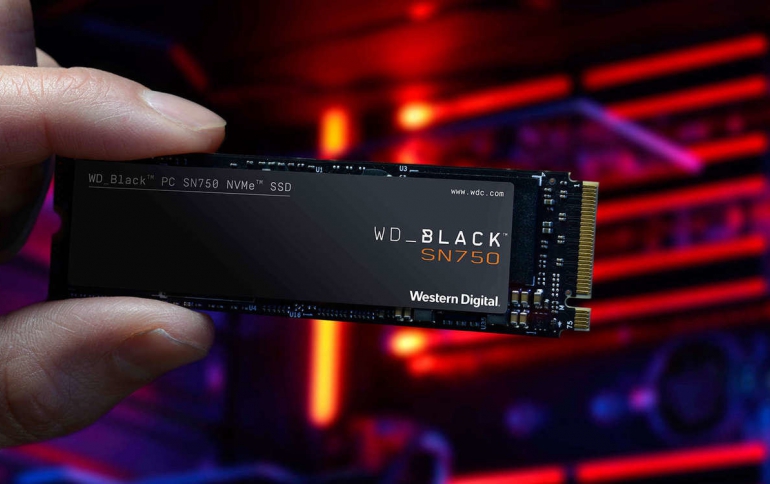 New WD Black SN750 NVMe SSD Comes With EKWB Heatsings For PC Gaming
Western Digital today introduced at PAX South in Texas its second-generation, high-performance WD Black SN750 NVMe SSD with up to 2TB capacity on a single-sided M.2 form factor.
Traditional NVMe SSDs are designed to throttle performance in order to keep the drive's operating temperature within acceptable parameters. In collaboration with PC cooling expert EKWB, the WD Black SN750 NVMe SSD will offer an option for an EKWB-designed heatsink for capacities ranging from 500GB to 2TB, with estimated availability in Spring 2019.
Western Digital also has added a Gaming Mode feature to a WD Black-exclusive SSD Dashboard, allowing users to disable low power mode and keep the SSD running at peak levels for longer sustained execution when they want consistent high performance.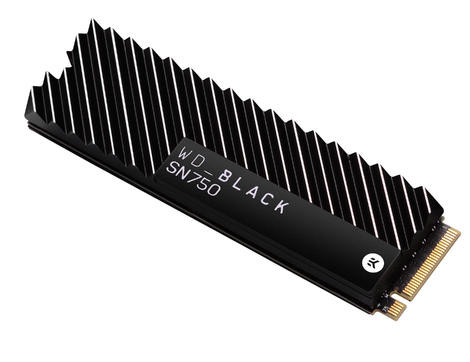 The second-generation NVMe SSD to be built on Western Digital's 3D NAND technology, firmware and controller, the WD Black SN750 NVMe SSD is delivering sequential read of up to 3,470MB/s for 500GB and 1TB model and write performance of up to 3,000MB/s for 1TB model. Additionally, the SSD features up to 515,000 random-read and 560,000 random-write IOPs (for 1TB model), allowing the SSD to manage multi-threaded applications and data-intensive environments.
Capacity
250 GB
500 GB
1 TB
2 TB
Form Factor
M.2 2280 single-sided
optional heatsink (except 250GB)
Interface
PCIe 3 x4 NVMe 1.3
Controller
Western Digital in-house
NAND Flash
SanDisk 64-layer 3D TLC
Sequential Read
3100 MB/s
3470 MB/s
3470 MB/s
3400 MB/s
Sequential Write
1600 MB/s
2600 MB/s
3000 MB/s
2900 MB/s
Random Read
220k IOPS
420k IOPS
515k IOPS
480k IOPS
Random Write
180k IOPS
380k IOPS
560k IOPS
550k IOPS
Power
Peak
9.24 W
9.24 W
9.24 W
9.24 W
PS3 Idle
70 mW
70 mW
100 mW
100 mW
PS4 Idle
2.5 mW
2.5 mW
2.5 mW
2.5 mW
Warranty
5 years
Write Endurance
200 TB
0.4 DWPD
300 TB
0.3 DWPD
600 TB
0.3 DWPD
1200 TB
0.3 DWPD
MSRP
(No heatsink)
$79.99
$129.99
$249.99
$499.99
Considering the fact that the new WD Black SN750 uses the same controller and NAND flash memory as the previous WD Black, the should SN750 offer little room for improvement, despite any optimizations in firmware and the in-house NVMe controller.
Western Digital is sticking with their 64-layer 3D NAND in this new SSD even months after their partner Toshiba started shipping 96L 3D NAND with the XG6.
The WD Black SN750 NVMe SSD offers a five-year limited warranty with up to 600TBW endurance for the 1TB model and up to 1200TBW for the upcoming 2TB model. With a single-sided M.2 2280 form factor, the WD Black SN750 NVMe SSD comes in capacities from 250GB up to 2TB and ranges in price in the United States from $79.99 up to $499.99 MSRP USD, depending on model and capacity.
The WD Black SN750 will be competing with the Samsung 970 EVO, but also with the cheaper SM2262(EN) drives such as the ADATA SX8200 Pro.