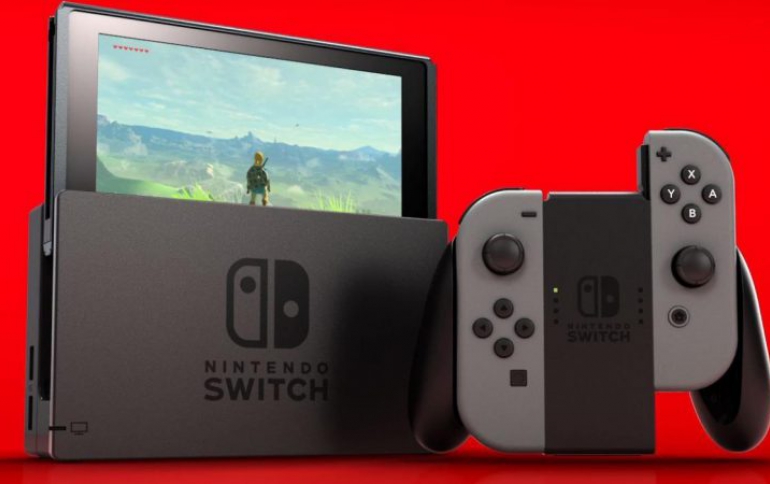 Nintendo Hopes Switch Will Lure Casual Gamers
Today's launch of the Nintendo Switch video game system means that console-quality gaming is no longer tethered exclusively to the living room TV. But Nintendo will need lots of casual gamers who are satisfied with playing on a smartphone and would never have dreamed of buying a $300 game machine.
Nintendo's hybrid game machine that works as both a console at home and a tablet on the go was launched today at a suggested retail price of $299.99. It comes in two color options: a version with a set of gray Joy-Con controllers, and a version with one neon blue and one neon red Joy-Con controller.
Nintendo Switch comes with the main console, Joy-Con (L) and Joy-Con (R) controllers, a Joy-Con grip (to which two Joy-Con are attached and used as one controller), a set of Joy-Con straps, a Nintendo Switch dock (which holds the main console and connects it to a TV), an HDMI cable and an AC adapter.
The Switch is like three machines in one. Wireless controllers attach to a game tablet for hand held gaming. Take the tablet to a gathering with friends, and you can rest it on a table with a kickstand and detach the controllers for use as stand-alone devices. Back home, slide the tablet into a docking station and snap the controllers into a grip accessory and you have a traditional game console attached to a TV. With each switch you can pick up where you left off.
The device connects to a TV at home and can transform into an on-the-go handheld using its 6.2-inch high-definition screen. The screen includes capacitive multi-touch capabilities for compatible games. The left Joy-Con has a Capture Button that players can press to take instant screen shots of gameplay to share with friends on their social media pages. The right Joy-Con includes an NFC touchpoint for interaction with amiibo figures, as well as an IR Motion Camera that can approximate the distance, shape and motion of nearby objects in specially designed games. Both Joy-Con include motion controls and an HD Rumble feature. The Nintendo Switch Pro Controller, sold separately at a suggested retail price of $69.99, includes all the same features (minus the IR Motion Camera) and comes in a more traditional form factor.
Today also marks the launch of the first Nintendo Switch game, The Legend of Zelda: Breath of the Wild. The game is available for both Nintendo Switch and Wii U at a suggested retail price of $59.99. New compatible amiibo launching today for The Legend of Zelda: Breath of the Wild include Link (Rider), Link (Archer), Zelda and a Bokoblin amiibo at a suggested retail price of $15.99 each. A new Guardian amiibo is also available at a suggested retail price of $19.99.
Also launching today is the face-to-face party game 1-2-Switch. From Wild West gunslinging to safecracking to competitive cow milking, the 28 games in 1-2-Switch make use of a broad variety of Nintendo Switch features, such as motion controls and HD Rumble. In a video game twist, the game asks players to stare at one another instead of at the TV, creating a fun atmosphere that will liven up any party. Third-party games such as Skylanders Imaginators from Activision Publishing Inc., Just Dance 2017 from Ubisoft and Super Bomberman R from Konami Digital Entertainment round out a launch-day lineup.
Nintendo promises that new games will arrive for Nintendo Switch throughout the rest of the year. Other first-party Nintendo Switch games on the horizon include Mario Kart 8 Deluxe (April 28), ARMS (spring), Splatoon 2 (summer), Fire Emblem Warriors (fall), Super Mario Odyssey (the 2017 holiday season) and Xenoblade Chronicles 2 (2017).
Nintendo eShop, Nintendo's online storefront for downloadable games, is ready to go on Nintendo Switch. The shop is the destination for people who prefer the ease of downloading their games. Both The Legend of Zelda: Breath of the Wild and 1-2-Switch are available for purchase and download today. Additionally, for $19.99, people can purchase the Snipperclips - Cut it out, together! game, which is exclusive to Nintendo eShop.
Nintendo eShop also provides access to a library of great games from independent developers and publishers. Some of the digital games available for purchase today from third-party partners include FAST RMX from Shinen Multimedia, which is console-exclusive to Nintendo Switch, I Am Setsuna from SQUARE ENIX CO., LTD., and both Shovel Knight: Treasure Trove and Shovel Knight: Specter of Torment from Yacht Club Games, which are timed exclusives. More than 60 quality indie games are confirmed for this year, including Blaster Master Zero from INTI CREATES CO., LTD., Pocket Rumble from Chucklefish Games, Yooka-Laylee from Team 17, SteamWorld Dig 2 from Image & Form Games and Runner3 from Choice Provisions.
Nintendo Switch is supported by third-party publishers, including Activision Publishing Inc., Electronic Arts, Take-Two Interactive, Ubisoft, Warner Bros. Interactive Entertainment and major Japanese publishers. Some publishers, such as Bethesda Softworks, are joining Nintendo for the first time. Players can look forward to major franchises on Nintendo Switch such as EA SPORTS FIFA, The Elder Scrolls, NBA 2K, Minecraft, Street Fighter and Sonic the Hedgehog.
Nintendo Switch features parental controls that let adults manage content their children can access.
Nintendo's Wii in 2006 introduced motion control to gaming and was a massive success. But the Wii's successor in 2012, the Wii U, proved disappointing. Since then, the Japanese video game maker has faced other hiccups. Its NES Classic retro module was a "hot" holiday gift, but it was difficult to find during the holidays. The iPhone game "Super Mario Run " garnered buzz, but some balked at the $10 price. It's also not available on Android until later this month.
Nintendo is forecasting sales of 2 million units in the first month.
However, as a game console, the Switch doesn't have the range of games available on Sony's PlayStation 4 and Microsoft's Xbox One. As a tablet, it lacks traditional features such as a web browser and streaming video apps like Netflix.
If Nintendo fails to persuade casual gamers to spend $300 on something that does less than their phones, the Switch could wind up on the trash heap like the Wii U.
The first reviews of the Nintendo Switch were generally positive, but most of the enthusiasm was tempered by reviewers' inability to test key aspects of the gaming console, including online play and game downloading.
Brian X. Chen of The New York Times called the Switch "mediocre as a portable gaming device, with short battery life and an O.K. screen." But he said it "excels as a powerful and compelling home console."
On Engadget, Devindra Hardawar said the lack of full testing didn't inspire confidence.
"Clearly, Nintendo was in a bit of a rush to launch the Switch. That's a shame, because it's tough, as a reviewer, to completely weigh in on a system that's not quite finished. It's also particularly worrying after the failure of the Wii U, a console that launched with a series of baffling issues, as well. If Nintendo wants to make shoppers more confident about its abilities to launch new hardware and networking capabilities, this isn't a good start."
Nathan Olivarez-Giles of The Wall Street Journal said that "the Switch's versatility will make it a must-have console like the legendary original Wii" if it can deliver exciting games. But for now, it's too early to tell.
On The Verge, Ross Miller said that the "Switch has all the makings of something truly great" and that Nintendo "has innovated upon some of its best ideas," but that the company would still have to prove it would support the console.
At TechCrunch, Devin Coldewey said the Switch "almost immediately felt like something that was missing until now - something midway between a 'real' console and a 'real' hand-held" It was "something I didn't even know I'd wanted," he said.
Vince Ingenito at IGN said the Switch was "an attractive and powerful but oversized portable gaming system that struggles to be a convincing or reliable home console."