Nintendo Introduces New 2DS Designs, Amiibo Subscription Service
Nintendo has started offering a pair of new 2DS handhelds crafted with colored, translucent plastic and is also teaming up with startup Loot Crate to try and market its amiibo NFC accessories in a new way. The "Crystal Red" and "Crystal Blue" versions of the portable 2DS consoles will launch alongside the new Pokémon Omega Ruby and Pokémon Alpha Sapphire games for $99.99 on November 21st.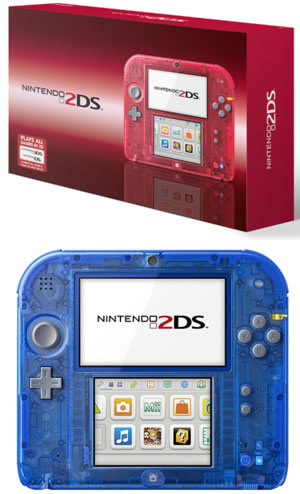 Nintendo hopes that the old-fashioned, semi-transparent design of the new devices will attract gamers, who will have access to a library of more than 3,000 games, including the recently launched Super Smash Bros. for Nintendo 3DS and other games like Mario Kart 7 and Animal Crossing: New Leaf.
The Nintendo 2DS system plays all Nintendo 3DS games in 2D, is backward compatible with the library of Nintendo DS games and also offers the ability to download games from the Nintendo eShop. The system maintains many of the same hardware and connected features as Nintendo 3DS such as touch-screen controls, StreetPass, Miiverse and online multiplayer functionality.

Nintendo is also teaming up with the online delivery service Loot Crate to help fans receive select amiibo figures after they launch on Nov. 21. By signing up for an "amiibo Subscription Service," subscribers will receive 10 pre-selected amiibo (including Mario, Pikachu, Donkey Kong, Fox and Yoshi) separated into three special Loot Crate shipments throughout the holiday season.
In addition to Mario, Pikachu, Donkey Kong, Fox and Yoshi, the other five pre-selected characters will be revealed through Loot Crate soon. Super Smash Bros. for Wii U, Mario Kart 8 and Hyrule Warriors will feature amiibo compatibility this year, with functionality for Captain Toad: Treasure Tracker, Kirby and the Rainbow Curse, Yoshi's Wooly World, Mario Party 10 and more coming in the future.