Nintendo Labo Kits Now Available
Nintendo has made available at retailers across the U.S. the Nintendo Labo kits, which combine the Nintendo Switch system with the fun of DIY creations.
With each Nintendo Labo kit, building and discovery are designed to be just as much fun as playing. You can transform modular sheets of cardboard into interactive creations called Toy-Con - from a 13-key piano to a motorbike, a robot suit and more.
After they are built, you can combine the Toy-Con creations with the Nintendo Switch console and Joy-Con controllers in creative ways to enjoy a variety of game-play experiences.
With Toy-Con Garage mode, a feature included with the software in each Nintendo Labo kit, you can invent new ways to play with your Toy-Con projects.
For some initial inspiration, Nintendo Labo owners can visit the user-generated content (UGC) hub to see a dapperly decorated RC Car created by TV personality and "Science Guy" Bill Nye, who recently took Nintendo Labo for a spin and spent time tinkering with Toy-Con Garage.
Throughout the next few weeks, the UGC website will also feature custom Toy-Con creations from popular social media influencers and Toy-Con Garage inventions from Nintendo employees.
Starting today, you can submit your own creations to the site by signing in with your free Nintendo Account. Fans in the U.S. or Canada who are 13 years old or older can also choose to enter their creations in the limited-time Nintendo Labo Creators Contest for a chance to win a Nintendo Labo prize package, including a Nintendo Labo kit, a special jacket and a signed framed certificate.
The first two Nintendo Labo kits (available now) are the Variety Kit and the Robot Kit.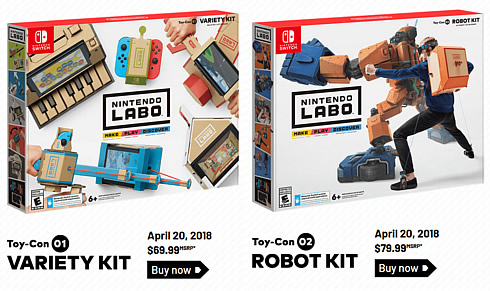 The Nintendo Labo Variety Kit ($69.99) includes all the necessary materials and software to create five different Toy-Con projects:
RC Car: The RC Car is powered by vibrations in the Joy-Con controllers and can follow a path of reflective tape by using the IR Motion Camera in the right Joy-Con controller. Materials to build two RC Cars are included.
Fishing Rod: Build a working rod and reel, and then go fishing on the screen of your Nintendo Switch console to catch a variety of exotic fish. You can also enter Aquarium mode - accessed via Toy-Con Piano - to view all the fish you've caught or even design your own colorful fish.
House: Insert different blocks into your newly constructed House to interact with the adorable creature inside. Combining multiple blocks can unlock special features and mini-games.
Motorbike: Rev the throttle of your Motorbike by twisting the right handle, just like the real thing! You can even create and race on tracks you design.
Piano: Compose and record music using different octaves, reverb and sound effects.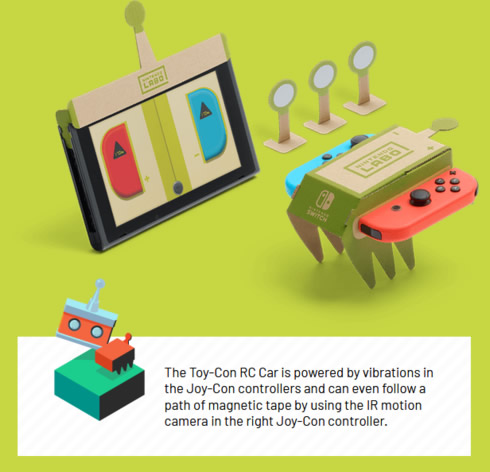 With Nintendo Labo Robot Kit ($79.99 USD), you can build a wearable robot suit, including a backpack and visor, which allows you to assume control of a huge on-screen robot. With an additional Nintendo Labo Robot Kit and set of Joy-Con, you can even battle against a friend in multiplayer mode using just one Nintendo Switch system.
A Customization Set ($9.99 USD) is also available, which includes colorful tape, stencils and Nintendo themed stickers to decorate your Toy-Con creations.