Noctua NA-FH1 PWM fan hub
Noctua has been a phenomenal company, introducing innovative products in the cooling arena, most of its products have received positive feedback from reviewers and users. While producing mostly cooling products is good for business, most companies will also look to further boost their sales and their revenue with products that will supplement enthusiasts and power users. The latest NA-FH1 eight-channel PWM fan hub comes to fulfill this purpose and today we will examine what this product is all about.
The NA-FH1 is a high-quality, smartly-protected 8-channel PWM fan hub that allows up to eight PWM fans to be run and controlled simultaneously via a single PWM motherboard fan header or stand-alone controllers such as the optional NA-FC1. Supporting both 12V and 5V fans with 4-pin PWM and 3-pin connectors, the NA-FH1 is highly flexible and suitable both for PC environments and other 12V- or 5V-based applications.
"While there is no shortage of fan hubs on the market, we found most of them lacking both from a functional and from a safety perspective," explains Roland Mossig (Noctua CEO). "PWM control and RPM readout can be unreliable, and most units lack overcurrent or short-circuit protection, which can be dangerous when powering through S-ATA. This is where the NA-FH1 steps in: a safe, dependable quality device for powering and controlling up to eight fans!"
Noctua has examined the PWM fan hub mark and found that most such products use very basic PCB designs without any protection or circuitry for signal quality improvement. While this helps to reduce cost, there are significant drawbacks concerning function and safety. In particular, PWM-based speed control may not work reliably if multiple fans are connected and RPM speed signals may be transmitted in poor quality, especially at low fan speeds, which can cause readout errors. By contrast, the NA-FH1's signal quality improvement circuitries guarantee reliable readout and speed control, even if incoming signals may be of less-than-ideal quality.
In terms of safety, unprotected fan hubs bear risks in cases of overcurrent or short-circuit on the output ports. Especially when powering the devices through S-ATA, this can result in cables and connectors melting and may even cause sparks or flames. To rule out that anything like this can happen, the NA-FH1 features protection circuitries with resettable poly fuses that shut down in case of overcurrent or short-circuit, protecting the connected fans and surrounding components.
The NA-FH1 can be powered either via its S-ATA input (for 12V fans, up to 54W) or 4-pin PWM input (for 5V and 12V fans, up to 24W). The two ports can also be used concurrently with the device automatically taking power via S-ATA and exchanging RPM and PWM signals via the 4-pin interface. Status LEDs allow for easy monitoring and thanks to its magnetic fixture, installing the NA-FH1 inside a PC case or on any other steel surface is a breeze.
Topped off with CE, UKCA and UL certifications, full compliance with all applicable safety standards as well as Noctua's 6-year manufacturer's warranty, the NA-FH1 is a safe, dependable premium choice for powering and controlling up to eight fans. The manufacturer's suggested retail price is EUR/USD 34.90 and is available via Noctua's official Amazon stores.
- The Package
The retail package of the NA-FH1 product is small and includes the NA-FH1 fan hub and an NA-EC1 4-pin PWM input cable.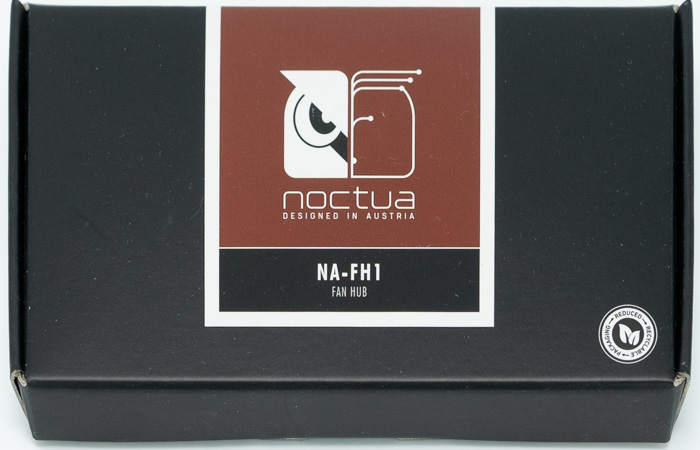 The Noctua NA-FH1 is protected very well inside the carton retail package. As you can see, there are printed details on its side for easy installation and user information.
The board itself is small (93x43x12.5 mm dimensions), weighs 31gr, and has two inputs, 1x SATA (for 12V fans only) and 1x 4-pin PWM which should be connected to the CPU header at your motherboard. There are 8x 4-pin PWM output connectors for connecting case fans, which will be controlled at the same RPM. The system will report RPM and assume that all connected fans are the same, however, it gets only readings from Port 1, keep that in mind.
The maximum power for the 4-pin PWM input is 24 W and all are powered via the SATA interface. The operating voltage is 5-12 V while working temperatures are -40°C to +60°C. Lastly, the product comes with tons of safety standards EN 62368-1, EN 55035, EN 55032, UL-507, and CE, UKCA, UL.
So how you can install it? Very simple procedure, via the backplate magnets you can place it on any surface that is metal inside your PC case.
Afterward, you will connect the included 4-pin cable to the CPU header, connect the SATA power cable, and then all the fans you need to control at the board itself. Noctua warns that this product (since it includes magnets at the back), should not be placed directly upon HDD drives but you should keep at least a 5cm distance!
So why do you need this product instead of other much cheaper PWM hubs? Noctua has an improved design that delivers optimal performance in all cases and has built-in protection circuitry in case of overcurrent or short circuits. Noctua has a technical page where it compares its own NA-FH1 PWM hub vs generic fan hubs that are available to the market.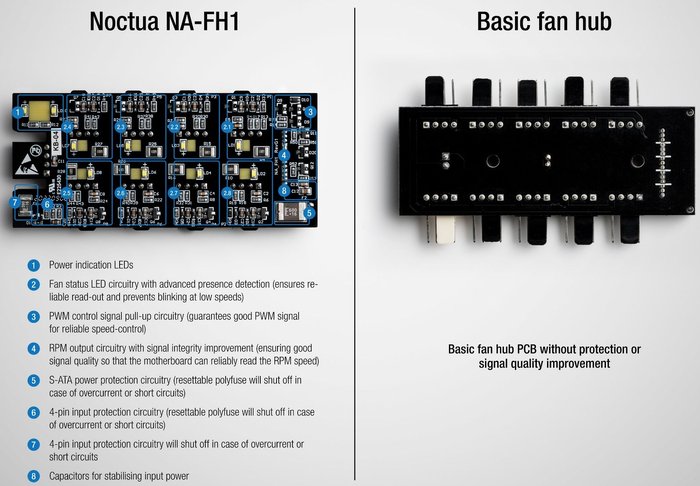 From our tests, we did have seen performance issues when connecting many fans at one generic hub, so it was nice to see Noctua enter this area and introduce the NA-FH1 PWM fan hub. Overall this product is well designed and for sure will keep you satisfied for many years since it comes with a 6-year warranty, which none of the generic fan hubs offers. Of course, good things come with a price and this product isn't cheap, it will cost you EUR/USD 34.90, and if you want the best for your system, it's highly recommended!