be quiet! DarkPower Pro 13 1300watt
1. Introduction
be quiet! has been always innovating and keeps producing new products in the market for high-end enthusiast users, who wish to get something more from their system and especially from their power supply. The DarkPower 13 series while a top-notch product, lacked models with higher than 1000 watts, and for that purpose, the DarkPower Pro 13 series came to the market with only "two" offers, 1300 watts and 1600 watts!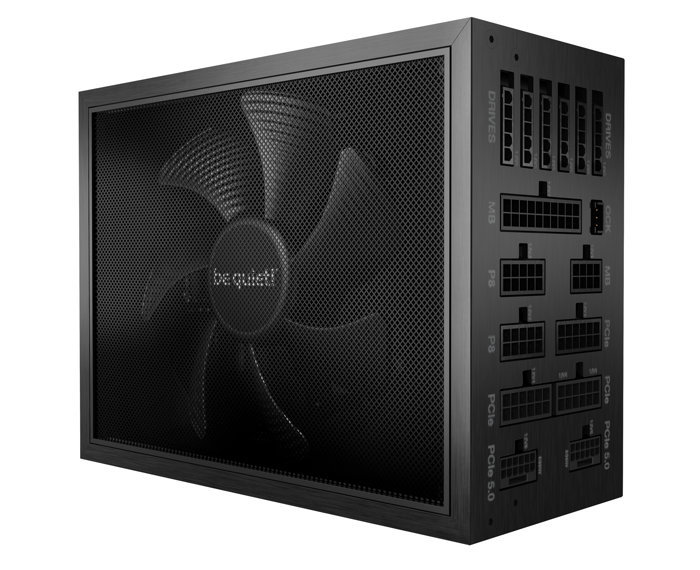 "The Dark Power series has always been and will always be the maximum we are capable of. Be it cutting-edge performance, virtually inaudible operation, or state-of-the-art technology: The Dark Power series has it all."
- Christian Rex, Head of BU PSU
The be quiet! Dark Power Pro 13 1300W offers 80 PLUS Titanium efficiency, world-class performance, and ATX 3.0 compliance for next-gen GPU compatibility.
80 PLUS Titanium efficiency (up to 94.4%)
ATX 3.0 PSU with full support for PCIe 5.0 GPUs and GPUs with 6+2 pin connectors
Handles massive power excursions
Fully digital control and Active Rectifier + full bridge LLC technology for unmatched signal stability
Improved and patented frameless Silent Wings fan for virtually inaudible operation at ordinary loads
Overclocking key switches between six 12V rails and one massive 12V rail
Aluminum case and modular individually sleeved cables for a magnificent appearance
10-year manufacturer's warranty
The two models offer full ATX 3.0 compatibility for next-gen graphics card compatibility and an improved frameless Silent Wings 135mm fan while retaining the extraordinary 80 PLUS® Titanium efficiency and performance. Enthusiasts can rely on an Overclocking Key, which combines the six 12V rails into one with higher power output, ideal for overclocked processors or graphics cards.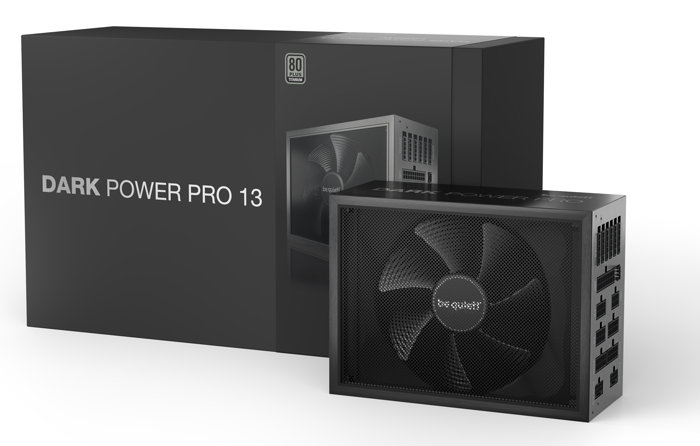 Dark Power Pro 13 includes full support for the ATX 3.0 standard, which observes the power specifications defined by PCI Express 5.0. Compared to ATX 2.X, which supports high load peaks but does not define a maximum above the nominal power of the power supply, ATX 3.0 defines clear target values – specifically, the PCIe connection for the graphics card must allow load changes of up to three times the power consumption.
Dark Power Pro 13 is designed to handle these extreme transient loads with ease. ATX 3.0 power supplies with 600 watts or more also require a new 12VHPWR connector, which can deliver significantly more power. In fact, due to high power output, the 1300 watts is armed with two 600 watts of power on the 12VHPWR connector, while still offering the 'traditional' PCIe 6+2 connectors for full graphics card compatibility.
The Dark Power Pro 13 features 80 PLUS® Titanium certification (up to 94.4% efficiency) by implementing the advanced "Active Rectifier + Full Bridge LLC + SR + DC-DC" topology and a wire-free interior design on the DC side. For maximum reliability and signal quality from the six 12V rails, Dark Power Pro 13 relies exclusively on premium components such as long-lasting Japanese 105°C capacitors. be quiet!'s innovative, patented frameless fan is again used for Dark Power 13.
A Silent Wings 135mm fan is placed directly under a full mesh grill and surrounded by a funnel-shaped air intake for optimal air circulation and best-in-class cooling. This guarantees the components are optimally cooled even under extreme load. An improved noise profile with a lower overall noise level makes the fan virtually inaudible while also offering sustained cooling. The Overclocking Key allows the user to change the power supply from multi-rail mode to single-rail mode with the flick of a button, increasing the PSU's stability under extreme overclocking situations. The steel housing and a complete set of modular, black-sleeved cables match the high-quality components inside the power supply unit. Thanks to its high component quality and innovative cooling design, be quiet! offers a 10-year manufacturer's warranty.
Dark Power Pro 13 1300Watt is currently sold at a suggested retail price of 409.90 Euro.
- Features
80 PLUS® TITANIUM CERTIFIED
The highest efficiency certificate available
Dark Power Pro 13 1300W is certified with 80 PLUS Titanium and a money-saving energy efficiency rating of up to 94.4%. This provides lots of benefits for your high-end system, including less power consumption and an overall cooler and quieter operation. The standby drain is below 0.1 watts.
FUTURE-PROOF YOUR SYSTEM
Fulfills all ATX 3.0 specifications
Dark Power Pro 13 1300W is an ATX 3.0 PSU and comes with both native integration of the two 12VHPWR connectors for next-generation PCIe 5.0 graphics cards, and 6 PCIe 6+2-pin connectors for support of current-gen GPUs. This makes the PSU extremely versatile and the perfect choice for present high-end systems and the ones to come.
THE NEW STANDARD OF POWER
For massive transient loads
Dark Power Pro 13 offers 1300W of continuous power with 6 independent 12V rails. Even if the graphics card demands excessive power for a short time: Dark Power Pro 13 1300W handles power excursions up to double its rated power with ease. This ensures reliable operation with the next generation of processors and graphics cards.
STATE-OF-THE-ART DIGITAL TECHNOLOGY
Rock-steady signal stability and efficiency
Experience the most technologically advanced power supply be quiet! has ever built! Using an advanced digital full bridge LLC technology results in higher efficiency, better regulation and lower ripple noise for an incomparably stable operation.
FRAMELESS SILENT WINGS FAN
Patented fan technology for virtually inaudible operation
The improved tripod-mounted be quiet! Silent Wings fan enables maximum airflow and a virtually inaudible operation. This is thanks to its unique, airflow-optimized fan blade design along with an advanced fluid-dynamic bearing. A 6-pole fan motor ultimately makes for less vibration, super-long life and minimal power consumption.
INNOVATIVE COOLING CONCEPT
For a longer lifespan
The split fan inlet of the Dark Power Pro 13 1300W is a specially shaped funnel that increases airflow while reducing unwanted turbulence. The wire-free design inside allows the cool air to reach all components flawlessly which ultimately leads to a longer lifespan.
READY FOR EXTREME OVERCLOCKING
Pushing the performance of your PSU to the max
Dark Power Pro 13 1300W is particularly suitable for liquid nitrogen or helium overclocking, thanks to its state-of-the-art digital regulation. The overclocking key empowers you to manually switch between the default six 12V-rail mode and the alternative massive single-rail operation.
JAPANESE 105°C CAPACITORS
A testament to high quality
Only the best components are used in Dark Power Pro 13 1300W. That is why this PSU features exclusively high-quality Japanese capacitors. They are rated at 105°C for stability, reliability, and a long operating life.
HIGHEST CONVENIENCE
Modular cables for maximum utility
Individually sleeved cables of up to 120cm and cable combs simplify component installation and reduce annoying clutter. This results in increased airflow and improved cooling – even in the largest PC cases.
MAGNIFICENT APPEARANCE
No compromises
Dark Power Pro 13 1300W not only captivates with its inner values. An extraordinary aluminum case and individually sleeved cables emphasize the highest standards of Dark Power Pro 13 1300W also on the outside.
- Specifications
| | |
| --- | --- |
| Model | Dark Power Pro 13 1300W |
| Continuous power (W) | 1300 |
| Peak power (W) | 1400 |
| Form factor | Version 3.0 |
| Form factor EPS 12V | Version 2.92 |
| Topology | Full bridge + LLC + SR + DC/DC |
| Digitally controlled | ✓ |
| Voltage (Vac) | 100 - 240 |
| Frequency (Hz) | 50 - 60 |
| Input current (A) | 16 / 8 |
| Power factor at 100% load | >0.99 |
| Modern standby | ✓ |
| Power consumption in standby (W) | <0.06 |
| Average life time (h / 25°C) | >100,000 |
| Operating temperature up to (°C) | 50 |