be quiet! DarkPower Pro 13 1300watt
3. Tests - Conclusion
For our tests, we used the be quiet! Dark Power Pro 13 1300watt with the following test PC system:
AMD 7950X
Asus ProArt X670E-CREATOR WIFI Motherboard with the latest BIOS
MSI 4090 Suprim X Graphics Card with the latest Nvidia Drivers installed
Crucial 2x16 DDR5-5200 Memory
OCCT Enterprise Edition latest version (Power Test)
Windows 11 Pro Edition + latest updates installed
| | | | |
| --- | --- | --- | --- |
| | Min | Average | Max |
| +5V | 5.00 V | 5.04 V | 5.04 V |
| AVSB | 3.39 V | 3.39 V | 3.39 V |
| 3VCC | 3.31 V | 3.31 V | 3.33 V |
| +12V | 12 V | 12.02 V | 12.10 V |
| 3VSB | 3.39 V | 3.39 V | 3.39 V |
| VTT | 3.31 V | 3.31 V | 3.33 V |
| CPU Package Power | 81.23 W | 185.11 W | 205.86 W |
| GPU Power | 22.07 W | 444.86 W | 489.97 W |
The be quiet! Dark Power Pro 13 1300Watt Power Supply gave excellent results with the latest PC hardware and the most powerful Nvidia 4090 Graphics card. The system managed to get more average watts and slightly higher performance compared with the Pure Power 12M 1200Watt series in both CPU Package / GPU Power, meaning the system has more overhead from the power supply to give its highest possible performance.
- Conclusion
The Dark Power Pro 13 series, is the highest and most powerful power supply that is quiet! has ever been released to the market. All the knowledge and experience that be quiet! has gathered all those years, came to this product that is an absolute beast both in power and retail price.
The Dark Power 13 series, while being a high-end product, didn't have higher than 1000watt power supplies, which are needed, especially if you perform overclocking and playing at the highest possible graphic settings with the latest Nvidia 4090 graphic card series. For sure the Dark Power Pro 13 series will deliver the power you need and in fact, the 1300-watt variant we tested supports two (!) 4090 series, even for safety we would get the 1600watt variant to be 100% sure, especially if you have many storage devices and water cooling solution installed at your system.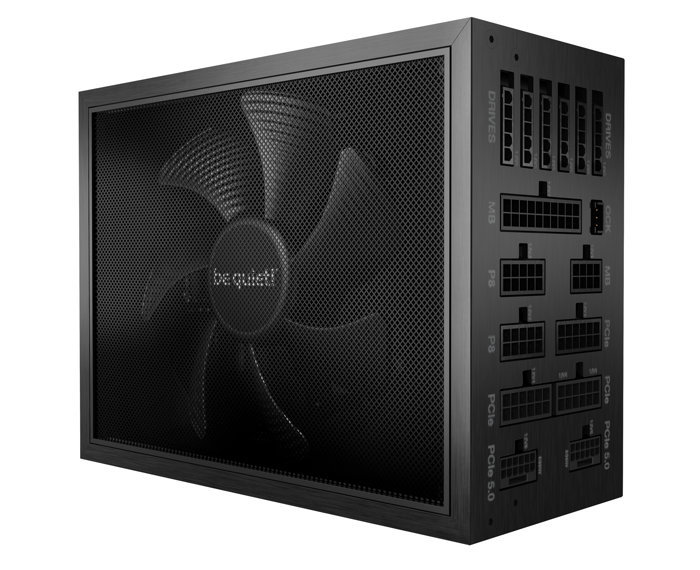 The product build quality is really a step above the Dark Power 13 series with high-quality build material and finish (aluminum), while the internals also follows what the Dark Power 13 series already had, high-end quality Japanese capacitors (Nippon Chemi-Con and Rubycon) and big 135mm rotating fan that cools down the internal and produces very low noise levels.
The Dark Power Pro 13 1300watt includes six +12V rails and you will find the inclusion of the OC adapter that transforms the power supply to a single +12V power rail, giving much better power output control to advanced users and overclockers. Stressing the system even with the latest AMD/Intel processors and AMD/NVIDIA graphic cards will have no impact on performance and overall system stability.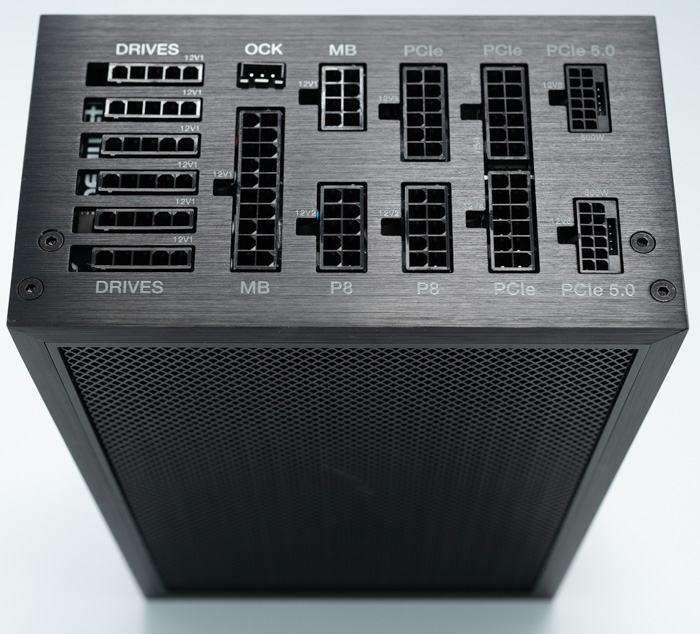 The retail package is again one step above what we have seen from the Dark Power 13 series with 16 included raided cables and two 12VHPWR connectors with 600-watt support. This is a truly versatile and perfect, future-proof choice for upcoming next-gen devices and current high-end systems alike.
With top performance, comes also a very high retail price. The 1300watt market is very competitive and you can find products much lower priced than the be quiet! Dark Power Pro 13 1300watt, however, is not 80 Plus Titanium certified and won't have 10 years of warranty, or simply will be priced much higher than the asked 409.90 Euros of the retail price.
We feel that be quiet! pushed the limits with the new Dark Power Pro 13 series and both the 1300watt and 1600watt variants are what overclockers and enthusiasts users will use for their system. The power supply should be the heart of your system so if you take things seriously, take the step and buy this product, you won't regret it :-)
- The Good
Supports ATX 3.0 & PCIe 5.0 protocols
1300Watt total output with six +12V rails or OC mode in a single rail mode
80 Plus Titanium rating
Top-notch build quality with Japanese capacitors
Fully Modular cable design
Big 135mm cooling fan with low noise
16 included high-quality braided cables with two native 600Watt 12VHPWR connectors
10 years of warranty
Steady operation under heavy load with the latest PC hardware
Competitive price for the 1300watt platform (80 Plus Titanium+ATX3.0+10 years warranty)
- The Neutral
- The Bad
Product edges are a little sharper compared with the normal Dark Power 13 series