While portable gaming devices have long batteries, due to power CPU/GPU consumption, their maximum running time with max performance is limited at 1.5h~2.0h for triple AAA games. You have to be close to a power outlet or...you can use a power bank to power those long gaming sessions.
JSAUX as a gaming peripheral manufacturer, to complete the gaming experience for SteamDeck users and in general portable gaming devices, has introduced to the market a 65W 20000mAh power bank that can handle the SteamDeck and other similar devices and much more...
The power bank kit is part of the ModCase for Steam Deck PC0104 and supports up to 65 watts of power output to keep up with the power demand of Steam Deck and other portable gaming devices. The power bank edition costs $79.99 and includes
Protective case
Metal bracket
Strap
Travel cover
Protect Case for Steam Deck Dock
65W 20000mAh Power bank Kits PB6501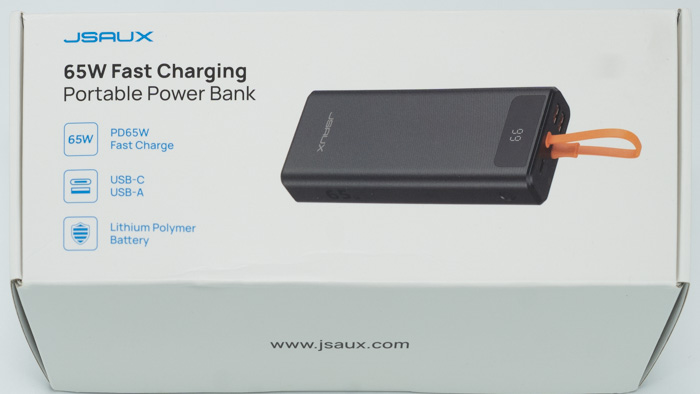 We tested the 65W Portable bank that comes with a huge capacity of battery 20.000mAh. The product number is PB6501 and the retail product design is simple. Opening the box unveils the product, it is very secured with a plastic foam. The building material is nice to hold and its ABS+PC.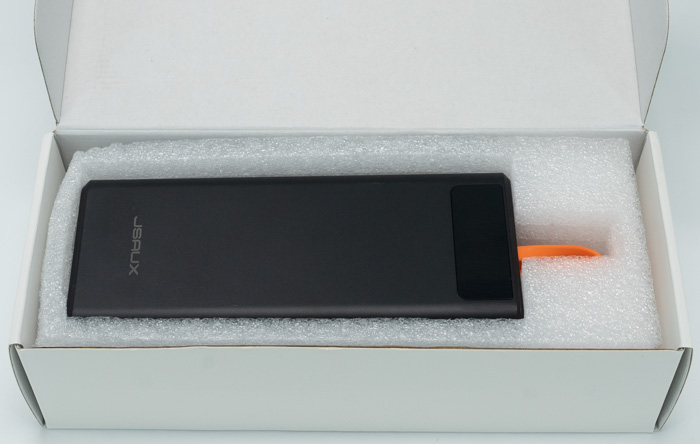 The power bank itself...is huge. It has external dimensions 159 (L) X 68 (W) X 30(H)mm and weighs around 425gr.

Included you will find a Type-C to Type-C USB cable that has great quality.
The product has the following features:
【65W High-Speed Charging】Equipped with PD65W charging support, this power bank can quickly charge your devices, including the Steam deck at full speed (45W), ensuring you're never caught without power on the go.
【20000mAh Large Capacity】This portable charger provides ample battery life to keep your devices charged all day long, making it the perfect companion for long trips or busy days out and about.

【Intelligent Display】The smart digital display keeps you informed of your battery level, voltage, and current so that you can stay on top of your charging needs. It also alerts you to safety issues by alarming, making it a smart and user-friendly charging solution for your devices.

【Multi-Protection】This portable charger includes built-in protection against over-current, over-voltage, overheating, and short-circuit, ensuring your phone and personal safety.

【Convenient Charging】Equipped with a built-in cable, allows for hassle-free charging on the go without carrying an extra charging cable.

【Multiple Output Ports】Equipped with two USB-C ports and two USB-A ports, this portable charger offers versatile charging options for multiple devices at the same time, making it a must-have for families or groups on the move.

【Universal Compatibility】Compatible with a wide range of USB-C PD devices, including Steam Deck, Switch, iPhone, Samsung Galaxy, Huawei, and more, it is the ultimate charging solution for all your mobile needs.
At the top of the power bank, you will find a fixed type-C cable (176mm) that acts both as input or output 3.3-11V=5A/ 5-15V=3A/ 20V=3.25A (65W Max), to keep up with portable gaming devices. The orange included cable can be fixed a the body of the power bank, while there is another type-C input/output jack that can do 3.3-11V=5A/ 5-15V=3A/ 20V=3.25A (65W Max) nice.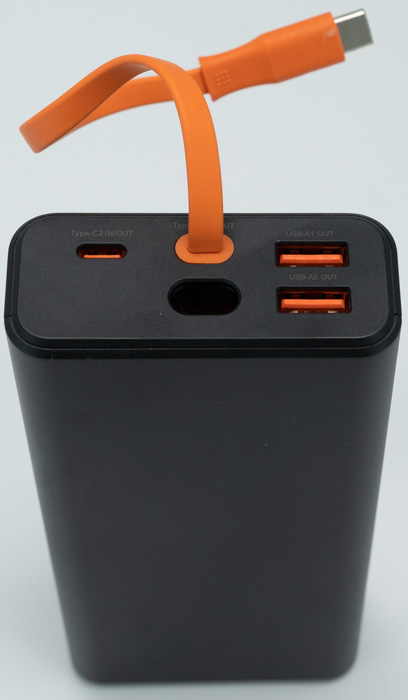 In addition, you will find two USB-A ports with 2:5V=4.5A/4.5V=5A/5V=3A/ 9V= 3A/12V= 2.5A (30W Max). In case you use both USB-A1 and USB-A2 output performance drops in half with 2:5V=3A(15W Max). At the bottom, you will find the product specs

Below is how the USB ports will work under load
TYPE-C1+TYPE-C2: 20w + 45W
TYPE-C1/TYPE-C2+A1/A2: 45W + 18W
TYPE-C1+TYPE-C2+A1/A2: 20W + 30W + 15W

Since the power bank can deliver 45W through the Type-C2 port in any case, you could use your portable gaming device (SteamDeck) and charge your mobile phone at the same time.
The device also supports many output protocols
USB-C: PD3.0 PPS, QC4.O+, SCP, FCP, AP2.4
USB-C: PD3.0PPS
USB-A: QC3.0,SCP, FCP, AP2.4

At the top, there is a simple LCD screen that when powered up will show the % of charging and through the power button at the right will circle and display the total output power and total A consumption rate.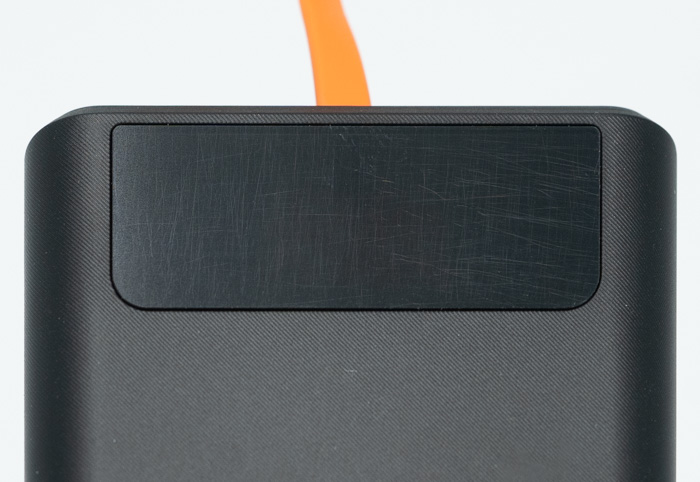 We did use the JSAUX 65Watt 20.00mAh power bank with Steam Deck and we didn't have any issue charging the device while playing demanding AAA titles. Steam Deck will top around 45 watts, so the extra juice from this power bank can be used to charge a mobile phone that supports quick charging at 20 watts also, nice. This product will charge up your SteamDeck from 0->100% at around 3hours and will last for 1 charge.
The JSAUX 65W power bank can either bought as solo or in the PowerBank Kit for the ModCase for Steam Deck PC0104 we do feel the price is very good, and on par with other 65watt power banks that are being sold at the market right now. As always good job from JSAUX and we can suggest this product to all users who wish to upgrade their mobility playing time.