Nvidia Driver Enables DXR Ray Tracing On Select GeForce GTX GPUs
Nvidia has released its DXR-enabled driver for GTX-series series graphics cards, enabling Ray Tracing technology features on graphics cards other than it's latest RTX-series models.
Real-Time Ray Tracing is the biggest leap in computer graphics in years, bringing realistic lighting, shadows and effects to games, enhancing image quality, gameplay and immersion. At this year's Game Developer's Conference, Unreal and Unity announced and released engine integrations, developers presented and attended ray tracing panels in droves, and studios demonstrated their latest ray-traced game builds. Powering all of these games were GeForce RTX GPUs, which include RT Cores - dedicated hardware designed to run high-fidelity real-time ray traced games at high resolutions.
Since the release of the GeForce RTX GPUs Nvidia continued to optimize ray tracing. These efforts have not only accelerated ray tracing performance for all GeForce RTX gamers, but have now also made it possible for gamers with GeForce GTX 1060 6GB and higher GPUs to test drive basic DirectX Raytracing (DXR) effects via a new Game Ready Driver.
The Pascal-generation GTX cards supported include:
Titan XP
Titan X
GTX 1080 TI
GTX 1080
GTX 1070 TI
GTX 1070
GTX 1060 6GB
The Volta-based Titan V and Turing-based GTX 1660 and 1660 TI are also supported.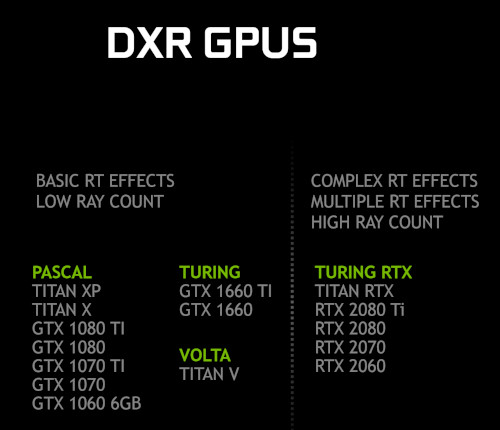 However, do not expect all GTX-series cards to be supported and performance will vary significantly too, with Turing-based GPUs such as the GTX 1660 Ti, performing similarly to the more powerful last generation GTX 1080 in some DXR-enabled scenarios.
While all current Turing GPUs are supported, lower-end Pascal GPUs fail to make the cut, so the likes of the GTX 1060 3GB and GTX 1050 aren't deemed powerful enough to handle the extra workloads, in part due to limited frame buffers.
Pascal-based cards, because they have no RT cores, are really not up to the processing challenges of full-on ray tracing, so DXR will dumb down the effects to fit within the capabilities of the card. And even then you'll still be taking a performance hit -- for effects that may be so subtle as to not be worth it.
And it seems like the more noticeable the effect, the more processing it tends to require, with reflections and global illumination, being the most demanding.
The newer priced-to-sell Turing-based GTX 1660 and 1660 Ti don't have any RT cores either. What they do have is the improved floating-point performance. So they'll still take a performance hit in exchange for slightly better realism, just not as much as some of the older cards.
Where support is offered, with the GTX 1060 6GB and upwards, you'll be able to enjoy Ray Tracing visual effects in supported games. However, Nvidia's RTX-series cards still offer by far the best performance here, with even the RTX 2060 outperforming all other cards in benchmarks offered by Nvidia.
The new 425.31 driver is available for download here.