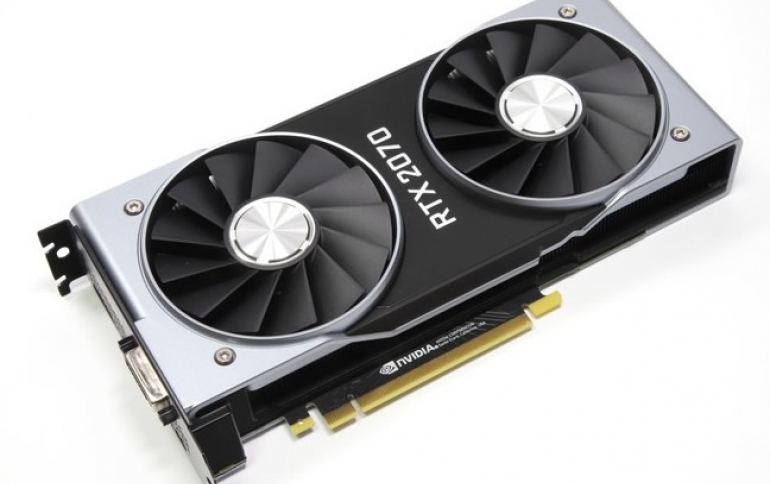 Nvidia GeForce RTX 2070 Cards Released
Nvidia's 'value' oriented enthusiast offering, the Geforce RTX 2070 graphics cards, has launched today, offering about 75% the performance of the high-end 2080 Ti at a fraction of cost.
Even as the value option, the RTX 2070 comes in about $500, with the Nvidia Founders Edition to cost $100 more.
Nvidia's RTX platform brings features like realtime ray tracing and DLSS, but they come at a cost; currently, the RTX 2080 Ti stands at $1200 and the RTX 2080 at $800, and now with the $600 RTX 2070 as the entry card for those features.
The RTX 2070 is built on its own GPU, TU106, rather than being a cut-down version of TU104, and by the numbers it should be 75% of the RTX 2080's shading/texturing/tensor resources with the same ROP count and 256-bit memory bus.
Compared with the reference 2070 at 4K, the RTX 2070 Founders Edition TDP and boost clock should amount to around a 5% gain. The reference RTX 2070 is faster than the GTX 1080 at 4K and 1440p by about 10%.
For those with low-end cards, or 900 series and older products, the $600 budget pulls in a number of other alternatives: the GTX 1080, RX Vega 64, or even the GTX 1070 Ti. In particular, the sub $500 GTX 1080 cards are a major spoiler for the RTX 2070, offering equivalent performance at lower price. For those who want to gwt the RTX 2070 in order to utilize the RTX features when the time comes, they should have in mind that they would require upgraded monitors for HDR, higher resolution and refresh rate, and variable refresh rate technology.