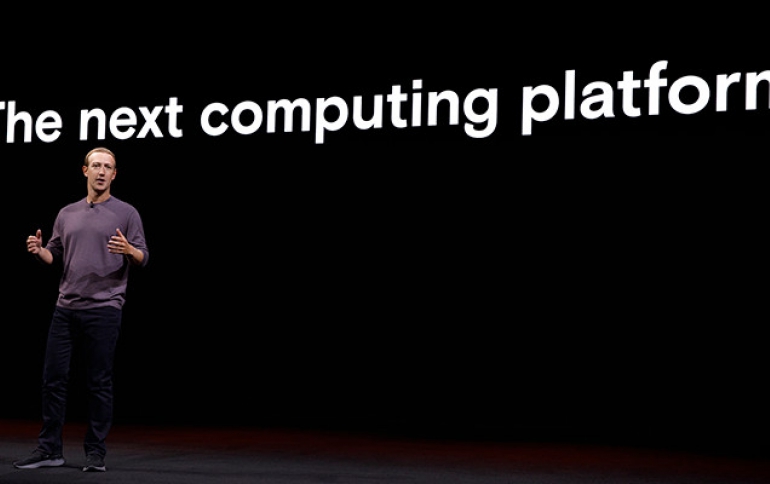 Oculus Connect 6: Introducing Hand Tracking on Oculus Quest, Facebook Horizon, and More
Today at the Oculus annual Oculus Connect conference, Facebook's Ociulus shared its vision for VR and plans to build the future of computing with people at the center.
Oculus Quest
Oculus is marking an important VR input milestone in the evolution of VR input with the announcement of hand tracking on Oculus Quest—enabling natural interaction in VR using your own hands on an all-in-one standalone device—no extra hardware required. All without the need for a controller, external sensors, gloves, or a PC to power it.
At OC6, Oculus demoing hand tracking on Quest, which will launch in early 2020 as an experimental feature for consumers and as an SDK for developers. In the future, this technology could help solve the challenges of input for AR glasses, letting you interact with ambient AR experiences.
Forward Compatibility
Oculus is already working on the next Oculus Quest, and the company wants to ensure that everything developers build for today's headset is fully forward compatible. Beyond shipping new hardware in the future, Oculus continue releasing more software updates for Quest just as developers release new content so that its value increases over time as a dynamic VR product.
Oculus Link
Oculus Link is a new way for people who own Quest and a gaming PC to access content from the Rift Platform. Oculus will release the software in beta this November, as an update to our Oculus desktop app, and it will work with most high-quality USB 3 cables. Later this year, Oculus will also release a premium optical fiber cable to provide a best-in-class experience with maximum throughput to run Rift content and enough length so you can move easily in VR.
Passthrough+ on Quest
Previously available on Rift S, Passthrough+ leverages the headset's front facing cameras for a stereo-correct passthrough mode that reduces depth disparity and increases comfort. Passthrough+ launches next week, while Passthrough "on demand" will let people switch between a view of the virtual and real world at will, starting later this year.
Oculus Go Apps on Quest
Oculus is bringing a variety of popular Oculus Go apps to Quest. Between now and the end of the year, the company will also offer free upgrades for owners of paid Oculus Go apps, so you can get the Quest version if it already exists. Starting next week, you can access more than 50 Oculus Go titles on Quest.
Facebook Horizon
Facebook Horizon is the first step into an ever-expanding world of connection and exploration where anything becomes possible. Explore new places, play games, build communities, and even create your own entirely new experience with tools like World Builder that require no coding skills. You can sign up for the beta scheduled to begin early next year at oculus.com/facebookhorizon.
In that "ever-expanding VR world" people can interact with others as digital avatars. Users will be able to add features and elements to the world, which Facebook said will be "constantly growing with extraordinary creations made by Horizon citizens."
The company didn't explain exactly how Horizon will work. Facebook did say the product will launch as a closed beta test in 2020. Users will be able to interact with one another in a virtual town square, and then jump to different sections of the world using "magic-like portals — called telepods."
Medal of Honor: Above and Beyond, Coming Soon to the Rift Platform
Oculus revealed Medal of Honor: Above and Beyond. In addition to both a full narrative campaign and multiplayer modes, Medal of Honor: Above and Beyond includes a story gallery, letting you sit with WWII veterans and survivors to hear their stories while witnessing first-hand the events and locations that have shaped our history.
Vader Immortal: A Star Wars VR Series - Episode II Now Available
ILMxLAB took the stage at OC5 to announce Vader Immortal: A Star Wars VR Series - Episode I, an Emmy-nominated adventure that dropped players into the Star Wars universe. And today at OC6, they joined Oculus again to announce that Vader Immortal: A Star Wars VR Series - Episode II is launching today on Oculus Quest and Rift Platform. In Episode II, players return to Mustafar to learn the ways of the Force—including new powers and lightsaber skills—from the legendary Sith Lord himself.
Asgard's Wrath and Stormland Coming Soon, Pre-Orders Open Now
Oculus announced that Norse-inspired epic role-playing game Asgard's Wrath will launch on the Rift Platform October 10, while sci-fi title Stormland brings co-op gameplay mechanics and a high degree of replayability to the Rift Platform November 14. Pre-orders for both titles are now open on the Oculus Store.
Beat Saber Panic! At The Disco Music Pack
The developers behind indie darling Beat Saber took the stage to unveil the Panic! At The Disco Music Pack. It adds even more variety to this Platinum title, and it's coming to Quest and the Rift Platform September 30.
New Oculus Social Platform, Built on Facebook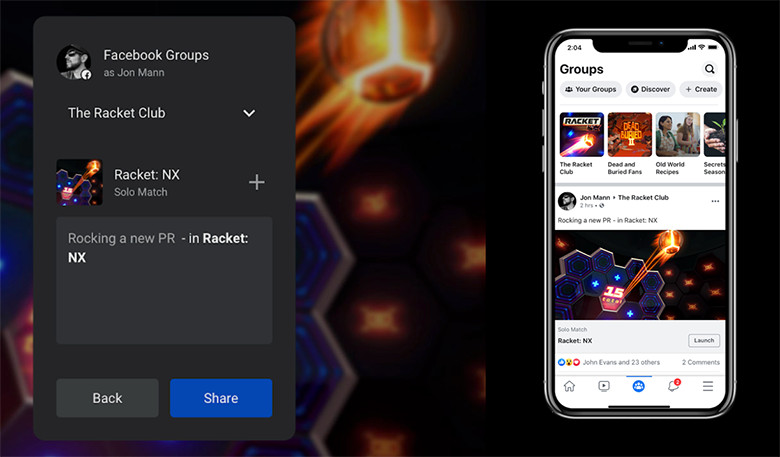 Later this year, Oculus will begin to roll out a completely new social layer across the Oculus Platform, powered by Facebook. As part of that change, Oculus will ask people to log in to Facebook from the Oculus Platform to use its first-party social experiences like joining parties, adding friends, and co-watching in Oculus TV, because these experiences are powered by Facebook's technology.
This is going to open up new ways to connect in VR. Oculus is adding Chats, so you can message your Oculus friends both in and outside of VR. The company is also adding Events, so you can organize multiplayer tournaments or co-watching movies and shows with your friends. And it is adding the ability to post to Facebook Groups from VR, so you can share your favorite moments with your VR communities.
In order to provide these features, Oculus will use information like your friend list, how often you jump into VR, and which apps you use to provide better VR-related recommendations on Facebook, including relevant Facebook Groups you may want to join, Oculus Events you might like to attend, or ads.
Over time, Oculus plans to power more and more of our social infrastructure with Facebook. For the people who choose to log in with Facebook, Oculus will continue to add new ways to find friends, connect with people, and explore communities.
Rich Presence + Destinations
Destinations let developers define places in their games and apps that can be surfaced across the Oculus Platform. Once those Destinations have been defined, Rich Presence lets people share when they're in those places, so their friends can easily join them. Starting next month, people will be able to see their friends' Rich Presence locations in VR and in the Oculus mobile app. And there's a privacy setting for people to control what they share.
Over the coming months, Oculus will add the ability for developers to broadcast Destinations and for people to share their Rich Presence locations across even more surfaces, including Messenger and Facebook. These links will let people remote launch a specific VR destination in your app from their laptop or phone—like a portal that takes friends directly to each other.
Oculus TV + Oculus Media Studio
Today Oculus announced the new and improved Oculus TV—a central hub where you can discover and watch media on both Quest and Oculus Go. Oculus TV gives creators a platform to help people find and enjoy the experiences they've made. And to make it even easier, Oculus is also introducing Media Studio—a new kind of media management tool that lets you upload and publish your content directly to VR.
Shared Spaces
In June, Oculus showed its latest ultra-realistic 3D reconstructions of real-world environments and released a data set of 18 spaces to the research community. Today at OC6, the company showed a cutting-edge demo developed using the 3D reconstruction techniques pioneered by Facebook Reality Labs. In it, two people can be co-present in one of these 3D reconstructed spaces using Oculus Avatars and have a shared experience in one of these incredibly realistic environments. In the future, that means that, rather than meeting up in an unfamiliar virtual place, you could invite people into a familiar space like your own living room. That future may be a long way off, but the potential benefits of it are worth the work it takes to get there.
Introducing LiveMaps
At FRL, Oculus research teams are starting to build the core infrastructure that will underpin tomorrow's AR experiences. The company is exploring a new kind of map that would give you a virtual map of the world, supercharging AR glasses and other smart devices with contextualized information and the ability to anchor virtual content in the real world. Oculus calls it LiveMaps.
Using machine vision alongside localization and mapping technology, LiveMaps will create a shared virtual map of the world. Rather than reconstructing your surroundings in real time, these AR glasses will one day tap into existing 3D spaces that were previously saved to the cloud. That means drastically reduced compute power, so that this tech can run on a mobile chipset. With these 3D spaces, your avatar could teleport anywhere in the world, giving you the ability to stay connected to the people in your life while you're on the go.
AR glasses
Oculus announced "We are building AR glasses." Then there was a spiffy video that showed some pretty standard augmented reality ideas, with a bit of tech jargon thrown in. No prototypes, no details. Just "Hey, we're doing that too," and a statement that they're currently working on the "deep stack" right now.
Half Dome Updates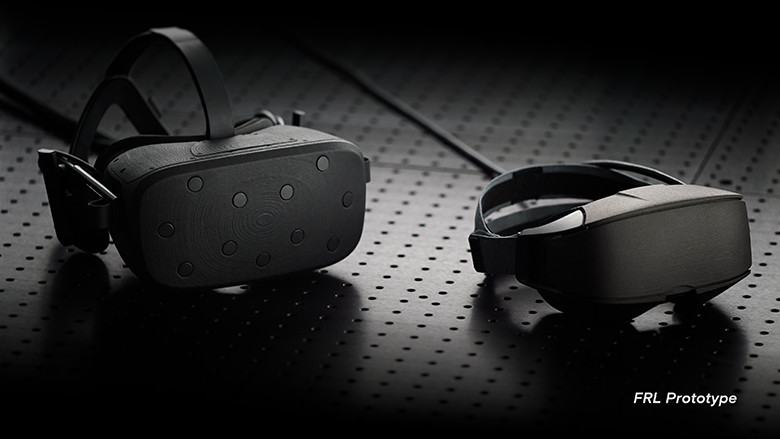 It's been a little over a year since Oculus first unveiled Half Dome—a VR headset prototype that combined mechanical varifocal lenses with a wider field of view than the original Rift. Since then, an interdisciplinary team at Facebook Reality Labs (FRL) has continued pushing the limits of what's technologically feasible to move beyond an early "proof of concept." Today, Oculus unveiled some updates: a mechanical prototype that folds the optical path into a very small volume, which significantly improves ergonomics and reduced weight, and an electronic version of Half Dome—one that replaces all of the moving mechanical parts with a new type of liquid crystal lens made from a thin, alternating stack of two flat optical elements: polarization-dependent lenses (PDLs) and switchable half-wave plates.
By changing the voltage applied to the switchable plates, Oculus can toggle between the two focal lengths. And by stacking a series of PDLs and switchable half-wave plates on top of each other, Oculus is able to achieve smooth varifocal that lets you comfortably and seamlessly adjust your focus in the headset.
Full-Body Codec Avatars
Earlier this year, Oculus shared its research on Codec Avatars—incredibly lifelike digital representations of the heads of real people. These avatars can be animated in real time, opening the way for effortless, live, unscripted interaction in VR. Letting two people communicate via their avatars in VR as naturally as they would if they were in the same physical room was a first for the gaming industry. However, true social presence requires more than just heads. Oculus introduces full-body Codec Avatars. By introducing full-body Codec Avatars, Oculus can achieve a level of expressiveness that rivals what's possible in real life.
Oculus for Business
Oculus introduced the new Oculus for Business platform, giving businesses everything they need to manage large VR programs. This enterprise software suite includes a Device Setup app to help you set up multiple headsets simultaneously, a redesigned UI to keep your employees focused, strict data handling protocols, dedicated customer support, and more. It's in closed beta today and will launch in November.
Developer Tools
RenderDoc Updates: Oculus contributed to RenderDoc, the open-source frame debugger, so that it supports all of our extensions and uses less RAM. Oculus is also improving RenderDoc to report more performance data.
OVRMetricsTool: Later this year, Oculus will be enhancing its OVRMetricsTool, so you can view more metrics in the headset while your application is running—or view on a computer and save the information for later.
Vulkan News: Oculus has added support for Vulkan Multiview and Fixed Foveated Rendering in our platform and in Unreal Engine, which can boost performance significantly. Later this year, Oculus will expand our Vulkan support on Quest to include Unity and Vulkan validation layers for easier debugging.
Unity GPU: Oculus recently enabled Unity's GPU Profiler on Quest and Go. The company is also working with Qualcomm to develop a low-level GPU profiling API. This will give you more detailed information to increase accuracy in pinpointing and resolving performance issues.
New Purchase Funnel Analytics, Coming This Fall
Oculus is bringing you new metrics for Quest in the Developer Analytics tool, to help you understand how your app is performing in the store. You'll be able to explore the dashboard to view conversions, as well as metrics related to browsing, searching, and engagement with your product detail page. Now you can measure the quality and impact of your art and product pitch, so you can test, refine, and improve.
Mixed Reality Capture for Quest
Oculus recently shipped the ability for developers to make mixed-reality videos, with support in our Unity and Unreal Integrations. Today, Oculus announced that they will be adding native support later this fall, along with a tool to make it just as easy for content creators to produce mixed-reality videos.
Oculus Link: Remote Rendering for Developers
When Oculus Link software ships, developers will be able to iterate more quickly by running on a PC, while streaming the output to Quest. Just hit the play button for the Unity or Unreal Oculus plugin, and you'll be able to preview right on the device—no need to compile and transfer a new APK first. It's development at PC speed, for a mobile device.
An Open Source 6DOF Depth Estimation Pipeline
Designing a fully integrated 360° video camera supporting 6DOF head motion parallax is exceptionally daunting. It requires computing novel views from a variety of cameras. Today, Oculus announced FacebookDEP, an open-source software stack that supports this creative endeavor—one that reconstructs depth and supports real-time playback in VR headsets like Oculus Quest and Rift S. Oculus has made the code freely available on GitHub. It's quite general and designed to take input from a wide range of spherical and planar camera arrays including Manifold from RED Digital Cinema. Facebook has partnered with RED Digital Cinema to create Manifold—a custom designed camera that leverages 16 separate RED HELIUM 8K sensors.