Oculus Promises More Than 30 Full Games Launching With Oculus Touch Controller
Oculus Touch will launch with more than 30 full, made-for-VR games later this year, including 20 new titles that are designed around the sense of hand presence you can get with the Touch controller. Launch titles include Oculus Studios games like Insomniac's Unspoken, Dead & Buried, Rock Band VR from Harmonix, VR Sports Challenge by Sanzaru, Crytek's The Climb (now Touch enabled), as well as independent games like Serious Sam VR: The Last Hope by Croteam, Pro Fishing Challenge VR by Opus, I Expect You to Die by Schell Games, Luna by Funomena, Giant Cop by Other Ocean, Job Simulator by Owlchemy Labs, and Fantastic Contraption by Northway Games. Oculus Medium will also ship with Touch, which brings the tactile satisfaction of sculpting into the world of VR.
"Cast spells and unleash magic from your fingertips. Open doors, pick locks, and pull triggers like you're really there. Give your friend a "thumbs up" in VR. This is the power of hand presence with Touch," says Oculus.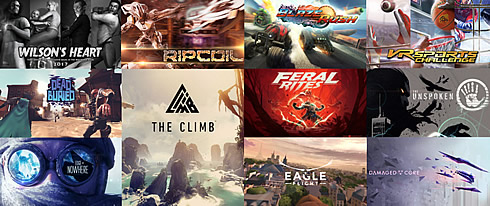 There are hundreds of additional Touch titles in development, and Oculus plans to share the full Touch lineup and launch details later this fall. Here's a fun preview of a few Touch games coming to Oculus.
Coming in 2017, Wilson's Heart by Oculus Studios and Twisted Pixel is a psychological thriller. It takes full advantage of the natural hand gestures made possible by Touch to let you fully examine and interact with your surroundings in the virtual world. You become Robert Wilson, a patient who wakes up to discover that his heart has been replaced with a mysterious device.
Ripcoil by Oculus Studios and Sanzaru Games lets you enter a futuristic player vs. player arena where you can launch, catch, and punch a speeding Ripcoil disc. Control your body and hands.
In Killing Floor: Incursion, a cooperative VR shooter from Tripwire Interactive, you take on the role of an elite soldier tasked with eliminating hordes of sci-fi monsters with guns, blades, and more. This Touch-enabled take on the well-known Killing Floor universe will take you to diverse environments and force you to scavenge for survival as you face an unrelenting onslaught of monsters.
Superhot is an over-the-top, stylistic FPS that blurs the lines between cautious strategy and unbridled mayhem. Time only moves when you move, creating a bullet ballet that is brought to life with Touch. Your every gesture and movement lets you dodge bullets, disarm enemies, and return fire.