Opera Reborn 3 Desktop Browser is Ready for Web 3
Opera 60, the newest Opera browser for Mac, Windows and Linux, includes a Crypto Wallet, Web 3 explorer and a free VPN.
With Opera 60 (codenamed Reborn 3), Opera is offering users increased privacy and security features, as well as a new design of the browser's interface.
Opera becomes the first computer browser to include a native Crypto Wallet and Web 3 explorer. The new feature lets people make transactions and interact with the blockchain-based Internet of the future, also known as Web 3.
By also providing a free browser VPN, Opera wants to make sure users stay safe and in control of their browsing.
Web 3 is the blockchain-based Internet. Starting today, users can type in the address of a Web 3 application into the address bar of the Opera computer browser and they will be able to explore Web 3.
The Crypto Wallet in the Opera computer browser syncs with the Crypto Wallet in the Opera browser for Android. This means wallet keys never leave the users' smartphones. In practice, whenever they need to identify themselves to a Web 3 website or sign a transaction on the blockchain, users get a notification on their smartphone. They can confirm it in the same way they unlock their system, using, for example, facial recognition or their fingerprint.
The Crypto Wallet feature is planned to also be added to Opera's iOS browser, Opera Touch, soon.
Currently, one-third of VPN users around the globe use this solution with the intent to stay anonymous on the Web. Opera is the only browser maker to provide a fast and free browser VPN.
The browser VPN establishes a secure, encrypted tunnel which protects users' data from third parties and hides their geographical location from websites. The browser VPN service is also a no-log service, which means that the VPN servers do not log and retain any activity data, all to protect users privacy.
The new version of the Opera browser features a new borderless design without dividing lines between sections.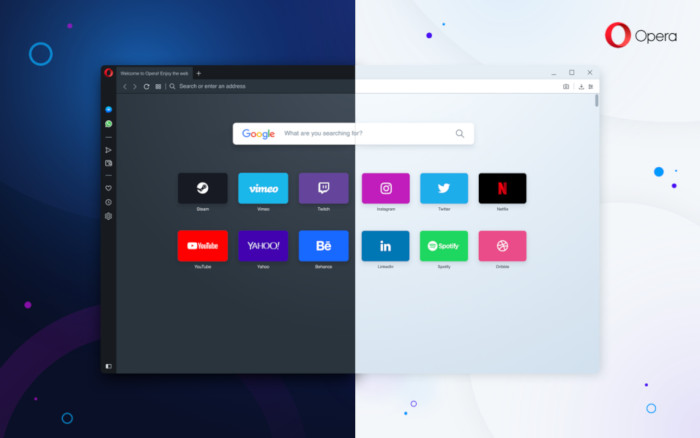 The browser has also received two themes, light and dark.