Optiarc Europe to Offer Sony Branded 8x BD Writer, New Slimtype DVD Burner
Optiarc Europe will bring the BWU-300S, Sony's first 8x Blu-ray burner as well as the new DRX-S70U-R external slimline DVD burner in Europe later this month. The new BWU-300S model burns single and dual layer BD-R media at up to 8X speed, recording a full 25GB disc in about 15 minutes and a full 50GB disc in about 30 minutes. The 8X recording speed is achieved using 6X compatible BD-R media. The drive also records DVDs at up to 16X, CDs up to 48X, and supports DVD-RAM recording. Also included with the drive is CyberLink?s software suite for capturing, authoring, editing, burning, and viewing high-definition personal content.
The internal drive features a Serial ATA (SATA) interface and standard 5.25-inch form-factor for easy installation inside a desktop PC with Microsoft Windows XP or Windows Vista operating systems.
The BWU-300S is fully supported by Adobe Encore CS3 software, now included with Adobe Premiere Pro CS3, and Sony?s Vegas Pro 8 and DVD Architect Pro 5 software, providing video production professionals with another option for outputting high-definition video on a Blu-ray Disc with MPEG-2 or H.264 compression.
The BWU-300S is available from October onwards and it will be backed by a 24-month warranty. It's price will be €295.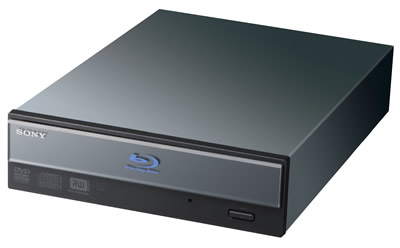 Sony NEC Optiarc also presented today the external slimline DVD burner DRX-S70U-R. At less than two centimetres in height and weighing only 440 grams, the DRX-S70U-R easily fits into any item of hand luggage without making it difficult to carry.
The DRX-S70U-R is also Mac and Windows compatible and can process all standard DVD and CD formats and its retail package will include the NERO 8 express software for Microsoft Windows.
The DRX-S70U-R writes to DVD±R and DVD+RW blanks at 8x speed. It achieves 6x speed writing to DVD-RW media and 5x speed writing to DVD-RAMs, 4x speed writing to DVD-R DLs and DVD+R9s and 24x speed writing to CDs. The drive reads DVD-ROMs at 8x speed and CD-ROMs at 24x speed.
The DRX-S70U-R from Sony is now on sale at retail outlets for aproximately €95.
Specifications