Panasonic's GZ2000 OLED TV Supports Dolby Vision, Dolby Atmos and HDR10+
Panasonic today announced the launch of the GZ2000, featuring a custom-made Professional Edition 4K OLED panel which incorporates custom hardware improvements by Panasonic and supports support both Samsung's HDR10+ and Dolby Vision for high dynamic range (HDR) video.
The GZ2000 is the world's first OLED TV to support both HDR10+ and Dolby Vision HDR as well as HLG Photo, the new still image format which brings still photography into the HDR world.
Furthermore, the GZ2000 is the first TV with built-in upward-firing speakers capable of delivering Dolby Atmos audio. The total audio system has also been tuned by Technics engineers. Also, with support for voice assistants, the GZ2000 can integrate with a smart home setup.
Available in 65-inch and 55-inch screen sizes, the new GZ2000 OLED represents the combination of Panasonic's technological accuracy with the color-tuning skills of Stefan Sonnenfeld, founder and CEO of Company 3 and a trusted collaborator of some of the world's best filmmakers.
No ordinary OLED panel, the bespoke Professional Edition 4K OLED panel has been exclusively customized by Panasonic R&D engineers. This has resulted in even greater control of the parameters that affect picture quality. In particular, the average brightness level has been boosted significantly and contrast handling improved, resulting in increased dynamic range.
Additionally, in response to requests from Hollywood's professional users, Panasonic has extended the range and reduced the interval between calibration steps at the darkest end of the RGB and gamma scales. The GZ2000 is also one of the first TVs to support CalMAN PatternGen test patterns from Portrait Display's CalMAN software along with AutoCal functionality. Imaging Science Foundation (ISF) calibration settings are also supported.
The GZ2000's HDR OLED panel is powered by Panasonic's most advanced processor ever, which analyses the color, contrast and clarity of 4K video content. Featuring an even faster Dynamic LUT, the GZ2000 is Panasonic's best TV at selecting and displaying the correct color for every single brightness level. Even when brightness levels and contrast vary rapidly within a scene, the GZ2000 promises to deliver the most accurate colors, resulting in a more satisfying image than ever before.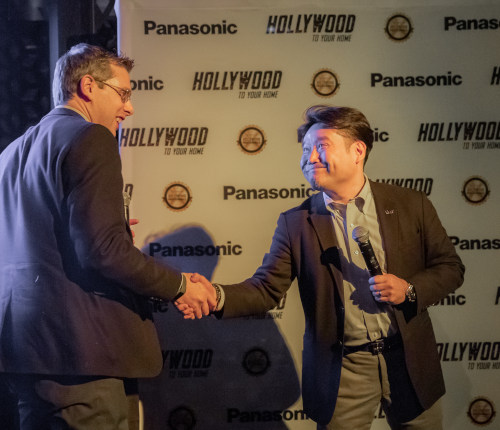 The HCX PRO Intelligent Processor is also compatible with multiple formats of dynamic HDR metadata. The GZ2000 is the world's first model capable of displaying both HDR10+ and Dolby Vision formats. And, with Multi HDR support, the GZ2000 is also compatible with Hybrid Log-Gamma(HLG), which is an HDR format expected to be widely adopted by TV broadcasters. HLG Photo, a new still image format is also supported along with regular HDR10, as found on most UHD Blu-ray discs and streaming services.
The GZ2000 features Panasonic's new My Home Screen 4.0, which allows viewers to tailor the TV user interface to their own preferences. The layout of the home screen can be reconfigured to allow customized layouts. Access to VOD and broadcast content is also easier thanks to a redesigned GUI that includes icons for decks that provide shortcuts to live TV, connected devices and apps such as Netflix, Amazon and YouTube. Viewers can even add frequently watched TV stations to the home screen.
The GZ2000 also works with Google Assistant and Amazon Alexa, allowing users to operate some key TV functions, just using their voice.
Panasonic has yet to announce a price and release date for the set.