Panasonic Develops 8K Global Shutter Technology Using Organic-Photoconductive-Film CMOS Image Sensor
Panasonic has developed a new technology that enables 8K high resolution and high picture quality imaging without motion distortion, even in extremely bright scenes.
The technology realizes 8K high-resolution (36M pixels), 60fps framerate, 450k high-saturation electrons and global shutter imaging with sensitivity modulation function simultaneously, using a CMOS image sensor with an organic photoconductive film (OPF).
The global shutter operation captures the image at the same time with all pixels. Organic CMOS image sensors operate in rolling shutter mode in which exposure and shutter operation is executed row by row.
In this OPF CMOS image sensor, the photoelectric-conversion part and the circuit part are independent. By utilizing this OPF CMOS image sensor's structure, Panasonic developed and incorporated high-speed noise cancellation technology and high saturation technology in the circuit part. And, by using this OPF CMOS image sensor's sensitivity control function to vary the voltage applied to the OPF, the company realized global shutter function.
With the technology, it is possible to capture images at 8K resolution, even in high contrast scenes, such as a field under strong sunlight and shaded spectator seats under a stadium roof. Moreover, by utilizing the global shutter function that enables simultaneous image capture by all pixels, it is expected to be able to capture moving objects instantaneously without distortion, be utilized for multi viewpoint cameras (performing multi-view synchronized imaging using plural cameras) and used in fields requiring high-speed and high-resolution, such as machine vision and ITS monitoring. In addition, conventionally, even in scenes where it was necessary to utilize different neutral density (ND) filters according to capturing conditions, the technology realizes a new electronically-controlled variable ND filter function which enables stepless adjustment of the OPF sensitivity merely by controlling the voltage applied to the OPF.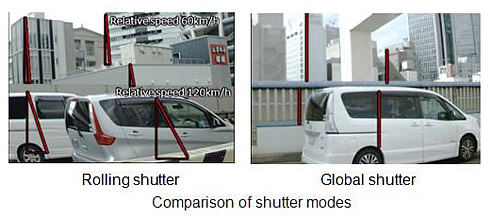 A neutral density filter functions to evenly absorb light in the visible range and reduce only the light intensity without affecting color.
Panasonic will present some of these technologies at the international academic conference: ISSCC (International Solid-State Circuit Conference) 2018.