Panasonic Develops IPS Liquid Crystal Panel with Contrast Ratio Of Over 1,000,000:1
A new IPS liquid crystal panel that achieves a contrast ratio of over 1,000,000:1 -- 600 times that of conventional liquid crystal panels -- has been developed by Panasonic Liquid Crystal Display Co., Ltd.
This huge contrast ratio has been achieved by integrating newly developed light-modulating cells which operate based on the operating principle of liquid crystals, and permit pixel-by-pixel control of backlight intensity. As a result, it is capable of controlling the amount of backlight entering the display cells pixel by pixel.
The high contrast resuls in a faithful and high-grade video display, ranging from dazzling light to pitch-black.
The IPS panel has been designed for use in professional-use High Dynamic Range (HDR) monitors for broadcasting stations and video production studios. HDR displays can reproduce images that are faithful to what people see, ranging from bright light to jet-black darkness. Also, the new high-contrast panel is suitable for use such as medical monitors that require faithful video display and automotive monitors that require clear visibility without black floating -- a phenomenon in which black parts appear slightly whitish when watching a display screen in a dark room environment.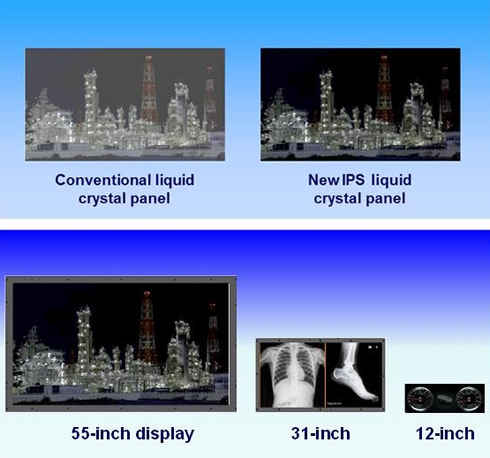 According to Panasonic Corp.'s subsidiary, the new display offers stable operation at a maximum brightness of 1,000 cd/m², it maintains features including wide viewing angles and high light-transmission efficiency and it can be manufactured using existing liquid crystal panel manufacturing facilities.
Panasonic Liquid Crystal Display Co., Ltd., possess a scale of 8.5th-generation (glass substrates of 2,500 mm x 2,200 mm) production lines that are capable of manufacturing 10- to 100-inch products.
The company plans to start sgipping samples of the new IPS display in January 2017.