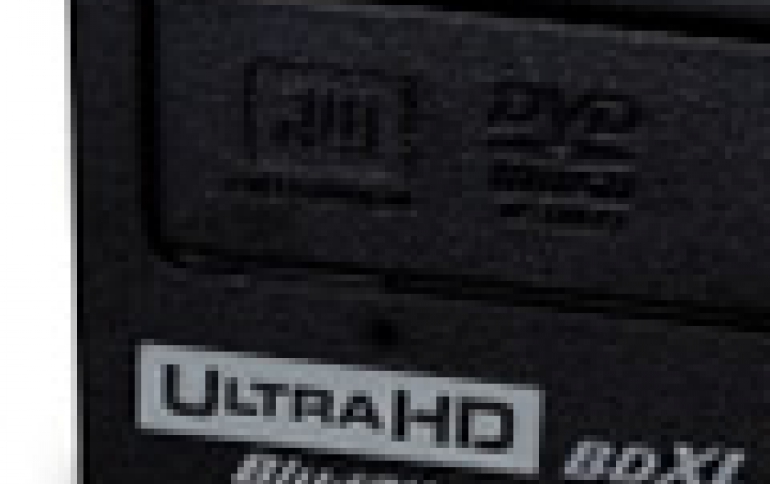 Pioneer BDR-211UBK BD Writer With Ultra HD Blu-ray Playback Support Launches In The U.S
Pioneer is launching its first internal SATA BD burner to support Ultra HD Blu-ray playback in the U.S.
The BDR-211UBK follows the announcement of the BDR-S11J-BK, BDR-S11J-X and BDR-XD06J-UHD (portable) UHD BD PC drives for the Japanese market. The burner supports Ultra HD Blu-ray playback using bundled CyberLink PowerDVD 14 software.
The market for 4K resolution is expected to expand as demand increases for definition higher than full HD. The BDR-211UBK meets that need, enabling PC users to enjoy 4K content via a PC, as well as providing up to 16x maximum BD-R writing speed (BD-R: SL 25GB) and the ability to read and write a variety of BD (SL 25GB/DL 50GB) and BDXL (BD-R XL: TL 100GB/ QL 128GB, BD-RE XL: TL 100GB) discs.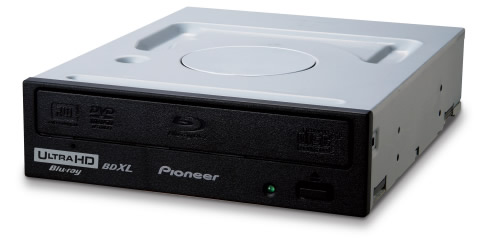 Features Include:
Up to 16x maximum write speed on BD-R single-layer discs, 14x on BD-R DL discs and 8x on BD-R triple-layer discs.
Compatible with Windows 10 - The BDR-211UBK and bundled software are compatible with the latest Windows OS, Windows 10.
Region Code Change - BDR-211UBK has DVD regional playback control. It allows users to set the region of the drive up to five times.
QuickPlay - BD-ROM and DVD-ROM discs are ready quickly after insertion.
PowerRead - Through its PowerRead feature, the BDR-211UBK provides smoother movie playback when a disc is marked with fingerprints or has minor surface scratches. When the drive is not able to read through these obstructed areas of a disc, it will quickly move forward to the next available data point, resulting in smoother Blu-ray and DVD movie playback.
Auto Quiet Mode - The drive monitors how it is being used and will adjust its disc rotation speed automatically, using a quieter mode (slower speed) when watching Blu-ray and DVD titles or listening to conventional audio CDs.
PureRead - Clicking or popping sounds that might normally occur due to minor scratches and fingerprints on CDs can be prevented on some discs with the drive's PureRead3 technology, which allows the drive to adjust its optical playback settings dynamically through the use of a unique algorithm.
Peak power Reducer - This power saving mode enables the drive to suppress power consumption at peak operation. It keeps stable operation in case of a drop in power supply.
CyberLink Software Included
PowerDVD 14 media player for Blu-ray and Ultra HD Blu-ray.
Power2Go 8 - burn and back up content to Blu-ray, DVD, and CD media; includes system recovery tools. BDXL format supports 128GB Quadruple Layer and 100GB Triple Layer Blu-ray discs.
PowerDirector 14 LE - Make movies with video editing tools. Edit high definition movies and author them to Blu-ray Disc or DVD and/or upload them to social media websites with the included software.
InstantBurn 5 - Packet-writing solution
Label Print 2.5 - Design and print disc labels in four easy steps.
PhotoDirector 5 LE - Complete editing and adjustment tools to bring photos to life.
The drive's suffected price is $129.99.
Minimum system requirements for Ultra HD Blu-ray playback
Operating System:
Windows 10
CPU:

7th generation Intel Core i7/i5 processor for Desktop PC (Kaby Lake-S)
7th generation Intel Core i7/i5 processor for Notebook PC (Kaby Lake-H)

U processor is incompatible

GPU:
Intel HD Graphics 630 (Internal GPU for 7th generation processor)
Memory:
6GB minimum
External Display:

HDMI 2.0a and HDCP 2.2 compatible
4K display (3840 x 2160 minimum display resolution)
HDR compatible (Incompatible display reproduces HDR contents with HDR>SDR format.)

Motherboard

Intel SGX (Software Guard Extensions) support Intel 200 series motherboard
HDCP62.2/HDMI 2.0a output compatible
Intel internal GPU output compatible
Specifications
Write Support
BD
 

BD-R (Single/Dual/Triple/Quadruple layer)

BD-RE (Single/Dual/Triple layer)

DVD
 
DVD-R7,DVD-R DL,DVD-RW,DVD+R,DVD+R DL,DVD+RW, High speed DVD+RW、DVD-RAM8
 
CD
 
CD-R、CD-RW、HS CD-RW、US CD-RW、US+CD-RW
Read Support
BD
 

Ultra HD Blu-ray (BD-ROM Dual/Triple layer),

BD-ROM (Single/Dual layer),

BD-R (Single/Dual/Triple/Quadruple layer),

BD-RE (Single/Dual/Triple layer)

DVD
 
DVD-ROM (Single/Dual layer),DVD-Video, DVD-R,DVD-R DL,DVD-RW,DVD+R,DVD+R DL,DVD+RW,DVD-RAM
 
CD
 
CD-ROM (Mode 1&2),CD-ROM XA, Photo CD(Single/Multi-session),Video CD, CD-DA, CD-Extra, CD-R, CD-RW
Interface
Serial ATA Revision 3.0
Write Support
BD
-R
2x,4x,6x,8x,10x,12x,16x
-R DL
2x,4x,6x,8x,10x,12x,14x
-R TL
2x,4x,6x,8x
-R QL
2x,4x,6x
-R (LTH)
2x,4x,6x,8x
-RE
2x
-RE DL
2x
 
-RE TL
2x
DVD
-R
1x,2x,4x,6x,8x,12x,16x
-R DL
2x,4x,6x,8x
-RW
1x,2x,4x,6x
+R
2.4x,4x,6x,8x,12x,16x
+R DL
2.4x,4x,6x,8x
+RW
2.4x,3.3x,4x,6x,8x
 
-RAM
2x,3x,5x
CD
-R
4x,10x,16x,24x,32x,40x
 
 
-RW
4x,10x,16x,24x
Read Support
BD-ROM (single)
12x Max
BD-ROM (Dual)
8x Max
BD-ROM (Triple)
4x Max
DVD-ROM (Single)
16x Max
DVD-ROM (Dual)
12x Max
 
CD-ROM
40x Max
Data Buffer
4 MB
Mounting Orientation
Horizontal or Vertical
Dimensions(mm)
148 mm x 42.3 mm x 180 mm (W x H x D)
Weight
740 g