Pioneer Launches Limited-edition, Carbon Fiber Version of the HDJ-X10C Headphones
PioneerDJ has designed a premium version of its over-ear flagship DJ headphones to create the HDJ-X10C, which will be globally released in limited quantities from 17th January 2019.
The HDJ-X10C DJ headphones feature the same 50mm HD drivers (high-definition driver) used in the HDJ-X10 model, but new materials create even greater sound quality in this limited-edition version. Carbon fiber in the housings removes unwanted vibrations and noise inside. Metal plating suppresses vibrations on the surface, and the grill on the front of the driver has been upgraded to metal mesh to achieve more accurate sound reproduction.
Having cleared the US Military Standard MIL-STD-810G Shock test and with extra-durable aramid material on the straight cable, the HDJ-X10C DJ headphones are highly robust. To give you a more comfortable fit, the headband features punched leather.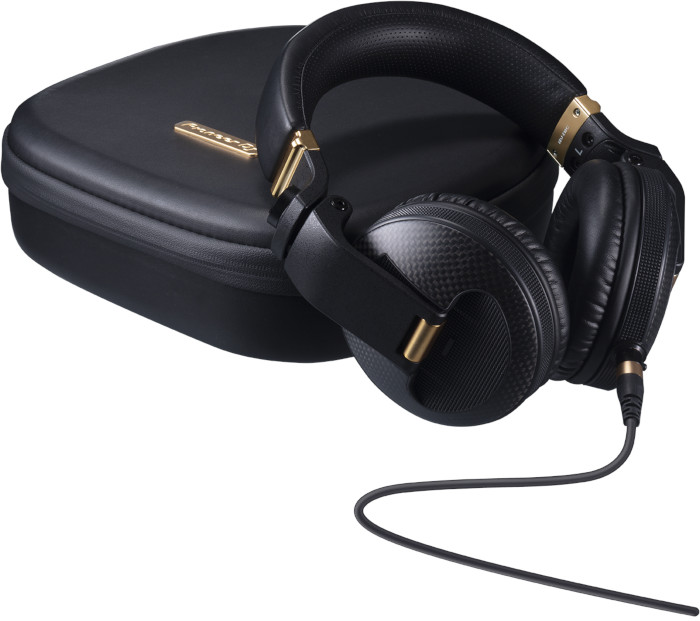 The HDJ-X10C DJ headphones have featured parts made from carbon fiber and others finished in a gold color – all set against a black body. Even the included carry case has an enhanced look, made from polyurethane leather.
To guarantee long-term performance, Pioneer offers a 3-year warranty for the HDJ-X10C.
1,000 pairs of the limited-edition HDJ-X10C DJ headphones will be available from late-January 2019 at an MAP of $599.
HDJ-X10C specifications 

Type
Closed, Dynamic
Frequency response
5 Hz to 40,000 Hz
Impedance
32 Ω
Sensitivity
106 dB
Maximum input power
3,500 mW
Driver
φ 50 mm
Connection cord

1.2 m coiled cable (extended length 3.0 m)

1.6 m aramid fiber straight cable

Weight
332 g (without cable)
Accessories
ø6.3 mm stereo plug adapter (threaded type)

Carry case