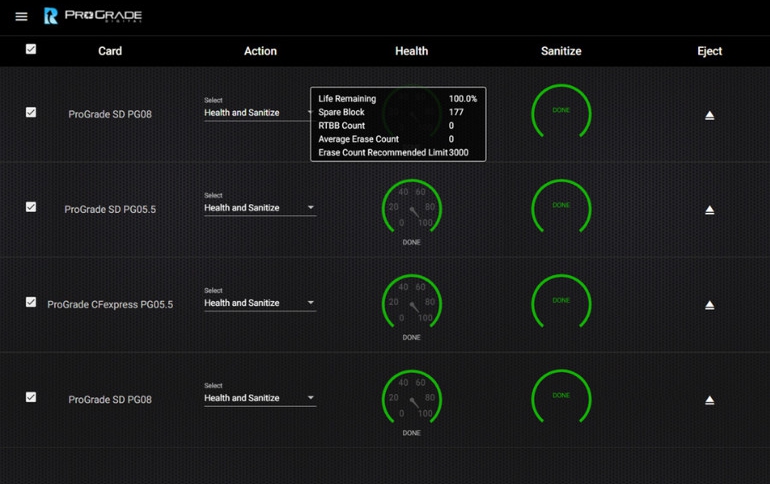 ProGrade Digital Announces Refresh Pro 3.1 Software With Card Firmware Update Capability
ProGrade Digital announced an updated version of Refresh Pro™, a software tool that allows users to maximize the performance of their memory cards, as well as proactively monitor card health. Refresh Pro™ 3.1 includes the ability to update firmware on CFexpress Type B cards.
"We are extremely happy to release our latest version of Refresh Pro software, version 3.1 – a cost-effective tool to ensure ProGrade Digital memory cards are always safely operating at their maximum capability," said Wes Brewer, founder, and CEO of ProGrade Digital. This new version builds on the core features of refreshing cards for peak performance and health monitoring while adding an important new field-firmware-upgradable (FFU) capability to SD, microSD and CFexpress cards. This new FFU feature allows customers to upgrade firmware* in their memory cards, by themselves, ensuring greater compatibility with new camera releases as well as benefiting from enhancements to card functionality that may be needed to assure premium operation on a continued basis."
ProGrade Digital Refresh Pro™ 3.1 Software Key Features:
Firmware upgrade capability for CFexpress Type B, SD and microSD cards.
Eject functionality of individual cards has been added to Refresh Pro.
Early detection of compatible ProGrade Digital cards to improve the user experience.
ProGrade Digital Refresh Pro™ Software Key Features:
Measure the overall health of ProGrade Digital memory cards to assess the remaining life of its NAND Flash.
Refresh, or sanitize the cards through a deep-clean process that restores the card to its original out-of-the-box performance*.
Works with all ProGrade Digital card readers** with the "R" logo on the box, and all ProGrade Digital memory cards marked with the "R" logo on the front label. Refresh Pro requires ProGrade Cards and Card Readers to function.
Enhanced user interface for increased usability and efficiency.
MSRP $9.99/year, after 6 month free trial
*Sanitize cannot undo the normal aging process of the card; it allows a card, regardless of its age, to perform faster and respond better to write operations of the camera.