Protect Confidential Information with Primera's CD/DVD Shredder
Primera Technology, Inc., the world's leading developer and manufacturer of CD / DVD duplication and printing equipment, today announced its DS360 Disc Shredder. DS360 is a compact and heavy-duty shredder that ensures business and personal security by completely destroying CDs and DVDs so that they can no longer be read.
DS360 has a 5-inch (127mm) top-fed slot to insert discs. It shreds up to 12 CDs or DVDs per minute. It can also easily shred a variety of other media such as credit cards, financial and bank documents and up to seven sheets of folded paper in a single pass. The DS360 turns discs and these other items into useless 1/8" by 1 3/8" (3.2mm x 9.5mm) shreds. An integrated eight-liter wastebasket is built-in for easy disposal.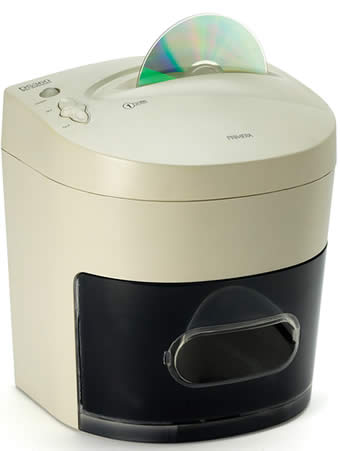 "Identity theft and corporate espionage are on the rise. Products like the DS360 Disc Shredder protect businesses and consumers from theft of their confidential information," said Mark D. Strobel, Primera Technology's Vice President of Sales and Marketing. "When your CDs and DVDs are no longer needed, but contain data that is too sensitive to throw away, you can now protect yourself and your business by simply shredding them into thousands of unidentifiable pieces."
The DS360 Disc Shredder sells for US$129.95 (MSRP) and is available now through Primera Authorized Resellers and Distributors. Hundreds of retailers also sell Primera's products online.