PS4 Vs. Xbox One: Comparing Their SoCs
Although the AMD system-on-chips (SOCs) that power the new Xbox One and the Playstation 4 consoles appear very similar in many ways, they remain unique. The Xbox One's core architecture is very similar to the PlayStation 4, with most of the functionality of the two systems residing in highly integrated system-on-chip (SOC) devices supplied by AMD.
Both chips are built in 28-nanometer-process geometry, have the same number of CPU cores (two quad-core Jaguar x86 modules), and possess similar silicon die surface area between the two, suggesting similar amounts of functionality and processing power. Even the net power requirements for the two consoles are very much alike, which further underscores functional similarity.
However, the two chips in the two consoles are not exactly alike.
Chip analytics company
Chipworks
has taken two high-quality die shots of the SoCs that power the Xbox One and PS4: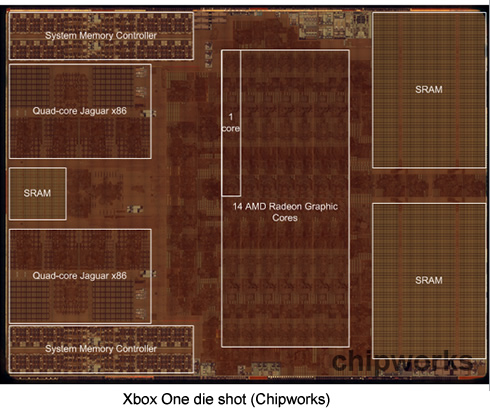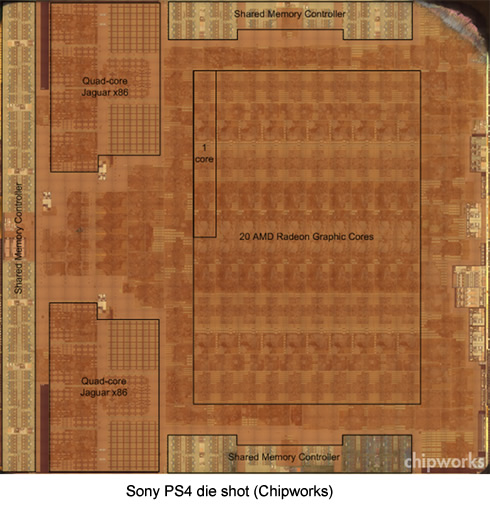 The chips have the same style of heat-dissipating package and are almost identical in die size, with the the PS4 SoC to be 348 sq. mm, whereas the X1 SoC to meassure 363 sq. mm.
The two chips have not the same compute units: the Xbox One SoC features 14 CUs (with 64 stream processors per unit), two of which are reserved for redundancy; the PlayStation 4 SoC sports 20 CUs (with 64 stream processors per unit), two of which are also reserved for redundancy.
Sony?s PS4 uses a unified 8GB main system memory accessed in parallel by the either the CPU or GPU, which sit together on one die, through a high-speed GDDR5 memory interface. There is no separate DRAM die in package and no embedded DRAM on the main die.
The Xbox, although it also uses an 8GB main system memory to which both the CPU and GPU have access, chose a lower-power but lower performance DDR3 interface. To compensate for this slower main memory, a 32MB ultra high speed dedicated graphics memory is included on die as an embedded SRAM block, together with the CPU and GPU.
There has been much talking on the different memory architectures between the Xbox One and Playstation 4. And it seems that the higher complexity of the Xbox memory architecture is the likely the main reason behind the lower resolutions of some of the Xbox launch titles, compared to the same games running on a PS4.
Programming for such an architecture will be more complex. However, the theoretical peak performance of the two systems could be very similar.