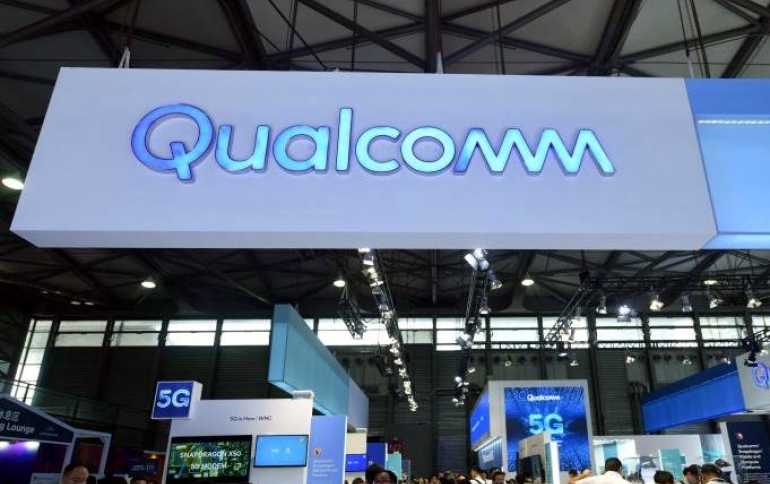 Qualcomm Projects High Sales on Pickup of 5G
Qualcomm Inc forecast second-quarter revenue largely above estimates on Wednesday, indicating new 5G networks are starting to fire up demand for high-end smartphones.
The chip maker expects revenue to be $4.9 billion to $5.7 billion in the period ending in March.
The forecast is more evidence of Qualcomm's confidence that fifth generation networks will expand quickly this year and spur mobile phone upgrades to take advantage of faster data speeds. Chief Executive Officer Steve Mollenkopf said 5G is kicking off even quicker than he'd expected.
Qualcomm predicted that as many as 1.85 billion phones will be sold in 2020, a return to growth after an industry decline last year.
The chipmaker is the largest provider of chips essential for 5G handsets. But it gets the bulk of its profit from licensing patents that it says cover the fundamentals of modern phone systems. Qualcomm charges a percentage of the selling price of each handset, payable by phone makers regardless of whether they use its chips. The company's modems and processors provide it with the majority of revenue.
Fiscal first-quarter sales and profit also beat estimates. Net income fell to $925 million, from $1.07 billion a year earlier. Excluding certain items, profit was 99 cents a share, compared with an average estimate of 85 cents.
Revenue rose 4.9% to $5.08 billion in the period ended Dec. 29.
Technology licensing revenue jumped 38% to $1.4 billion in the fiscal first quarter, but the company projected a decline to $1 billion to $1.2 billion in the current period. The chip division generated $3.6 billion, falling 3.2% from a year earlier. Qualcomm predicted sales will reach as much as $4.5 billion this quarter.
Qualcomm still has to reach an agreement in a patent-fee standoff with China's Huawei Technologies Co. and overturn a sweeping U.S. antitrust decision through an appeal that is due to start next week.
Qualcomm settled a broad-ranging legal dispute with Apple and the iPhone maker agreed to resume using Qualcomm chips. But a Federal Trade Commission case alleged unfair business practices and Qualcomm has been ordered to renegotiate patent licenses. The company has won a stay on that decision.
Qualcomm also said on Wednesday that the coronavirus outbreak in China poses a potential threat to the mobile phone industry, with a possible impact on manufacturing and sales.
Qualcomm's chief financial officer, Akash Palkhiwala, on a conference call with investors following the release of quarterly results, said the company expects "significant uncertainty around the impact from the coronavirus on handset demand and supply chain."
On the conference call, Qualcomm officials tried to address analyst concerns over the virus, saying that the biggest 5G markets this year are expected to be in the United States, Korea and Japan, and that the company could weather disruptions.
"If we have an issue, a supply chain issue or demand issue in China, we tend to have the ability to have other regions to back it up," Chief Executive Steve Mollenkopf said. "So we tend to look at the business in terms of our planning. We want to make sure that we maintain that strength across different markets."