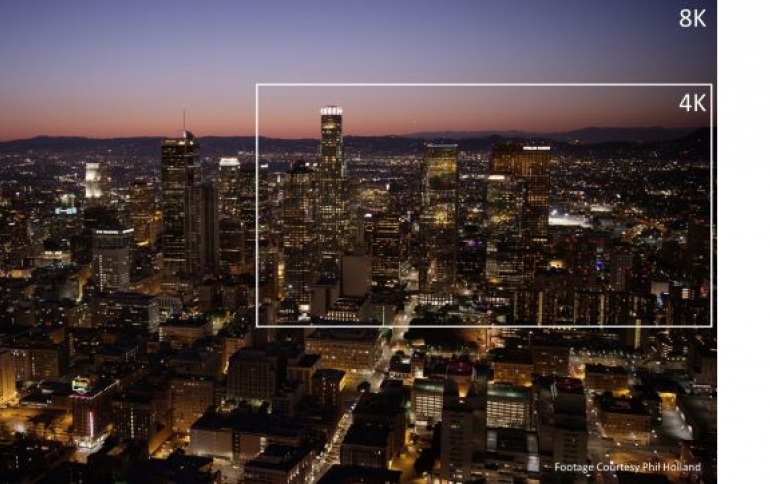 RED Digital Cinema and NVIDIA Bring 8K Movie Editing to the Masses
Nvidia is collaborating with RED Digital Cinema to make working with 8K video easier and more accessible.
In front of leaders from Adobe, Colorfront, HP and others, RED and Nvidia announced an Nvidia CUDA-accelerated REDCODE RAW decode SDK that gives software developers and studios a powerful new way to work with 8K video.
While consumers are snapping up millions of 4K TVs each month and Netflix, Hulu, Amazon and others are streaming a growing tsunami of content in the format, 8K is becoming the new frontier in video with 100,000 8K TVs hitting the market this year.
But 8K's real importance to video editors today is making 4K post-production more flexible. "Overshooting" resolution lets creators do more with their footage such as stabilize, pan, crop and zoom in on the best parts of a shot. Compositors can benefit from more precise masks for keying and image tracking.
Just downsampling from 8K to 4K reduces artifacts, such as noise, and produces higher quality visuals. The fact 8K is exactly four times the size of 4K makes the operation much simpler.
Yet, as 8K production has increased, the need for massive CPU processing power or single-purpose hardware like the RED ROCKET-X puts it beyond reach for most content creators. That's changing.
Earlier this year, Nvidia and RED announced an initiative to accelerate 8K video processing by offloading the compute-intensive decoding and debayering of REDCODE RAW footage onto a single NVIDIA GPU.
At last night's event, these real-time, 24+ frames per second capabilities were demonstrated running on an Nvidia Quadro RTX 6000 GPU to play back, edit and color-grade RAW 8K footage on a system with a single-CPU HP Z4 Workstation — eliminating the need for either a $6,750 RED ROCKET-X or a $20,000 dual-processor workstation.
This 8K performance is also available with Nvidia TITAN RTX or GeForce RTX 2080 Ti GPUs, so editors can choose the right tools for their budget or shooting location.
Nvidia claims that its GPUs are the only solutions capable of playing RED MONSTRO's 8192×4320 frames at 24 FPS with no pre-caching or proxy generation.
And the acceleration isn't limited to 8K — the new SDK runs across a variety of legacy GeForce, TITAN and Quadro desktop and notebook GPUs, benefiting 4K, 5K and 6K workflows as well.
Colorfront, a pioneer in 8K workflows, was also on-hand to demonstrate faster-than-realtime RAW processing and 8K playback in HDR.
Released RED R3D SDK and REDCINE-X PRO software are planned to be available at the end Q1 2019. Beta versions of the SDK have been made available to major third parties to support integration.