Renesas Enters Blue-Violet Laser Market with a Laser Diode
Renesas Electronics today announced the company's first blue-violet semiconductor laser diode with a wavelength of 405 nm and a new structure incorporating an optical waveguide into the semiconductor device, which enables high power output. The new blue-violet semiconductor laser diode, part number NV4A61MF, can be used for Blu-ray disc recording and playback, and features a new inner-stripe structure in which the optical waveguide that substantially influences the quality of the laser diode is incorporated into the semiconductor. In this new structure, the optical waveguide is fabricated on a gallium nitride (GaN) substrate with approximately ten times improved accuracy and 20 percent increased heat dissipation compared to the conventional devices, in which the optical waveguide is formed on the surface of the laser chip.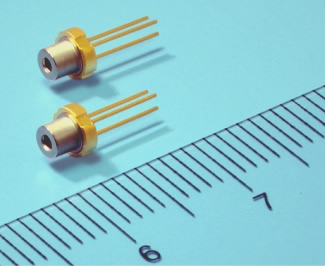 With this innovative structure, the new device provides offers high optical power output of 350 milliwatts (mW) suitable for 8x Blu-ray disc recording even at temperatures of up to 85°C. The current and optical output characteristics also provide excellent linearity from the low-output range through the high-temperature, high-output range. The new structure also reduces laser noise (output fluctuation) that occurs during playback to less than one third of the company's existing devices, realizing 5 decibel per hertz (dB/Hz) improvement.
The Blu-ray disc drive market has been expanding rapidly as Blu-ray recorders achieved widespread adoption and increasing numbers of Blu-ray disc drives being incorporated in flat-screen TVs and PCs. The market is expected to grow continuously, with sales of 100 million units in fiscal 2011, growing by 150 percent from the previous year. Of these, the number of recorders, which require high output lasers, is expected to amount to 30 million units.
The majority of the existing blue-violet semiconductor laser diodes adopts a ridge-waveguide structure in which dry etching process is used on the semiconductor surface to fabricate an optical waveguide, a path that guides laser light, and current confinement to the light emitting layer, in a ridge formation. In a laser device, the thickness of the cladding layer formed immediately above the light-emission layer directly determines the device performance. However, the conventional dry etching process makes it difficult to control the cladding layer thickness due to lack of suitable material for etching stopper, which sometimes resulted in inconsistent laser performance.
Renesas Electronics' new NV4A61F laser diode adopts the company's newly-developed inner-stripe structure, which reduces performance inconsistency while providing high-power output and low noise. The epitaxial growth technology that is capable of controlling the layer thickness at 1-nm level, same as that of an atomic layer, improves accuracy of the fabrication of the cladding layer by ten times compared to the conventional dry etching process. In addition, to efficiently concentrate current in the light emitting layer, the new laser adopts aluminum nitride (AlN) as the material to form the current blocking layer directly above the cladding layer. With its excellent thermal conductance and transparency necessary for the laser light to pass through, this new material improves heat dissipation from the light emitting layer by approximately 20% compared to the conventional ridge waveguide laser and realizes advanced device performance including excellent linearity in current and optical power output up to the high-temperature, high-output range.
Renesas Electronics aims to expand its lineup of blue-violet laser diode, expect to release the next 420 mW laser for dual-layer, 12? Blu-ray recording by December, 2010 to support the realization of a next-generation of high-speed Blu-ray recorders.
The new NV4A61MF blue-violet laser diode is currently available for samples, priced at US$20 per unit. Mass production is estimated to begin in August, 2010 and is expected to reach 1,000,000 units per month by second half of CY2011.
Renesas Electronics Corporation begun business operations as Renesas Electronics in April 2010 through the integration of NEC Electronics Corporation and Renesas Technology Corp., with operations spanning research, development, design and manufacturing for a wide range of applications.
Main Specifications NV4A61MF
Optical Output Power (Continuous): 175 mW
Optical Output Power (Pulse): 350 mW
Threshold Current: 35 mA
Operating Current (Continuous, at 175 mW): 160 mA
Lasing Wavelength: 405 nm
Beam Angle
Horizontal: 9 deg
Vertical: 19 deg