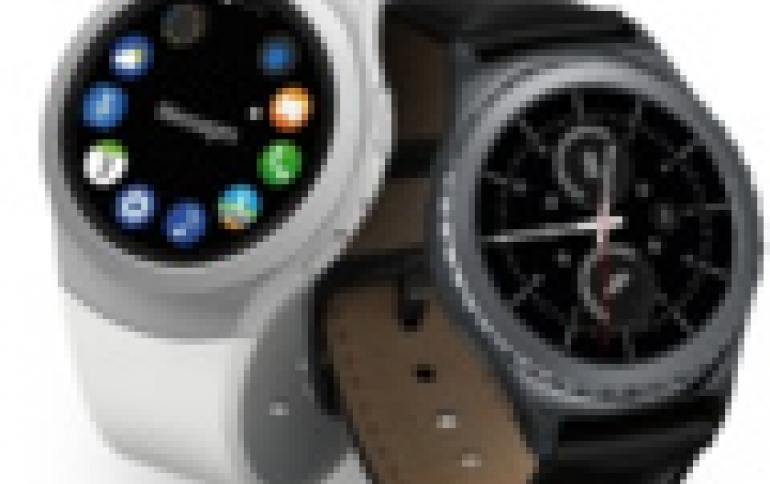 Samsung Gear S2 Coming In the U.S. October 2
Samsung is bringing the Gear S2 ($299.99) and Gear S2 classic ($349.99) smartwatches in the U.S. beginning Friday, October 2. The smartwatches, which
were unveiled
at this year's IFA Conference in Berlin, feature a circular interfaces and rotating bezels for quick navigation.
The Gear S2 will be available at select retailers at launch, including Samsung.com, Amazon.com, Best Buy and Macy's.
At launch, a variety of apps for the Gear S2 will be available, including Bloomberg, CNN, ESPN, Nike+ Running, Samsung Milk Music and Yelp.
The new wearable runs on the latest Tizen OS with an optimized 1-GHz dual core processor supporting Samsung smartphones and for the first time, most other smartphones running Android.
The Gear S2 network-connected model will launch later this fall and will be available at AT&T, T-Mobile and Verizon Wireless. U.S. Cellular will carry the Bluetooth only version.
Samsung Gear S2 and Gear S2 classic Specifications
Display
1.2", Circular Super AMOLED, 360x360, 302ppi
AP
Dual core 1.0 GHz
OS
Tizen OS
Audio

Codec: MP3/AAC/AAC+/eAAC+
Format: MP3, M4A, AAC, OGG

Memory
Storage: 4GB Internal Memory / RAM: 512MB
Features

Communications:

Contacts, Notifications, Messages, Email,
Preset text, Voice Input, Emoticons, Keypad

Health & Fitness: S Health, Nike+ Running

Information: Schedule, News, Maps & Navigation, Weather

Media: Music Player, Gallery, Samsung Milk Music

Others: S Voice, Voice Memo, Find My Device, Power Saving Mode,
   Safety assistance, Privacy lock

IP68 Certified Dust and Water Resistant

          Connectivity          

Wi-Fi: 802.11 b/g/n
Bluetooth 4.1
NFC

Sensors
Accelerometer, Gyroscope, Heart Rate Monitor, Ambient Light Sensor, Barometer
Dimension

Gear S2 : 42.3x49.8x11.4mm (47g)
Gear S2 classic : 39.9x43.6x11.4mm (42g)

Battery

Wireless Charging
250mAh Li-ion
Typical Usage 2~3days
Samsung Gear S2 Network-Connected Version Product Specifications
Display
1.2", Circular Super AMOLED, 360x360, 302ppi
AP
Dual core 1.0 GHz
OS
Tizen OS
Audio

Codec: MP3/AAC/AAC+/eAAC+
Format: MP3, M4A, AAC, OGG
Speaker included

Memory
Storage: 4GB Internal Memory / RAM: 512MB
Features

Communications:

Contacts, Notifications, Messages, Email,
Preset text, Voice Input, Emoticons, Keypad

Health & Fitness: S Health, Nike+ Running

Information: Schedule, News, Maps & Navigation, Weather

Media: Music Player, Gallery, Samsung Milk Music

Others: S Voice, Voice Memo, Find My Device, Power Saving Mode,
   Safety assistance, Privacy lock

IP68 Certified Dust and Water Resistant

          Connectivity          

Wi-Fi: 802.11 b/g/n
Bluetooth 4.1
NFC
3G/4G

Sensors

Accelerometer, Gyroscope, Heart Rate Monitor, Ambient Light Sensor, Barometer,
GPS

Dimension
44.0 x 51.8 x 13.4mm (51g)
Battery

Wireless Charging
300mAh Li-ion
Typical Usage 2 days