Samsung Gear VR Ecosystem Expands to Include Facebook 360 Photos, New Apps, and New Video Content
It's been nearly six months since Samsung Gear VR, powered by Oculus launched worldwide, and Samsung is trying to dazzle consumers by adding more entertainment and educational options to its headset. According to Oculus, over one million people used Gear VR last month to experience the collection of games, videos, and experiences available on the Oculus platform.
Developers have created more than 250 apps for Gear VR – from hit games like Minecraft, the action shooter End Space, and the unique fishing game Bait!, to experiences that put you front and center for live events like March Madness and the Kentucky Derby.
In addition to the range of games available, seven of the top 10 most used apps are VR videos and nearly 80% of people who use Gear VR watch video content, according to OCulus.
Today Felix & Paul Studios debuts Nomads for Oculus on Gear VR – a 360 3D virtual reality series that follows the lives of several nomadic peoples. You will be able to spend time with yak herders on the Mongolian steppes, Maasai warriors in Kenya, and the traveling coastal Bajau people of Borneo in the first three episodes of this made-for-VR series.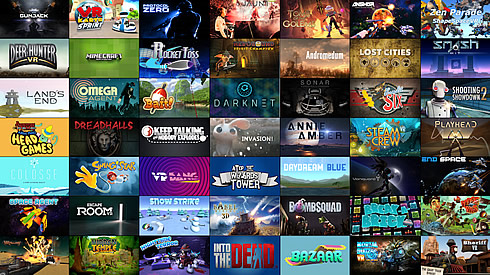 Next week, Discovery VR will release a new Deadliest Catch video experience for Oculus on Gear VR. Deadliest Catch VR drops fans directly into the action of the Bering Sea, transforming them into virtual crew members on this season's most dangerous boats.
In the coming weeks, Facebook will add 360 photos to News Feed. You'll be able to take a panoramic photo from your phone or use a 360 camera, upload it to Facebook, and pan around by tilting your phone or dragging the image.
You'll also be able to explore Facebook 360 photos in VR from the Oculus 360 Photos app. On Samsung phones, when viewing a 360 photo, there will be a button in the top left corner that says "View in VR." If you tap on it and insert your phone into your Gear VR, you can see the 360 photo in VR.
In June, Oculus will introduce an updated design for Oculus Home on Gear VR. This new environment will roll out to everyone and make it easier to find your recently downloaded content so you can quickly jump into VR.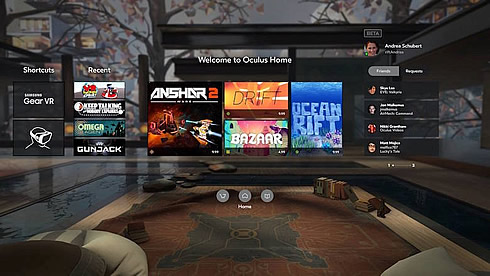 Also, this week, you'll start to see a "What's New" section and a revamped library in the Oculus mobile app to help you find and discover new games.