Samsung Launches New Line of NFC-enabled Printers At CeBIT 2014
Samsung introduced a new line-up of NFC-enabled printers at CeBIT 2014, the color laser printer Xpress C1860 series and the mono-laser printer Xpress M2885 series. These printers are targeted at home offices and Small- and Medium-sized Business (SMBs). Both series are compatible with Samsung Cloud Print, which will be available in the U.S. and Europe this year. Featuring security compatible with Samsung's KNOX platform, Samsung Cloud Print will provide mobile cloud printing capabilities.
The Xpress C1860 series comprises of the C1810W color laser printer and Multifunction Printers (MFPs) C1860FW which offers print, copy, scan, and fax functionality. The Xpress M2885 series consists of the M2835DW mono laser printer and MFPs M2885FW which also offers print, copy, scan, and fax capabilities.
These printers enable mobile printing for SMB users with high print speeds: 28 pages per minute (based on A4 size) from the mono laser printers and 18 pages per minute (based on A4 size) from the color laser printers.
The Xpress C1860 has a dual CPU (533MHz main processor and 150MHz sub-processor) and a memory size of 256MB (upgradeable to 512MB), while the Xpress M2885 has a 600MHz processor and 128MB memory.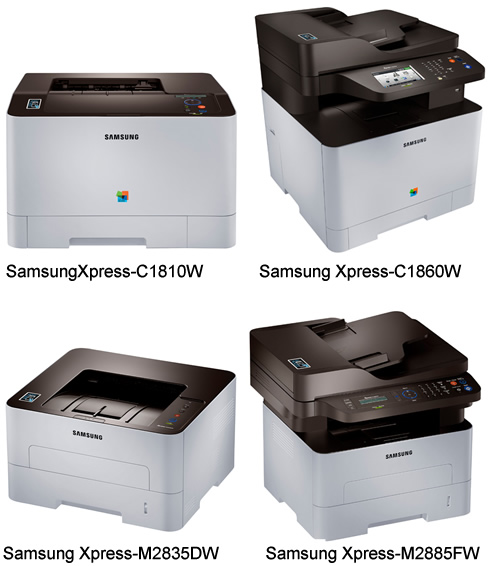 The Xpress M2885/C1860 series feature Samsung's image enhancement technology and Rendering Engine for Clean Page (ReCP). In addition, the Xpress C1860 series produces glossy colors through the use of polymerized toner, which comprises finer and more even particles.
Samsung has added the 'Easy Print Management' function for mobile devices, something which used to be only on PCs. Coupled with the NFC function and the Samsung Mobile Print app, SMB users without an IT department will be able to monitor device information, status, and usage of consumables.
Both of Samsung's new printer series feature NFC and Wi-Fi Direct technologies that allow users to securely print documents, images, and even social media feeds by simply tapping their smartphones on the printer.
Users can even send scanned documents directly from the MFPs to their smartphones without having to send files via email or PC.
The 'C1860/M2885' series will be introduced in April starting in Europe, and the Samsung Mobile Print app can be downloaded for free from the Google Play Store and Apple App Store.
By 2016, Samsung plans to release a new Cloud Platform, which will users to obtain printing solutions and a wide variety of business services from one source. Resellers, solution providers and system integrators will be able to deliver and provide their business solutions through the Samsung Cloud Platform.