Samsung Mass Produces 8-Gigabit DDR4 Based on 20 Nanometer Process Technology
Samsung is expanding the use of the 20 nanometer process from PC and mobile memory to the enterprise server market, with the mass production of advanced 8-gigabit (Gb) DDR4 memory and 32-gigabyte (GB) module. The new 20nm 8Gb DDR4 DRAM meets the high performance, high density and energy efficiency needs of next-generation enterprise servers.
Using the new 8Gb DDR4 chip, Samsung began producing the 32GB registered dual in-line memory module (RDIMM) earlier this month. The new module's data transfer rate per pin reaches up to 2,400 megabits per second (Mbps), which delivers an approximately 29 percent performance increase, compared to the 1,866 Mbps bandwidth of a DDR3 server module.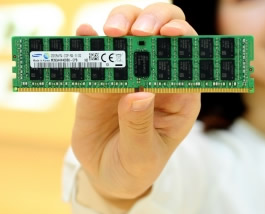 Beyond the 32GB modules, the new 8Gb chips will allow production of server modules with a maximum capacity of 128GB by applying 3D through silicon via (TSV) technology.
The new high density DDR4 also boasts improved error correction features for increased memory reliability. In addition, the new DDR4 chip and module use 1.2 volt, which is currently the lowest possible voltage.
With its new 8Gb DDR4, Samsung now offers a full line-up of 20nm-based DRAM which also includes the 20nm 4Gb DDR3 for PCs and the 20nm 6Gb LPDDR3 for mobile devices.
SK hynix said it has also developed the "world's highest density" 16GB non-volatile chips based on 4Gb DDR 4 by applying its 20-nanometer processing technology.