Samsung to Showcase Display Technologies at ISE 2016
Samsung Electronics will showcase a portfolio of digital signage and visual display solutions at the Integrated Systems Europe (ISE) 2016 tradeshow, between February 9th and 12th at the RAI Amsterdam, the Netherlands. The company will show a range of display products optimized for retail, hospitality, meeting-room and entertainment environments, among others.

Samsung's line-up will range from large-scale video walls and LED signage to retail-friendly transparent OLED and mirror displays.
Samsung's outdoor signage suite enables businesses to share highly-visible content in even the most challenging conditions. As highlighted by the OH55D display, Samsung's outdoor technologies feature internal heating and cooling systems that adjust settings for continued performance in temperatures ranging from -30 to 50o C. Furthermore, the OH55D display is IP56 certified to prevent damage from dust and water.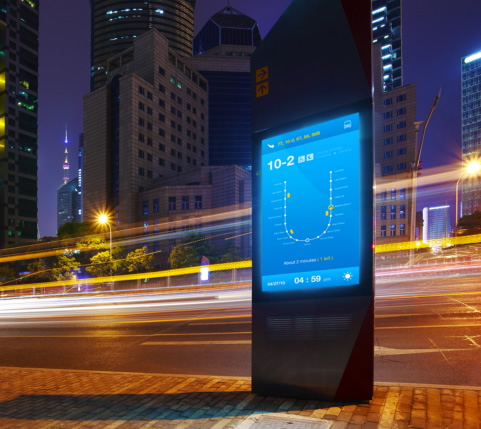 Easy to install in kiosks and other complex outdoor usage scenarios, the OH55D display maintains consistent 2,500 nit brightness and a 5,000:1 contrast ratio. It is coupled with an embedded automatic brightness sensor that adjusts settings in real-time.
Optimized for a range of indoor retail, corporate and public-viewing applications, Samsung's professional-grade, narrow bezel (3.5mm bezel-to-bezel) UD55E-A video walls combine color management capabilities with the visual enhancements of large-format signage. Each UD55E-A video wall undergoes factory calibration and tuning to prevent brightness and color accuracy irregularities. As the first video walls to feature integrated DisplayPort (DP) 1.2 and HDMI ports, the UD55E-A displays accommodate UHD content across a variety of configurations.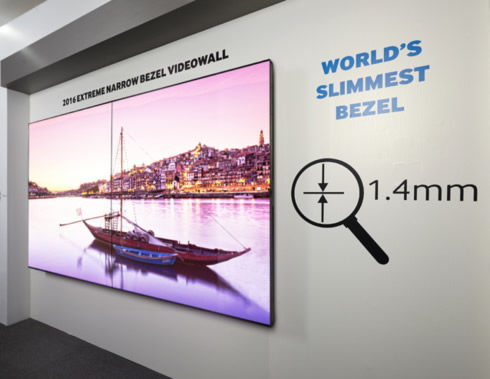 ISE 2016 attendees can also get a first look at the slimmest video wall. Samsung's UHF-E display features a thin bezel-to-bezel design (0.9mm on the upper and left sides, 0.5mm on the lower and right sides). Equipped with the same durability and color presentation components as its predecessors, the UHF-E video wall represents a sleek alternative for delivering content in most indoor environments.
Designed for corporate, control room and customer-facing environments, Samsung's indoor SMART LED displays deliver content and inspire collaboration. These displays feature top-tier diodes and customizable pixel pitch compositions ranging from 1.5 to 2.5mm, providing visibility while simultaneously accommodating users' specific operational needs.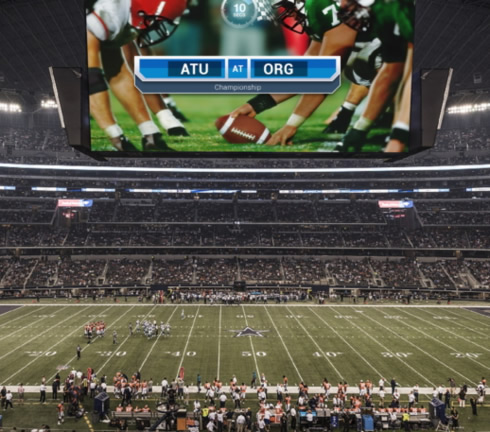 In addition, Samsung is spotlighting how its indoor LED signage represents a higher-performing and lower-maintenance alternative to legacy classroom and boardroom technologies. In lieu of projectors and analog boards, Samsung's LED displays condense multiple pieces of equipment into a single signage solution that expands content sharing possibilities.
Samsung's ML55E mirror displays and TO55F transparent OLED signage can be used for both promotional and welcome messaging. They can also function as a virtual catalogue of accessories and products. In fashion and cosmetics applications, shoppers also can use the mirror to digitally view how a particular product would look, to enable more informed purchasing decisions.