Samsung Unveils "The Wall," a Modular MicroLED 146-inch TV
Samsung Electronics will push ahead with a two-track strategy in its flagship TV business by adding its micro-level light-emitting diode (LED) lineup to its existing quantum dot LED (QLED) TVs, the company said.
The company launches its 146-inch premium TV, The Wall, powered by the firm's micro LED technology. The product uses micrometer-sized LEDs and does not require a backlight, which is its biggest difference from conventional LED TVs. It is a self-emitting TV with micrometer (µm) scale LEDs - which are much smaller than current LEDs, and serve as their own source of light.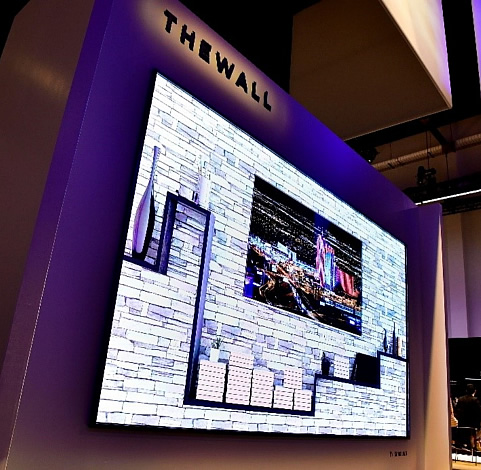 Samsung explained it developed The Wall to overcome setbacks over the limited sizes of its QLED TVs.
"We have so far suffered setbacks in expanding sizes of LCD TVs. Most large LCD TVs were 65 inches and 75 inches, but the micro LED TVs can overcome the size issue," Han Jong-hee, president of Samsung Electronics' visual display business unit, said at a press conference.
"The Wall is the result of our advanced LED- and chip-making technology, and is the pinnacle of picture quality. We also plan to add artificial intelligence or our source technologies to the TV."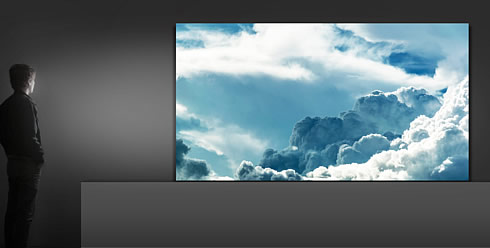 The product will be available on the market no later than this year, with Samsung set to expand its market share next year.
Samsung said the micro LED screen comes with outstanding features in terms of lighting efficiency, lifecycle and power consumption, with the company identifying it the next-generation display standard.
Another feature of the device is its modular design. This means users can assemble and change the screen size and shape, depending on their own needs.
Samsung also featured the world's first QLED TV featuring 8K AI technology, which will be launched internationally, starting with Korea and the US during the second half of 2018. This AI technology upscales standard definition content to 8K resolution. It employs a proprietary algorithm to adjust screen resolution based on picture quality characteristics of each scene, to continuously improve picture quality and transform any type of content from any source into a high-resolution 8K.

This 8K solution offers several new features. These include detail enhancement - to upgrade standard definition content; noise reduction; edge restoration function - which more clearly outlines on - screen objects; and automatic sound adjustment for different content, such as sports events or music concerts.
Samsung also showcased 2018 Samsung Smart TV's enhanced connection and convenience functions at the First Look event, including Bixby, SmartThings and Universal Guide.
Bixby is an intelligent assistant platform developed by Samsung, enables easier interaction between the TV and its users, thanks to its UX, and voice analysis capabilities. 2018 Samsung Smart TVs will also offer easier sharing and connectivity, thanks to SmartThings, Samsung's IoT platform hub. It offers a simpler way to control the television and sync with other devices. 2018 will also see the launch of Universal Guide - an advanced program guide which automatically recommends TV programs and content according to a user's preferences.
First Look also highlighted a variety of product zones, showcasing 8K-AI technology, 4K HDR Gaming, HDR10+, Smart TV experience and more.