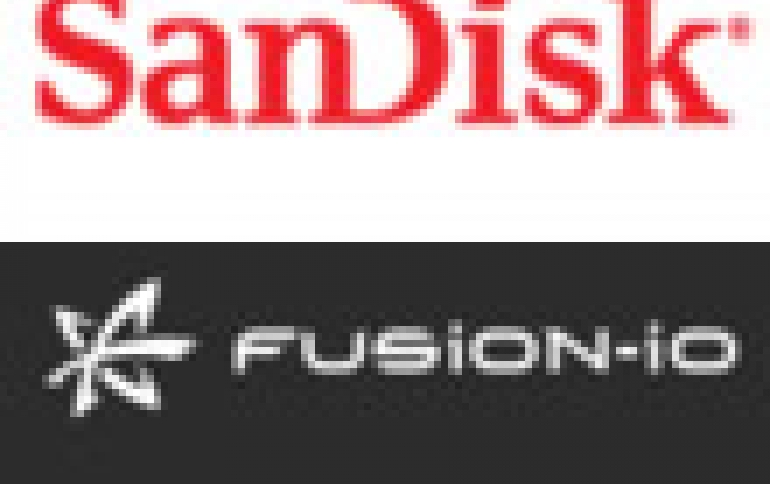 SanDisk To Buy Fusion-io
SanDisk is aiming at strengthening its flash-based PCIe hardware and software solutions for enterprise and hyperscale datacenters with the acquisition of Fusion-io for approximately $1.1 billion. According to a definitive agreement signed by the two companies, Sandisk will commence a tender offer for all outstanding shares of Fusion-io for $11.25 per share in cash. SanDisk will fund the acquisition with cash available on its balance sheet. The transaction, which has been approved by the boards of directors, is expected to close in the third quarter of SanDisk's fiscal 2014 and be accretive to non-GAAP earnings in the second half of SanDisk's fiscal 2015.

"Fusion-io will accelerate our efforts to enable the flash-transformed data center, helping companies better manage increasingly heavy data workloads at a lower total cost of ownership," said Sanjay Mehrotra, SanDisk president and CEO. "Customers will benefit from the addition of Fusion-io's leading PCIe solutions to SanDisk's vertically integrated business model. We look forward to working with the world-class engineering and go-to-market teams from Fusion-io to provide high-value solutions to customers around the world."

"This transaction represents a compelling opportunity for Fusion-io's employees, customers and shareholders," said Shane Robison, chairman and CEO of Fusion-io. "Fusion-io's innovative hardware and software solutions will be augmented by SanDisk's worldwide scale and vertical integration, enabling a combined company that can offer an even more compelling value proposition for customers and partners."