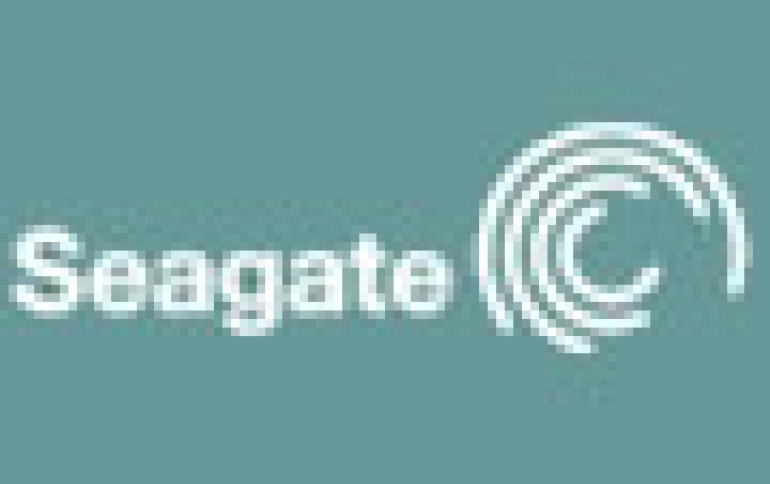 Seagate Introduces New Maxtor Desktop and Notebook Hard Drives
DiamondMax and MobileMax from Seagate give system builders and resellers worldwide greater choice of hard drive features, warranties, service and support Seagate Technology today announced the availability of new Maxtor-branded desktop and notebook PC hard drives to the worldwide distribution channel in a move that gives system builders and resellers a broader selection of product features, warranties, service and support, and pricing. Designed and manufactured with Seagate's hallmark quality and reliability, the Maxtor DiamondMax desktop and MobileMax notebook disc drives will enable system builders to reach a wider range of customers.

"With Maxtor DiamondMax and MobileMax hard drives from Seagate, system builders and resellers will be able to deliver our desktop and notebook PC hard drives across a fuller spectrum of customers and applications," said Karl Chicca, Seagate senior vice president and general manager of Personal Storage. "Seagate-branded hard drives will continue to deliver leading-edge technologies, top capacities and performance, rich feature sets and best-in-class channel service and support, while our Maxtor drives feature mainstream capacities, features and performance to meet basic notebook and desktop needs."

With the launch, Seagate is refreshing Maxtor's popular line of DiamondMax 3.5-inch desktop hard drives and introducing the new MobileMax 2.5-inch line for notebook PCs. DiamondMax drives initially will be offered in capacities up to 320GB and with mainstream features, cache sizes, and performance.

MobileMax drives will feature capacities up to 80GB and a 5400-RPM spin speed to support mainstream laptop and white book applications.

The new Maxtor drives come with a three-year warranty, while the Seagate-branded hard drives offered through the channel, including Barracuda and Momentus drives, will continue to carry an industry-leading five-year warranty.

"Distributors and value-added resellers often have a different set of requirements compared to system OEMs," said John Rydning, IDC's research manager for hard disc drives. "Seagate's decision to preserve the Maxtor brand for the distribution channels provides more choice for its customers, and options for Seagate to profitably package, price, and deliver products and services for a variety of unique market requirements."

Seagate will continue to provide distributors and resellers with tools, programs and incentives designed to create demand for and sell a broad range of computers built with Seagate brand hard drives. That best-in-class support includes pricing incentives, rebates, quarterly profit sharing, stock rotation, early pay discounts, price protection and a regulated hierarchy of authorized distributors.

Seagate's support for Maxtor brand hard drives will include volume incentive programs and basic levels of service and support for resellers and system integrators. The Maxtor brand business model also will be based on open distribution with a standard pricing structure and volume discounts that will enable Maxtor authorized distributors to respond quickly to customer needs.